Vegan Carbonara is a vegan spin on the classic Italian pasta dish, Carbonara. It is flavor-rich and perfect for Vegan runners or those who want a healthy plant-based alternative.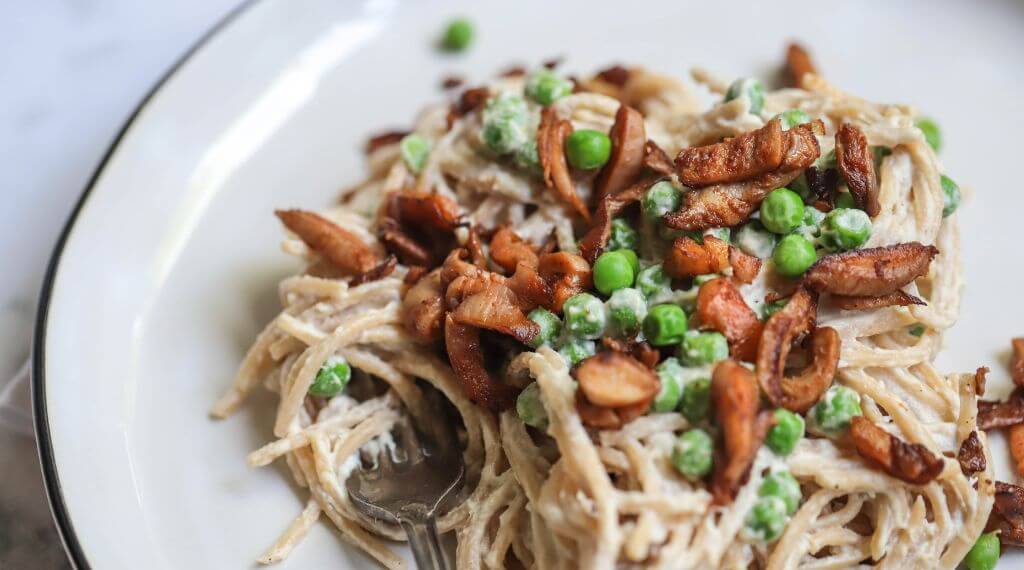 Print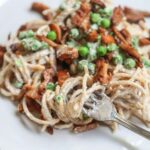 Vegan Carbonara with Oyster Mushroom 'Bacon'
---
Author:

RunBuzz Running

Total Time:

35 minutes

Yield:

4 servings

Diet:

Vegan
Description
Traditional carbonara is a tasty but heavy pasta dish with eggs, pork, and Parmigiano cheese. I created this Vegan Carbonara with Oyster Mushroom "Bacon" because I wanted something equally satisfying but made with plant-based ingredients instead. The verdict? Everyone loves it.
A Creamy Vegan Carbonara Sauce Without the Cream
You could use vegan "creams" made of many ingredients, including thickeners and flavorings, but you could also use cashews. These mild but rich nuts blend into a smooth creaminess, and you don't even need a high-speed blender with the technique I will describe below. They are also rich in copper, magnesium, and manganese, and are thought to be brain and heart-healthy.
The cheesiness of parmesan comes from nutritional yeast, a very nutritious form of deactivated yeast which comes in a yellow powder or flakes. Rich in umami flavor, B vitamins, and a complete source of protein, "nooch", as some call it, might become your new favorite ingredient to sprinkle on everything from green salads to soups. Want even more of a golden color? You can add a small pinch of turmeric powder too. Or, use a little saffron for a sophisticated vegan carbonara.
Making "Bacon" From Mushrooms
While carbonara is traditionally made with guanciale, a pork jowl product from Italy, most people in the US will use pancetta or bacon. I'm going the vegan route with oyster mushrooms instead, which are a good source of iron and potassium, and are quick to pick up the flavors of the olive oil and paprika they are sauteed in. While oyster mushrooms are delicious any way you cook them, make sure to cook them to a golden brown color for the best flavor. 
If you can't find oyster mushrooms, look for the bigger King Oysters, or even shiitake mushrooms. Fairly mild on their own, they crisp up beautifully in hot oil, and develop a satisfying flavor and texture. You can use this technique for many other dishes containing mushrooms like my Vegan Mushroom, Artichoke & Grilled Cheese Toast.
Whole-Wheat Pasta & More
My favorite type of pasta for vegan carbonara is whole-wheat spaghetti. More nutritious than its white counterpart, it also has a sturdier texture that can really carry the sauce. You could also use rotini, so that the carbonara and small pieces of "bacon" get scooped up in the corkscrew shape, or even use blanched zucchini noodles to make it gluten free. Either way, this Vegan Carbonara with Oyster Mushroom "Bacon" will have you coming back for seconds.
Can't get enough pasta dishes? Try my Sugar Snap Pea & Carrot Soba Noodles or my High-Protein Rice Noodle Steak Salad! Or change up this vegan carbonara recipe by using other ingredients like vegan sausage, zucchini, collard greens, spinach, asparagus, etc.
Do you track your meals using MyFitnessPal?  If so, simply scan the following barcode to quickly enter your item into your food tracking:
---
7 oz. (200 g) whole-wheat spaghetti
1 cup cashews
1 tablespoon olive oil
8.8 oz (250 g) oyster mushrooms, chopped like bacon bits
1 teaspoon smoked paprika
2 shallots, diced
2 cloves garlic, minced
2 tablespoons lemon juice
2 tablespoons nutritional yeast
⅔ cup (160 ml) water
Salt and pepper
½ cup (70 g) frozen peas
---
Instructions
Place a large pot of salted boiling water on the stove and cook the pasta to al dente, according to the package directions.
Place the cashews into a small pot of boiling water, and boil them for 5 minutes. Drain and set aside.
Heat the olive oil in a skillet over a medium/high heat, and sauté the mushrooms with the smoked paprika for 5-7 minutes, or until browned. Remove the mushrooms from the skillet and set aside.
In the same skillet, sauté the shallots and garlic for about 3-4 minutes, then transfer into a food processor or high-speed blender.
Add the boiled cashews, lemon juice, nutritional yeast and water to the blender, and blitz until smooth. If the mixture is too thick add a little more water to thin it down. Season to taste with salt and pepper.
Place the cooked pasta into the pot, add the sauce, and gently heat.
Add the peas, half of the mushrooms and toss together to coat the pasta.
Divide the vegan carbonara between 4 bowls, garnish with the remaining mushrooms, and season with a little more salt and pepper. Serve immediately.
Prep Time:

10 minutes

Cook Time:

25 minutes

Category:

dinner

Cuisine:

Italian
Nutrition
Serving Size:

4

Calories:

464 grams

Fat:

21 grams

Carbohydrates:

58 grams

Fiber:

10 grams

Protein:

16 grams
Keywords: whole-wheat spaghetti, oyster mushrooms, cashews, olive oil, paprika, garlic, vegan meals for runners, vegan running recipes, recipes for runners