The Unofficial Guide to the Chicago Marathon
The 2024 Chicago Marathon is one of the largest marathons in the world and will be held on Sunday, October 13th, 2024. For those who do not live in the Chicago area, it is an amazing destination race that is well organized and has amazing crowd support.
In my opinion, the Chicago marathon is one of the best marathons in the world. I ran it in 2010, and it has been one of my favorite and most memorable races in over 13 years of running. As a running coach, I have coached over 20 marathoners specifically to run this race and have been a spectator a few other times. I attend whenever I can make the trip.
In this "unofficial" Chicago marathon guide, I share information and tips about the race, including information on some fun things you can do while in Chicago.

Information in this guide comes from information curated from the official Chicago marathon website as well as information curated from participant experience and my own experience. Keep in mind that participant information is subject to change, You can get the most up-to-date information at chicagomarathon.com
Updated: 11-15-2023
How to Get to the Abbott Health & Fitness Expo 
There is no packet pickup on race day. You will have to pick up your participant packet at the Abbott Health & Fitness Expo on Thursday, Oct 5th, Friday, Oct 6th, or Saturday, Oct 7th. I highly recommend going on Thursday or Friday to avoid traffic, crowds, and long lines. The best time to go on Saturday is right at opening or later in the day before it closes.
The Chicago marathon has an amazing race expo. You can easily spend an hour or two walking around. You'll enjoy the atmosphere and plethora of merchandise, guest speakers, and running celebrities. In 2010, when I ran it, I met Dean Karnaze, one of my running idols. That was 4 years before the RunBuzz podcast launched, and I was fortunate to interview Dean on episode 42 of the RunBuzz podcast.
TIP: When you are at the expo, take a moment to watch the video screen that shows the marathon course, it will help you learn more about the surface and neighborhoods you are going to run through so you can visualize the marathon.
Address and Hours
Packet pickup has historically been well organized and quick. Look for buses and shuttles near your hotel. (See below)

Chicago Transit Authority (CTA) transit tips
To make traveling to the expo and from easy, the Chicago Transit Authority (CTA) offers several economical and convenient ways to do this by bus and train. You can check out CTA fares and transit directions to McCormick Place here. For more info, visit transitchicago.com.
Train
You can get from all CTA rail lines serving downtown to a southbound Green Line train (toward Ashland/63rd or Cottage Grove) to the Cermak-McCormick Place station. Then walk three blocks east on Cermak Road to McCormick Place.

Driving a Car
If you are driving, go to 2301 S. Martin Luther King Drive and head to Parking Lot A.

The convention center is huge, and parking in the wrong spot will easily add a 1/2 mile to 1 mile to your walk. Be sure to get your parking ticket validated at the Expo to receive a reduced rate ($12).  
Alternative Means of Transport
Cab, Lyft, Uber.
Keep in mind thousands of other people are doing the same and traffic is very high. If you can reserve transportation in advance, we highly recommend doing so or walking if not too far. Finding an Uber or Lyft on race morning will be difficult at best.
The bike ride is an eco-friendly and enjoyable way to get to the destination. There are two Divvy docking stations near the Abbott Health & Fitness Expo: Calumet & 18th Street or along the bike path at Burnham Harbor.
Where is the best place to park for the Chicago marathon on race morning?
The closest parking options to Grant Park are at the Millennium Garages. However, you must go early to avoid the crowds trying to get to the starting area and ensure the garage is not full. Trust me, you will want to arrive early!
How to get to the starting line
Below is the updated course map for the 2024 Chicago marathon course.
The race will head North out of Grant Park. If you are coming to the race from out of town, you will not have any trouble finding the start. Thousands of runners and spectators will be walking toward Grant Park. Simply follow along until you reach your starting corrals.

Pro Tip: Pay close attention to the time you need to be in the starting corrals. They will lock you out if you arrive late and force you to wait until all corals have left before allowing you in.
2024 Chicago Marathon Course Map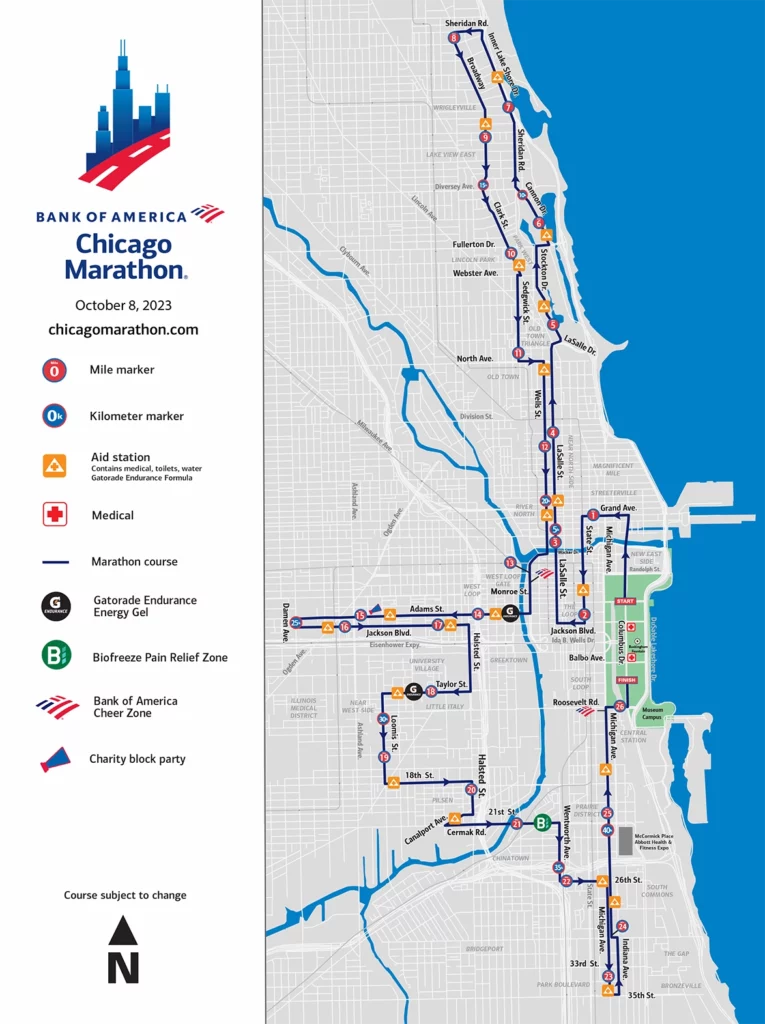 Address & Hours
The start line is located in Grant Park at the intersection of Columbus Drive and Monroe Street.
Race Start Times
Sunday, October 13th, 2024
5:30 a.m. – Gear check opens
5:30 a.m. – Start corrals open
7:20 a.m. – Marathon wheelchair start (men)
7:21 a.m. – Marathon wheelchair start (women)
7:23 a.m. – Handcycle start
7:30 a.m. – Wave 1 start (red)
8:00 a.m. – Wave 2 start (blue)
8:35 a.m. – Wave 3 start (orange)
9:30 a.m. – Grant Park opens to spectators


Walking
Taxis will be very pricey, and trains will be packed on the marathon day. Therefore, if you stay in a hotel not far from the starting line, the best option is to walk. 
Train
If not on foot, the train is the second-best option to get to the starting line. To make sure that there is a train running early to get to Grant Park from your place of stay, check the Chicago Transit Authority (CTA) system map. 
The Red and Blue Line trains run 24/7, which is extremely convenient for runners. Depending on your starting corral, you'll have to exit the train at Monroe, Jackson, or Harrison stations. Don't worry, you won't miss your stop, you can simply follow other runners (the trains will be packed with other participants).
Transportation options we don't recommend
Bus
If you decided to take a bus, be prepared as buses may get delayed in traffic. If, for some reason, you really want to take a bus, the CTA Bus Tracker might come in handy.
Driving your vehicle
I strongly recommend taking mass transit if possible. This way, you'll avoid the stress of being stuck in traffic congestion. If you still decide to drive a car, make sure to reserve parking in advance. 
Taxi/Ride Share
Services of Uber or Lyft are also an option. Just be sure to make a reservation in advance to be on schedule and guarantee a ride. Just have a plan B if your driver doesn't show up. Again, the likelihood of your driver getting stuck in traffic congestion is very high. When I was walking to the marathon in 2010, traffic on all the roads within 1 mile was at a standstill and barely moving.
Chicago Marathon course strategy
The Chicago marathon has an amazing course. The crowd support is second to none, and I have run many races. The course will be heavily packed with people, and many runners will be forced to run slower the first few miles than they would like to. It took a few miles before I felt like I had enough space to control my own pace.
Step 1. Study the marathon course
"He who controls information controls the world." – Dr. Stephen Franklin
In simple words, "He who knows the marathon course is more prepared for the race and, therefore, has a better chance to succeed".
Knowing your course, turns, surface, and the locations of aid stations. The latter is especially important. Take some time to explore the map, watch course videos, and read the available information on the course and amenities.

For other race day strategies, check out episode 39 and episode 40 on the RunBuzz podcast:
Step 2. Start to 4 miles –

Slow Down
The race starts in the gorgeous Grant Park. You'll experience the support of a large crowd but don't get too excited. Run slowly through the Urban Center and Financial District of Chicago and save your energy. It will be very crowded so in a way, the race will hold you back early on due to the crowds. My best advice is to just ride it out. After a few miles, things will spread out and you can settle into your pace. In my experience, it helps you from going out too fast so just roll with it.

Pro Tip: Don't waste energy trying to weave around runners. In most cases, you will be jammed together and won't be able to anyways. Just relax and enjoy the moment. Focus on finding your rhythm.
Step 3. 5 to 10 miles –
Control Your Pace
Maintain your pace and don't speed up. You'll feel the support of a cheering crowd and feel the excitement but don't let it interfere with your self-control. Don't run too fast and waste your energy before the fun begins. This is where most people will take their first energy gel or use a sports drink. If you need suggestions, here is a post we did on the best sports drinks for runners.

Pro Tip: You need a way to run without a GPS watch. Throughout most of the race, the tall buildings interfered with my GPS reception. It threw off my readings, and it never recovered.
During this phase, enjoy the quieter Sedgwick and Clack Streets with beautiful houses and totally focus on your pace so you can settle in.
Step 3. Miles 11 to 17 – Old Town and River North
In this phase, you will pass the Old Town of Chicago and River North and then reach an aid station (mile 13.2) where you can fuel up. Treat yourself to Gatorade Endurance Carb Energy Chews in Orange or Fruit Punch. If you have not used them before, you should stick with what you brought.
You will also pass Greek town and the Little Italy neighborhoods which includes some of the most stunning landmarks of the city.
Near mile 18, there will be one more aid station with Gatorade Endurance Energy Gels of different flavors, including Apple, Pear, and Mango. Again, if you have not used them before, you should stick with what you brought. I simply collected them as swag and saved them for another day.
Step 4. Miles 18 to 20 –
Pilson
Somewhere between miles 18 and 20, most will start feeling the signs of fatigue. Hang in there, and don't panic. You may have a few tough miles ahead but you are getting close to the end. You got this! This was a mantra I used over and over again during the last part of the race.
Running through the Pilsen neighborhood, you'll experience a great vibe from Hispanic spectators, which boosts motivation to keep running. 
At miles 19.5 – 23.5, the aid stations will offer Chiquita bananas.
Step 5. Mile 21 to the finish line –
Time to Shine
At this point, many runners are hurting. Many are doubting themselves. Not you. Here is where you will trick your mind, visualize the finish line and keep going!
The closer you get to the Finish line, the louder the crowds will get – all this yelling and cheering is for you! The last 1/4 mile is amazing! Enjoy the sudden adrenaline that will flow through your veins! If this is your first marathon, be prepared for all the feels. I was extremely emotional as I approached and crossed the finish line.
Soak it all in. THIS is why you signed up for and ran this race.
Note: At mile 21.2 (Cermak Road and Archer Avenue) you'll see Biofreeze Pain Relief Zone. Biofreeze personnel will help you apply the spray to reduce soreness and help you kill these final five miles.
After the race, if you don't feel well, get some help at the Main Medical Tent, Podiatry Tent, and Ice Station, which are located near the finish line. If you plan to join the post-race party in Grant park, you can also find a medical tent there.

My best advice is to start rehydrating and eating as soon as possible. Getting some food and water in you will jump-start your recovery. Try to get something that has protein and carbs in it, like chocolate milk or a protein shake. Replace electrolytes with a banana or sports drink as soon as possible.
Key Takeaway
Control your pace.
Stop by the Aid Stations to hydrate yourself and fuel.
Practice your hydration and fueling strategy during your training runs.
Celebrate your journey and accomplishment.
8 Additional Tips for Running the Chicago Marathon
2. Don't wear a new pair of shoes. Instead, use the one you've already tested during the long run and felt comfortable with. I like to do a shoe change about 30 days from the race using the same brand and model I trained with. This makes sure there is an adequate amount of cushioning for race day.
Don't wear clothing or accessories you haven't run with on long runs. This will most likely lead to chafing.
Don't run the marathon in a cotton t-shirt. Wear a light sports t-shirt made of Coolmax or nylon, lycra shorts, or capris. Also, keep it light; get a flexible and light running belt to pack only the most necessary like gels and keys.
3. The first Port-A-Potty stop and the first few aid stations usually have the longest lines. So, unless you need to stop there, I recommend skipping the first one unless you have the opportunity.
There are numerous aid stations and Port-A-Potties along the course, so you can restore your energy and empty your bladder. However, you can expect lines for the first half of the race.

4. If you're easily prone to stomach aches, it is best to avoid sugary foods and drinks, as well as saturated fats (red meats, butter, cheese) the night before a marathon.
Eat the same meals that you ate the night before a long run.
You DO NOT need to carb load. You can slightly increase carbs in the days leading up to the race, but do not stuff your face with pasta the night before a race.

Check out my Basics of Endurance Fueling article.
5. It is important to stay hydrated during the race. Note, however, that hydration backpacks are not allowed into Grant Park. If you want to bring your own fluids, you can use a hydration belt and hand-held water bottles.
Unless you are using Tailwind or some other sports drink, plenty is on the course. I just figured out what the race was using and used that in the last few weeks of training, so it was not something new, and I did not need to carry my own.
6. Don't do the sightseeing before the marathon. Walking around the city before a race can make your legs tired and impact your performance during the race.

I once went sightseeing the day before a race at the Cherry Blossom 10 mile race in Washington DC, and it wrecked my legs. I had trained well for that race, and I was barely able to finish.
In simple words, take care of your legs.
7. Give your family and friends the information they need to track you. Have them install the Chicago Marathon app on their phones, so they can follow you. Also, use the race map above to scope out the best spots to view the race so they can meet you at various vantage points.

Here are some recommended viewing spots:
Near the Start: Grand Avenue, between Columbus and State 
Closer to the Finish: the Bank of America Cheer Zone 
Note: The spectators won't have access to the Finish line. Your family and friends can connect with you at the Runner Reunite area. 
8. Practice the art of visualization. It is very simple, just sit in a comfortable position and imagine your success in vivid detail.
Visualize how you pass every neighborhood and cross the finish line.
The best time to do this simple visualization exercise is at night before sleep and in the morning. This is a sort of mental rehearsal that will help your body and mind get trained to perform the skill imagined.
"I always visualize the run before I do it. By the time I get to the start gate, I've run that race 100 times already in my head, picturing how I'll take the turns."- Lindsey Vonn, Olympic Gold Medalist Skier
Where to stay during the Chicago Marathon
NOTE: Make sure to check out special offers from Experient which is the Official Housing Provider for the Bank of America Chicago Marathon, and the Hilton Chicago, which is the official headquarter hotel of the marathon. 
Where to Book – Visit the Bank of America Chicago Marathon housing site to book a room for the 2024 Chicago Marathon.
How to Choose the Hotel for Your Stay During the Chicago Marathon
There are many different variants of where to stay in Chicago, from the most simple and minimalistic hostels to the most luxurious hotels. However, there are certain priorities that all runners have when choosing a place to stay during the marathon.
Hotels that are closest to the Chicago Marathon start
If your priority is finding a place in close proximity to the marathon, then just check out BACM Hotel Distance Matrix, and book one of the closest hotels as far out from race day as possible
Examples:
The Silversmith Hotel (0.3 km to the Starting Line)
Chicago Athletic Association (0.4 km to the Starting Line)
Lowes Chicago hotel (0.4 km to the Starting Line)
 The Alise (0.5 km to the Starting Line)
Chicago Hotels that are best for families
When you travel with family, you'd like to book a room equipped with all the necessary amenities for your family.
Examples:
Hampton Majestic Chicago Theatre District (1.1km)
The Blackstone, Autograph Collection (0.6km)
Silversmith Hotel Chicago Downtown (0.3 km)
W Chicago City Center (0.9km)
Chicago Pet-Friendly Hotels
Not every hotel is pet-friendly, so it's better to research where to stay in advance and book a room in a hotel that will be a real home from home for you and your furry friend.
Examples:
The Hilton Chicago (0.8km)
The Palmer House Hilton (0.3km)
The W Chicago Lakeshore Hotel (1.2km)
Virgin Hotels Chicago (0.6km)
Chicago Hotels with the On-Site Fitness Center and Indoor Pool
If you participate in the marathon, you likely won't need an on-site fitness center, but your family might want one. An indoor pool, on the other hand, would feel amazing after the race.
Examples:
The Hilton Chicago (0.8km)
The Silversmith Hotel (0.3km)
Chicago Athletic Association (0.4km)
The Chicago Swissotel (0.8km)
Sheraton Grand Chicago (0.6km)
Hyatt Centric Chicago Magnificent Mile(1.0km)
Chicago Hotels with a relaxing Spa
After the tough race, you might want to fill the tub with cold water and ice, and take an ice bath to reduce inflammation, but the following days after a marathon, a Spa is a great way to relax your tight and sore muscles. If you travel with family, SPA will also help relax your dear people after the flight and active days in Chicago during and after the marathon.
Examples:
The Hilton Chicago (0.8km)
The Palmer House Hilton (0.3km)
The Chicago Swissotel (0.8km)
Hyatt Centric Chicago Magnificent Mile (1.0km)
Alternatives to Hotels

Airbnb
If a hotel is not your thing, then Airbnb has many options, from cozy apartments to impressive villas. If you prefer to cook on your own and fully control your diet, booking an apartment with a well-equipped kitchen is the right decision. You can check out the available opportunities right now.
Hostels
If you have minimalistic needs and want to save some cash, the hostel is also a good option. 
These are the best hostels for a safe and comfortable staying during the marathon:
The Chicago Getaway Hostel is popular among solo travelers and digital nomads, and it's situated in just ten-minute walking distance from the lake and the Fullerton Subway Station.
The Freehand Chicago Hostel is another recommended option to stay during the Chicago Marathon. It has great accommodations and community atmosphere, and even a fitness center.
Where to eat before the marathon
Race day is a big day in the life of every runner, and proper nutrition plays a huge role. Therefore, nutrition should be balanced and well-planned. If you are traveling to the race, eating can be a logistical challenge.
Here are a few tips for you.
IMPORTANT! Don't experiment with unknown meals before the marathon, and be sure to ask the server whether the dish contains specific ingredients that you cannot tolerate. Try to maintain your normal nutrition routine.
Protein + Carbs + Fiber + Natural Sugar
Chicago restaurants that serve healthy meals for runners
LYFE Kitchen
This place can brag about the very healthy and allergy-conscious menu. It's a great place to fuel up before the race. You can find various dishes from fresh sandwiches, soups to nutritious tuna bowls with quinoa.
True Food Kitchen
You can experience dishes made with high-quality, fresh and whole ingredients. It's also one of the best places for people with diet restrictions.
Beatrix
This is a popular brunch spot in Chicago that serves many healthy options like granola and freshly squeezed juices. Also, the coffee and pastries are amazing. It is especially busy during the weekend, so it's a good idea to make a reservation in advance.
Visit this restaurant a couple of days before the marathon or after the marathon and try their signature pasta, made in-house daily. You can check out their website here for more information and to check out their menu.
Hotels serving pre-run snacks and meals
You don't always have to go to the restaurant, run to the market or prepare all the snacks in advance. Almost every hotel does its best to support runners. Many offer pasta specials the night before the race. Before the race, many offer to-go bags with free bananas, granola bars, and water.
Palomar Chicago
(1.0 km to the Starting Line)
Palomar Chicago is always well-prepared for the marathon. The guests usually have a delicious carb-rich pre-run breakfast, snacks like granola bars, and water. 
Embassy Suites Chicago
(1.3 km to the Starting Line)
Embassy Suites by Hilton Chicago Downtown is another great hotel to stay in during the Chicago marathon, and not to worry about meals. They always have pasta, bread, and other options for runners. This is where I stayed when I was in Chicago.
The James Chicago
(1.5 km to the Starting Line)
On Saturday, they offer a carb-loading meal and on Sunday morning a complimentary grab-and-go breakfast bag, including muffins, croissants, fruit, and yogurt.
Residence Inn by Marriott
(1.7 km to the Starting Line)
The hotel usually offers grab-and-go snack bags, including bananas and water. So, you won't have to worry about where and what to eat before the race.
Hotel Lincoln
(Around 8.4km from the Starting Line)
Not only hotels situated near the starting line take care of Chicago marathon runners. For instance, Hotel Lincoln, which is situated not super close to the starting line, also provides runners with complimentary snacks, energy bars, fruit, and water. So, in whatever hotel you stay, don't hesitate to ask for a grab-and-go breakfast bag because most likely they do offer something for runners during the Chicago marathon.
Where to celebrate after the marathon
In order to celebrate the completion of the race, visit a restaurant with a good vibe to party, savor every mouthful of a delicious meal, and enjoy a glass of sparkling wine. Many restaurants offer discounts and specials for marathon runners. Be sure to wear your medal!
Among the places you could visit are:
Four Entertainment Group 
Maple & Ash
Dos Urban Cantina
Onward
Play Kitchen & Cocktails
Ocean Prime Chicago 
Show your medal and reward yourself with the well-deserved calories and immerse in the friendly ambiance with your running buddies.
Goose Island Beer Company 27th Mile Post-Race Party
You can also engage with participants and have a beer at the Goose Island Beer 27th Mile Post-Race Party. Click here to find more about the location and timeline of the event.
After-Party in Hotel
The Chicago Marathon is an important event for the entire city, therefore, many hotels throw rooftop after-parties. So, no need to go to crowded restaurants, you can simply stay in your hotel or hostel and celebrate there.
Example: The Godfrey Hotel Chicago 
Many guests of the Godfrey Hotel and marathon runners celebrate the completion of 26.2 miles at the rooftop after-party. This is a welcoming party for all the runners to raise a glass to their accomplishment and refuel themselves with a prime rib, sushi, pasta, and a mouthwatering dessert.
Where to Wander and Relax after Marathon
When the marathon is over, take your time to do some sightseeing and simply relax. 
Tip for Tourists: If it's your first time in Chicago, you might like to visit some specific attractions. We recommend getting a Go Chicago Pass, it can help you save up to 55%.
The Best Instagram Spots in Chicago
The Skydeck Chicago at Willis Tower (233 S. Wacker Dr.)
The Cloud Gate in the northwest corner of Chicago's Millennium Park
Michigan Avenue Bridge Viewpoint
Zellij Fountain
Fern House at Garfield Park Conservatory (A fantastic landscape of prehistoric Chicago)
 wndr museum (dazzling place of art and illusions)
Must-Try Classic Foods in Chicago
Chicago-Style Pizza
If you are in Chicago, no way you miss a chance to try the delicious deep-dish pizza. This is not a common thin-crust pizza but a thick pizza with large amounts of cheese and a chunky tomato sauce. To try a Chicago-style pizza, traditionally baked in a deep pan, visit Uno Pizzeria or sister establishment Pizzeria Due in River North. Some say it's the birthplace of deep-dish pizza. 
Other great places to savor a finger-licking pizza are Lou Malnati's Pizzeria, Giordano's, and Gino's East.
Italian Beef
Italian beef is a popular sandwich in Chicago, loaded with tender shredded beef dipped in au jus (gravy) served on a long Italian-style roll. 
You can taste the best Italian Beef at  Al's Beef in Little Italy.
Garrett Popcorn
Another thing you have to try is the Garrett Mix at the famous Garrett Popcorn Shop. This is not just popcorn but a secret family recipe with a unique salty-sweet taste.  Nowadays, you can find multiple Garrett Popcorn Shops throughout Chicago and taste different popcorn flavors.
Original Rainbow Cone
The Original Rainbow Cone is an amazing treat that combines Chocolate, Strawberry, Palmer House, Pistachio, and Orange Sherbet flavors. It's the most popular in Chicago summer-time dessert that locals and tourists like to eat to refresh themselves and take colorful photos.
If you are in Chicago with your children, you must visit the Original Rainbow Cone in the Beverly neighborhood or at Navy Pier (which is a must-do family-friendly lakefront destination with exhibitions, rides, multiple restaurants, shopping, etc.
Places to relax and unwind in Chicago
Shopping 
Shopping for many people is a favorite leisure time, hobby, and type of relaxation. If you are one of those people or simply want to reward yourself for accomplishing the Chicago Marathon, the Magnificent Mile district is a place to go. It's a bustling shopping district full of high-end stores and luxury boutiques where you can find everything.
Theater
If you want a little magic in your life, visit the Magic Parlour show. The third-generation magician Dennis Watkins will impress you with the classic magic and mind-reading inside the historic Palmer House Hilton Hotel. You can learn more about this show and make a reservation at TheMagicParlourChicago.com.
The Chicago Theatre is another worth-visiting place to spend a great evening. It hosts various concerts, theatrical productions, and many special events. You can explore all the events and buy tickets here.
SPA and Relaxation
If you are not into shopping, another way to reward yourself is visiting Aire Ancient Baths, located in the River West. This is where you can enjoy soaking in 6 thermal baths of varying temperatures, have a massage, and relieve muscle pain and tension in steam rooms of various intensities and aromatherapy fragrances.
You can also spend a day at the family-friendly  King Spa & Sauna, relaxing in its sauna and pools.  Another option is the award-winning luxury Chuan Spa at The Langham, where holistic treatments based on principles of Traditional Chinese Medicine will help you restore strength and find peace of mind.
Chicago Marathon FAQs
When is the Chicago Marathon?
Sunday, October 8, 2023
How do I enter the 2023 Chicago Marathon?
You can apply for non-guaranteed or guaranteed entry. If you applied for a non-guaranteed entry, you'll receive an email about your entry status. If you didn't receive an entry through the drawing, you can still apply for guaranteed entry.
Is there a virtual option for the Chicago Marathon?
No. There is no virtual participation option for 2023.
Are participants going to be required to pick up their race materials in person?

Yes, all the registered participants will have to pick up their race packet in person.
What are the working hours of The Abbott Health & Fitness Expo?
Thursday, October 5 – 11 a.m. to 6 p.m.
Friday, October 6 – 9 a.m. to 6 p.m.
Saturday, October 7 – 9 a.m. to 6 p.m.
Can you walk the Chicago Marathon?
Yes, you can walk the Chicago Marathon; just make sure you can finish within the 6 hours and 30-minute time limit they set for the course.
Is the Chicago Marathon course flat?
The Chicago Marathon course can be considered flat. Only at the very end of the race you'll face Roosevelt Hill, which is not steep at all.
Can I use headphones and GPS watch during the Chicago marathon?
You can run with a GPS watch, music devices, and headphones. However, if you are an athlete in the American Development Program, you are prohibited from using devices with headphones.
Also, if you compete for prize money, you cannot use any devices to communicate with any other person. Other items are prohibited during the race, such as selfie-stick and drones. You can check out the list of prohibited items in the event rules.
Cancelation Policy FAQs
What if I can't participate, can I cancel?
If you cannot participate in the 2023 Bank of America Chicago Marathon, you can cancel your entry via your participant account page. You can transfer your registration to the following year.
Note: all event fees are non-refundable. Once you cancel your participation, the process cannot be undone. 
Can I transfer my entry to someone else?
Race entries are non-transferable. You cannot transfer your entry to someone else.