In this delicious Sugar Snap Pea & Carrot Soba Noodles dish, sturdy buckwheat noodles are tossed with edamame, carrots, and other vegetables into a lusciously sweet and spicy sauce full of ginger, miso, sriracha, and more.

Power-packed with nutrients, carbs, and proteins, the ingredients in this meal are great for any runner looking for a healthy meal to fuel their run or family. While not hard to make and well worth it, this Sugar Snap Pea & Carrot Soba Noodles recipe does require a lot of ingredients. But trust me, I think you will love this one!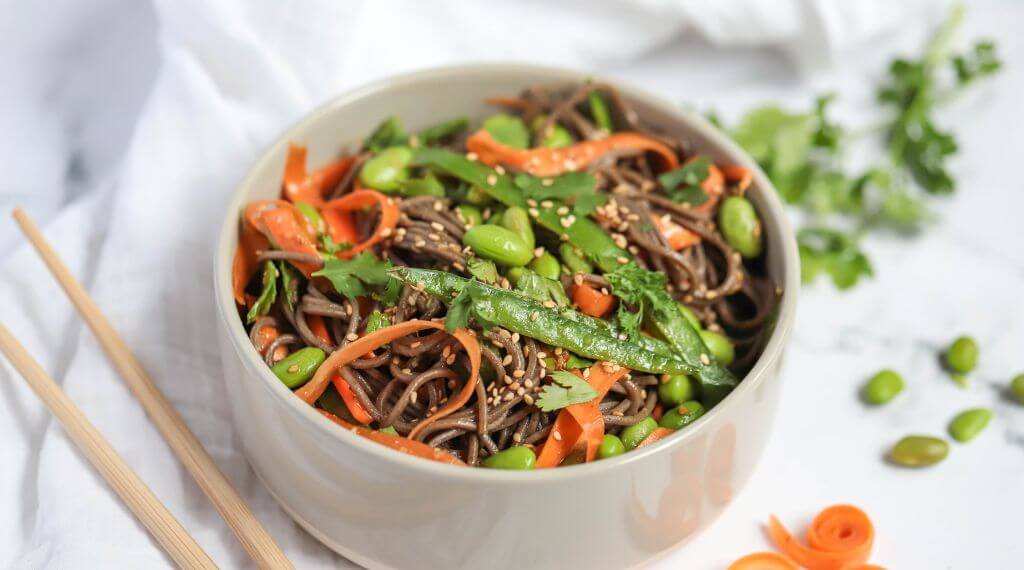 Print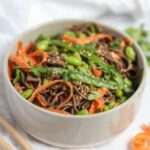 Sugar Snap Pea & Carrot Soba Noodles
---
Author:

RunBuzz

Total Time:

30 minutes

Yield:

4 servings
Description
Sugar Snap Pea & Carrot Soba Noodles is a comforting bowl of noodles and vegetables tossed in a sweet and spicy sauce rich in miso, ginger, sriracha, and more. 
Why Use Soba Noodles
Soba noodles are thin but sturdy and satisfying noodles made entirely of buckwheat, which means that they also happen to be naturally gluten-free. They are delicious right out of the boiling water as well as cold. Pay attention to the labels because some soba noodles are made from buckwheat and regular wheat flour and are no longer gluten-free.
Their nutty flavor goes great with sweet and spicy sauces like the one below. If you don't have any on hand, you can, of course, use whole-wheat pasta or even zucchini noodles to make this Sugar Snap Pea and Carrot Soba Noodles recipe grain-free.
The secret to Perfect Sugar Snap Pea and Carrot Soba Noodles
The secret to making a perfect Sugar Snap Pea & Carrot Soba Noodles is the delicious sauce that hits several complementary taste buds. In this case, we have:
Salt: Miso and tamari are great sources of salt because they provide flavor with less sodium than if you used regular table salt. Miso is also a good source of gut-loving probiotics.
Sour: Lime juice is where it's at in many recipes inspired by international flavors thanks to its fresh flavor that is more complex than lemon juice.
Sweet: Agave syrup is not commonly used in cooking in the US, but it tastes similar to honey while being plant-based. It also mixes into sauces and dressings more easily. 
Umami: Miso isn't just for soups, it's also a delicious addition to anything requiring a boost of umami, the flavor found in broth, meat, and more.
Spice: As you can see from the other RunBuzz.com recipes, we love sriracha and ginger around here! And why not? Chili peppers, ginger, and garlic are not only delicious, but they are also anti-inflammatory and good for the immune system.
A Boost of Colorful Veggies & Greens
Eating your veggies isn't hard when they're tossed in a tasty yet good-for-you dressing. Here, I'm using edamame, snap peas, cilantro, and carrots. Science has shown that green-colored vegetables like these are a powerhouse of vitamins and minerals, including vitamin K, which helps with blood clotting, and are full of antioxidants.
If there's one food group that belongs at the base of a runner's food pyramid, it's definitely leafy greens and other green foods. To take this Sugar Snap Pea & Carrot Soba Noodles recipe to the next level, don't hesitate to add some sprouts (broccoli sprouts would be great here) or slice a ripe avocado on the side. A fine sprinkling of sesame seeds adds even more nutrition and a pleasant crunch as well.
If you enjoyed this Sugar Snap Pea and Carrot Soba Noodles recipe, you will love my Thai Noodle Salad with Peanut Dressing and my High-Protein Rice Noodle Steak Salad!
Do you track your meals using MyFitnessPal?  If so, scan the following barcode to quickly enter your item into your food tracking: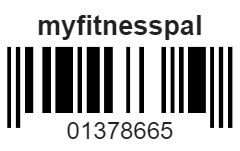 ---
For the sauce:
4 tablespoons tamari
2 tablespoons olive oil
1 lime, juiced
1 tablespoon toasted sesame oil
1 tablespoon agave syrup
1 tablespoon white miso
2 teaspoons root ginger, grated
1 teaspoon sriracha
For the noodles:
6 oz. (170 g) soba noodles
2 cups (320 g) frozen edamame
3 cups (300 g) sugar snap peas
4 carrots, sliced into ribbons with a vegetable peeler
½ cup (7 g) cilantro, chopped
4 tablespoons sesame seeds
---
Instructions
To make the sauce, place all the sauce ingredients into a small bowl, whisk until well combined, then set aside.
Bring two big pots of water to a boil. In one pot, cook the soba noodles just until al dente, according to the instructions on the packaging.
In the second pot, cook the frozen edamame until warmed through, about 4- 6 minutes. Before draining, toss the sugar snap peas into the boiling water and cook for an additional 20 seconds, then drain.
Combine the soba noodles, edamame, sugar snap peas, and carrots in a large serving bowl. Pour over the sauce and toss to combine.
To serve, sprinkle over the chopped cilantro and toasted sesame seeds.
Prep Time:

25 minutes

Cook Time:

5 minutes
Nutrition
Serving Size:

4

Calories:

518 grams

Fat:

20 grams

Carbohydrates:

57 grams

Fiber:

10 grams

Protein:

20 grams
Keywords: soba noodles, edamame, white miso, ginger root, sugar snap peas, agave, olive oil, sesame seeds, recipes for runners, plant-based recipes for runners, healthy recipes, cilantro, carrots