Tender flank steak is combined with vermicelli noodles and various vegetables, then tossed in a spicy honey and lime dressing. Full of flavor and nutrition, Rice Noodle Steak Salad is both nutritious and satiating and perfect during periods of heavy training.
This is a great post-long-run meal because it is high-protein and full of carbohydrates.
Print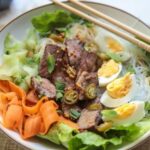 High-Protein Rice Noodle Steak Salad
---
Description
This is not a low-fat, low-carb recipe by any means, but when you want to up your carbohydrate and protein intake, look no further than my Rice Noodle Steak Salad. Perfect during periods of intense training, or the day before an athletic event, it will keep you satiated and nourished throughout the day.
Prepping Ingredients in Advance
This salad comes together quickly if you have all the ingredients ready to go.
For the hard-boiled eggs, you can either buy them already made, or you can easily make them at home. All you need to do is put eggs, even straight from the fridge, in a saucepan with enough water to cover by an inch. Bring to a boil, turn off the heat, and let the eggs cook, covered, for 12 minutes. Cool them quickly in an ice-water bath before peeling. Hard-boiled eggs keep well for 2-3 days, so don't hesitate to make more than needed to eat as a quick or added to green salads.
The dressing requires several ingredients, but it can be made in advance and added at the last minute. With garlic and red pepper flakes for spice, lime juice and vinegar for a pleasant sour touch, and honey for sweetness, this is also something you can double or triple to use in other recipes.
Tips for Super Tender Steak
For super tender steak, I'm using flank steak here, also known as London broil or skirt steak. It's more affordable than other expensive cuts of meat but is still very flavorful and works great in this Rice Noodle Steak Salad. 
The trick to keep it tender and moist is to cook it for a short period. Here, I opted to use the broiler at the highest temperature to keep the cooking time to only about 5 minutes on each side. You can also pan-sear or grill the steak, and it will be great, but I find that broiling works best in this recipe. Letting it rest for 10 minutes after cooking will give you the most tender piece of meat possible.
Fresh Veggies & Vermicelli
The protein-rich steak and complex dressing are lightened up by a good serving of vegetables, including baby gem lettuce, carrots, and cucumbers. I cut them julienne-style, a fancy way of saying cutting into matchsticks.
Cooked vermicelli noodles are added for more fiber and carbs, and jalapeño peppers provide spice. If you want a milder salad, remove all the seeds and white membranes from the peppers, or keep them for a fiery version if you can handle it!
Do you track your meals using MyFitnessPal?  If so, simply scan the following barcode to quickly enter your item into your food tracking:
---
For the salad:
1 lb. (450 g) flank steak
Salt and pepper
8.8 oz. (250 g) vermicelli noodles
8 oz. (225 g) baby gem lettuce, chopped
2 carrots, julienned
1 cucumber, julienned
4 eggs, hard-boiled
1 jalapeño pepper, sliced
For the dressing:
4 tablespoons tamari
4 tablespoons water
2 tablespoons honey
2 tablespoons lime juice
2 teaspoons rice vinegar
1 clove garlic, minced 
½ teaspoon red pepper flakes
---
Instructions
Place an oven rack a few inches below the broiler, and line a broiler pan with aluminum foil.
Season the steak with salt and pepper, place it on the oven rack, and slide it directly under the broiler. Cook for 4-6 minutes, turn the steak and grill for a further 4-6 minutes. The steak is done when the edges are charred and crispy, and the internal temperature reaches 135°F (60°C).
Set the steak aside to rest for 10 minutes before slicing so its juices can redistribute and it can tenderize further.
While the steak rests, cook the vermicelli noodles according to the instructions on packaging.
Make the dressing by whisking together the tamari, water, honey, lime juice, rice vinegar, minced garlic, and red pepper flakes.
To assemble the salad, place the baby gem lettuce on the bottom of the plate. Top with vermicelli noodles, carrots, cucumbers, and sliced steak. Add the boiled eggs and jalapeño peppers. Finally, drizzle with the dressing, and serve immediately.
Prep Time:

15 minutes

Cook Time:

12 minutes

Category:

dinner

Cuisine:

Salad
Nutrition
Calories:

564 grams

Fat:

15 grams

Carbohydrates:

69 grams

Fiber:

3 grams

Protein:

33 grams
Keywords: vermicelli noodles, flank steak, carrots, cucumber, baby gem lettuce, eggs, jalopeno, runner-friendly, recipes for runners, healthy meal