The 48th Marine Corps Marathon will be held on Sunday, October 29th, 2023. It is one of the top marathons in the world and includes the Marine Corps Marathon 10K and 50K, in addition to its signature 26.2 miles.

This article was last updated on: 6-25-2023

It is often known as the people's marathon because it is the largest marathon in the world that doesn't offer prize money. And due to its great crowd support and marine-lined streets, it has become a huge favorite amongst marathon runners. If you are considering a race, the people's marathon should be at or near the top of your list. It is also a great choice for your first marathon.
Located in the Washington, DC / Arlington, Virginia area, the race boasts one of the most scenic and historic courses. It is a relatively flat course that will have you running around major national monuments and historic sites. You can expect great crowd support and high-fiving Marines, including Marine Drill instructors who will "encourage you" along the way!
Race information is subject to change. If you plan to participate in the race, you can get the most up-to-date information at marinemarathon.com.
Marine Corps Marathon race information
Packet pick up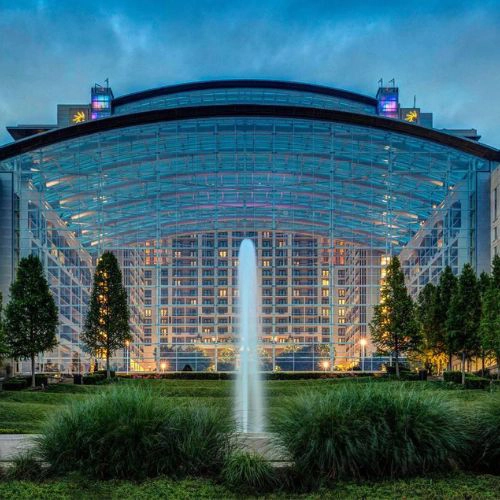 Race packet pickup will be held at the MCM Health and Fitness Expo located at Gaylord National Resort & Convention Center. The Gaylord National Resort & Convention Center opened in 2008 and holds numerous events annually, including this year's Expo.
With over 100,000 square feet, the MCM Expo gives runners and their families plenty of space to interact with other runners and shop the numerous exhibits and trade booths. While there, be sure to check out the free nutrition samples and giveaways.
Please remember to take your Event (E-Card) to packet pickup. You will need it to expedite the process.
How to get to the MCM Health and Fitness Expo
Getting to the Gaylord National Resort & Convention Center is easy. You can get there by bus, Metrorail, car, or via a Rideshare service like Uber or Lyft.
Location: 201 Waterfront Street, National Harbor, Maryland, USA, 20745
By Metro: Look for the Blue Line, then ride it to the King Street Metro Station.
By Bus: The NH2 bus lines will take you to the St George Blvd & Waterfront St.
Visit wmata.com or call (202) 637-7000 for more information.
Race Day: Getting to the Runner's Village
If there is one piece of advice I can give about race day, it is to get there early. While the race volunteers will do a great job getting you to the start line, traffic in and around the area will be heavy as an estimated 30,000 runners will be participating. 
Runners Village, located at Army Navy Drive and S. Fern Street near the start line, will be your stop for Port-A-Johns, water points,  and more. To get there, you have several options, the most convenient of which is likely to be the subway. Pentagon Metro and Pentagon City Metro are both near Runners Village, and open at 5 AM on race day. 
For those driving over, you will be able to choose from a paid parking option at the Fashion Centre at Pentagon City mall, or free parking at 23rd and Crystal Drive, where you will also be able to hop on the shuttle for an easy ride to Runners Village.

Some of our favorite Marine Corps Marathon race tips
Pre-race meals and fueling
Nutrition and fueling are important parts of your race strategy. The biggest tip regarding what to eat before you race is to not eat anything you are not used to eating. Nothing new the night before or during a race.
During training runs is when you should test various meals and marathon-fueling options. If you read this guide before your Marine Corps Marathon race, here are some of our favorite meals to eat before long runs and races. If you want more guidance on fueling options during your race, check out our article on the Basics of Endurance Fueling. It is a great guide that will help you stay fueled and energized during long runs and races.
And don't forget hydration! Dehydration can impact you negatively, from poor performance to heat illness to stomach distress. Here is a quick guide on staying hydrated.
2023 Marine Corps Marathon course map
Knowing where you are on the course can help you mentally during your race. In advance, visualize the course and imagine you running through each section. If you have the opportunity to drive the course in advance, it will help you come up with a great race strategy in terms of pacing, where the hills are, and where your family and friends can potentially meet you along the course.

If you know a hill is coming up, it will help you adjust your pace, so you don't burn your legs out.
Here is the 2023 Marine Corps Marathon race map: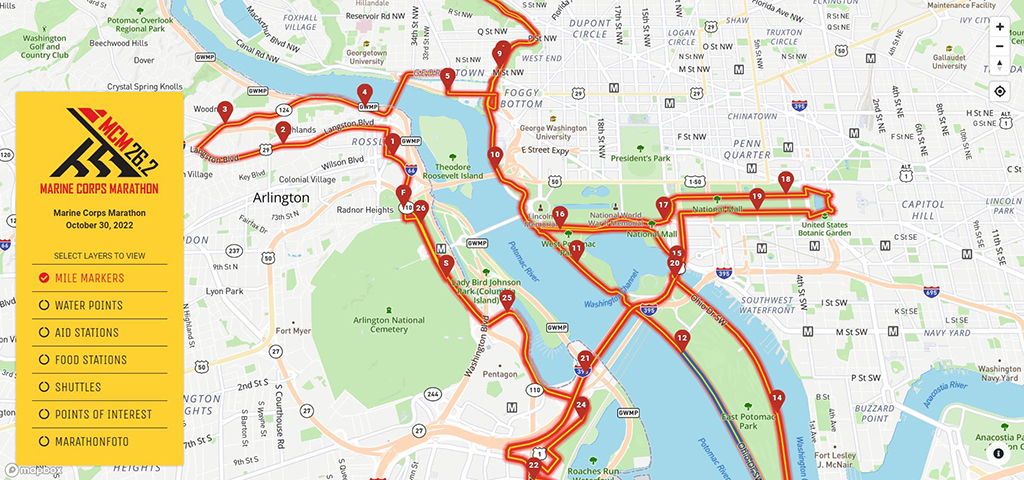 Have a pacing strategy and race goal
Many first-time marathoners go out too fast during their race, especially when adrenaline flows from the excitement of the race.
If you have never run the Marine Corps Marathon, I can assure you that leading up to the race start will be exciting. The energy at this race is amazing, and let's face it, everyone is nervous before a big race. As a coach, I tell my runners not to fall into the trap of running out too fast. Yes, it is important to get into your goal pace as soon as possible, but go easy for the first mile or two. Avoid weaving in and out of slower runners just to make time.

As you head out, use your running watch for the first mile to control your pace. It will prevent you from running too fast. Running out of the corrals too fast will make the "hitting the wall" part of the marathon that many runners experience potentially come sooner.
During your race, your energy levels will ebb and flow. What feels hard one mile may be gone the next and vice versa. This is your body trying to keep up with the energy demands a marathon place on it. Trust your training!

For more training tips, browse the hundreds of resources we have on our site.


Where to stay if you are traveling to the Marine Corps Marathon
If you are coming to the race from out of town, there are hundreds of places to stay in and around the area. Many provide early morning go-bag breakfasts or open early, so you can grab a pre-race breakfast. Just be sure to call ahead and ask.

Best hotels For Marine Corps Marathon
The Marine Corps Marathon has partnered with several hotels to receive special perks or discounts for race weekend. You can learn more about what hotels are included and how to book accommodations by checking out their site.
PRO TIP: Find a hotel close to the race start or finish. Having to walk far after running 26.2 miles is not fun when you are sore and tired. (Starting Location is on Rt. 110, near the Pentagon, Arlington, VA).
Doubletree by Hilton Washington-Crystal City – (Official Race Headquarters Hotel)
Le Méridien Arlington
Sonesta Select Arlington Rosslyn
Hampton Inn & Suites Arlington Crystal City
Residence Inn Arlington Ballston
Crystal Gateway Marriott (9.0 Rating)
Renaissance Arlington Capital View Hotel (9.0 Rating)
Hilton Garden Inn Shirlington
Club Wyndham Old Town Alexandria
Alternatives to hotels
AirBnb
Hostels and Bed & Breakfasts
Highroad Hostel
American Guest House
Woodley Park Guest House
Where to eat before or after the marathon
Here is a list of some of the best places to eat around the Washington DC / Arlington VA area. Due to the number of people attending the Marine Corps Marathon from out of town and the fact that some of these places are popular with locals, I highly recommend researching where you want to eat in advance and making the appropriate reservations.

True Food Kitchen offers healthy food choices, including plant-based, Vegetarian, and Vegan options.
4238 Wilson Boulevard, Suite 1110, Arlington, VA 22203.
South Block is a great place to get a healthy acai bowl, freshly-pressed juice, or tasty smoothie while out and about, but for a more substantial pre-race meal, you will need to go somewhere else.
4150 Wilson Blvd, Arlington, VA 22203
Little Beet is committed to cooking up plant-inspired, veggie-forward food that gives people the nutrients they need to live well. Choose from the wide selection of chef-crafted bowls which include keto, paleo, Whole30 options, and more, or design your home from a large variety of ingredients.
495 K St NW, Washington, DC 20001
CAVA is a fast-casual Mediterranean restaurant serving feel-good food with customizable greens + grains bowls, salads, and pitas. CAVA has a few locations in the DC area, but one of the closest is:
4121 Wilson Blvd, Arlington, VA 22203.
Bucca di Beppo is a family-style Italian dining restaurant where dishes are served family style, in large plates that are meant to be shared across your table.
1825 Connecticut Ave NW, Washington, DC 20009
Filomena Ristorante – Our RunBuzz favorite pre-race meal restaurant!
Filomena Ristorante is rated as one of the top three Italian Restaurants in the DC area and is located in the heart of Georgetown. They serve large portions of home-cooked Italian food and have a large variety of pasta, pizzas, salads, fish, meat, and more. This is a great place to get a great pre-race or post-race meal. Be sure to book early through OpenTable.
1063 Wisconsin Avenue, NW Washington, D.C. 20007.
If you like an old-fashioned Irish pub, then Samuel Beckett's is your place. This Irish Gastro Pub is known for its traditional dishes like Shepherd's Pie with organic lamb, veggies, and Jameson mashed potatoes. While there, you should also try the lamb stew served with Irish brown bread.
2800 S. Randolph St, Suite 110, Arlington, VA 22206.
If you like Vietnamese food, then look no further than Nam Viet. They have many traditional Vietnamese food options; however, if you plan to go, note that they close early! On race day, they close at 7 pm, but are open until 8 PM on Saturday. Reservations are accepted. However, takeout is recommended.
1127 North Hudson St. Arlington, VA 22201
If you are looking for a local favorite in the traditional American Diner format, then Bob & Edith's Diner is your place. This diner is located in Arlington and has been a local favorite for over 50 years. They are open 24 hours and a great place to get a big stack of pancakes, eggs and bacon, hash browns, meatloaf, or a slice of apple pie. They have a few locations you can choose from.
539 23rd St S, Arlington, VA 22202 (South of Rt. 110)
5050 Lee Hwy, Arlington, VA 22207 (Northwest of Rt. 110)
2310 Columbia Pike, Arlington, VA 22204 (West of Rt. 110)
Situated in the Clarendon neighborhood, Green Pig Bistro's angle is rustic French cooking with everything it has to offer, from obscure cuts of nose-to-tail meats to pork-based dishes like schnitzel and cassoulet, as well as a good selection of classics including fried chicken, meatloaf, and chicken pot pie. Note that they are closed on Monday, but open early on Saturday and Sunday for a brunch menu featuring waffles, benedicts, and classic American brunch fare.
1025 N. Fillmore St., Suite D, Arlington, VA 22201
Ruthie's All-Day is a family-friendly, all-day neighborhood restaurant and bar located in a historic Mid-Century Modern landmark building. From egg scrambles, oatmeal, pancakes, hashbrowns, and biscuits in the morning, to lunch and dinner options like seafood, steak, and fried chicken, there's something for everyone. Plant-based options include vegan burgers, grain and greens salads, and a large selection of veggie-friendly sides. Ruthie's All-Day offers take-out and delivery as well.
3411 5th St S, Arlington, VA 22204
If you're in the mood for Indian food, Spice Kraft Indian Bistro is one of the best-rated restaurants in the area. Self-described as a "boutique Indian bistro," you will find there traditional offerings like samosa and tandoori chicken wings, as well as salmon tikka pineapple and a large selection of vegan and gluten-free dishes. They offer pick-up and delivery as well.
1135 N Highland St, Arlington, VA 22201
Where to celebrate after the marathon
After you finish your race, it is time to celebrate with family and friends at the Finish Festival in Rosslyn, VA. Conveniently located near the MCM finish line by the Marine Corps War Memorial, the festival will be held from 8:00 a.m. to 4:00 p.m. You will have plenty of time to enjoy everything it offers, from live music, food, booths, giveaways, and post-event services.
You can also wander over to the many pubs and bistros. Here's a selection of some of the best-rated options.
If you're in the mood for tacos and whiskey, Quinn's will deliver. They are open from 11:30 am on weekdays (10 am on the weekend) until 10 pm and offer an all-day menu and a brunch menu on Saturday and Sunday. The menu is typical pub fare with a large selection of soups, salads, burgers, wings, and more.
1776 Wilson Blvd, Arlington, VA 22209
With a closing time of 1 AM on the weekend, O'Sullivan's Irish Pub is the place to be if you plan on celebrating late into the night. It offers a wide selection of beers and recently opened a whiskey bar as well. The Irish-themed menu includes options like Irish smoked salmon, beef & Guiness stew, potato cakes, and more.
3207 Washington Blvd, Arlington, VA 22201
If you or your group are looking for plant-based options, you will want to head over to Galaxy Hut, the self-described "vegan-friendly grill, and good beer bar" in Arlington. The menu showcases a variety of vegan dishes, and the cashew cheese is housemade. Please note that Galaxy Hut is 21+ only.
2711 Wilson Blvd, Arlington, VA 22201
Where to wander and relax after the Marathon
The best Instagram spots in Arlington, VA
Overlooking Washington, D.C., the Netherlands Carillon was a gift from the Dutch people in gratitude for U.S. aid during World War II and is free to the public.  The carillon's peaceful setting, with its floral libraries and sculpted lions, is the perfect place to listen to the music of the bells. Hear guest artists perform concerts on Saturdays during the summer.
Netherlands Carillon, Arlington, VA 22209
Located on a beautiful hillside vista in Arlington, Virginia, the Air Force Memorial honors the service and heritage of the men and women of the United States Air Force and its heritage organizations. It is free and open to the public. Traffic picks up during the day, so plan to get there early to beat the crowds. That being said, it is quite spectacular at night as well!
1 Air Force Memorial Dr, Arlington, VA 22204
This gorgeous memorial park features a rose garden, ornamental tree gardens, children's playgrounds, picnic areas with grills, and even small waterfalls along its scenic trails. The small hidden stream is a popular wading spot for small children. Parking is free.
 850 N Lexington St, Arlington, VA 22205
This small park boasts water features, a food vendor, plenty of seating, and neon lights to brighten up your evening stroll. Right across the shops at Crystal City, it's easily accessible and a great place to relax and get some pretty nighttime pics! It is generally a quiet reading spot, but note that a weekday train runs by regularly. Kid and pet-friendly.
1601 Crystal Dr, Arlington, VA 22202
Strike a pose in front of one of the many colorful urban murals found throughout the Crystal City neighborhood. There are dozens of murals in the area where local artists added a pop of color. For a map of the artwork, Washington DC's Curbed has a convenient guide listing the various artists with their art's location.
Known to those in the know as a hidden gem, this is the one place where you can take in the full grandeur of the Washington, D.C., metropolis. The floor-to-ceiling windows give you a 360° panoramic view of the region's most majestic monuments, including the Pentagon, the Washington Monument, and the Arlington Cemetery. Entrance is free, but don't forget your ID as you will go through a security check. The View of DC also has a cafe during normal hours.
1201 Wilson Blvd, Arlington, VA 22209
This scenic peninsula and National Park Service site in Arlington, Virginia, is located along the George Washington Memorial Parkway, just north of Ronald Reagan Washington National Airport and across the Potomac River from Washington, D.C. It is one of the best spots for airplane spotting and a popular site for children. Food trucks are occasionally on-site, and bike rentals are available.
An art installation by Chris Gardner, Cupid's Garden is a 4-ton sculpture that stands 24 feet high and 75 feet long. It is surrounded by roses, sedum, and moonbeam plants and is mainly made of stainless steel. If you're looking for a statement piece to photograph, you've found it!
Intersection of Wilson Blvd, Nash St, and Oak St, Rosslyn Arlington, VA 22209
The best Instagram spots in Washington, DC
The Navy and Merchant Marine Memorial, by artists Harvey Wiley Corbett and Ernesto Begni del Piatta, was dedicated in 1934 to those who died at sea during World War I and other conflicts. It is located in Lady Bird Johnson Park, and is a 35 feet tall and 30 feet wide aluminum sculpture of seven gulls over the crest of a wave. You can access it by walking the trail from Gravelly Point or the Arlington Cemetery, which are also great scenic sites.
Washington Blvd, Washington, DC 20037
No list of show-stopping monuments in the VA and DC area would be complete without the official residence and workplace of the president of the United States, the White House. Public tours are available on certain days and times, excluding federal holidays, and need to be reserved in advance, so be sure to check the schedule if you plan on going inside.
1600 Pennsylvania Avenue NW, Washington, DC 20500
The striking building designed by Henri Bacon houses the famous statue of President Lincoln, with his two most famous speeches etched into the opposing walls. It is free to visit 24 hours a day, but it can be very crowded in the daytime. You can rent a scooter from the Washington monument area if you are not up for more walking, but don't forget to ride by the reflecting pool leading up to the memorial.
2 Lincoln Memorial Cir NW, Washington, DC 20002
4. Vietnam Veterans and Korean War Veterans Memorials
Dedicated to Vietnam war veterans, including dead and missing soldiers, the Vietnam Veterans and Korean War Veterans Memorials feature a wall listing nearly 60,000 Americans who died during the Vietnam war, as well as a 164-foot granite wall dedicated to those who fought in the Korean war. The memorials are free to visit 24 hours a day, and ladders are available if you are looking for a specific name.
5 Henry Bacon Dr NW, Washington, DC 20002
5. The United States Holocaust Memorial Museum
A sobering memorial dedicated to the horrors of World War II and the Holocaust, this site may not be best for very young visitors but is very well-planned and full of information worth remembering. Tickets are required during certain times of the year, and it is recommended to plan ahead and reserve them online. It can be crowded, so give yourself plenty of time if you want to experience everything the museum has to offer.
100 Raoul Wallenberg Pl SW, Washington, DC 20024
The best places to relax and unwind in Arlington, VA
Shopping 
This independent gift shop offers free parking, free gift wrapping, and a selection of high -quality products from artisans from around the country, in addition to artwork from local artists. They have a good selection of Halloween products, right in time for the marathon! They are open until 5 PM on weekends.
5140 Wilson Blvd, Arlington, VA 22205
Fashion Centre at Pentagon City
If you are looking for large chains like Nordstrom, Macy's, Apple, and Coach, or a good selection of smaller retailers, head over to the Fashion Centre at Pentagon City. From there, a short 5-minute walk will take you to Pentagon Row where you can indulge in food offerings from India, Lebanon, Portugal, and more. Closing times vary by store, so calling ahead is recommended.
1100 S Hayes St, Arlington, VA 22202
Ballston Quarter Shopping Center
Situated in the heart of Arlington, VA, the Ballston Quarter shopping Center is the trendy new location for anything from fine dining to shopping, or even taking a cooking class or watching a movie. If you are limited on time and want to have everything in one place, this is one of your best options. They offer ample parking at reasonable prices, but close at 6 PM on Sunday.
4238 Wilson Blvd, Arlington, VA 22203
Theater
Perfect for the whole family and located in the heart of Arlington's Crystal City neighborhood, Synetic Theater uses motion, costumes, color, and more to tell mesmerizing stories. The cast continuously delivers flawless performances, and Synetic Theater is considered one of the best in the area with multiple awards to its name.
1800 S Bell St, Arlington, VA 22202
Thomas Jefferson Community Theatre
Home of the Arlington players, a nonprofit, volunteer theater company, the Thomas Jefferson Community Theater offers a rollerskating rink for kids, games, and of course, a theater with relatively comfortable seats and great acoustics where you can watch anything from local school plays to foreign talent.
125 S Old Glebe Rd, Arlington, VA 22204
Spa and Relaxation
If you are in need of pampering after your race, the Azure Dream Day Spa offers deep tissue massage, cupping, and hot stone therapy, as well as massages specifically designed for athletes. And if you are looking for more, they also offer hair removal services, facials, and a nail bar.
901 N Quincy St, Arlington, VA 22203
Look no further than Origins Thai Spa for an authentic Thai spa experience that offers a wide variety of massage services, as well as body treatments like their Detoxifying Seaweed Body Wrap and Honey Scrub. They offer a military discount with ID, and have been rated Best Day Spa by Northern Virginia magazine.
925 N Garfield St E, Arlington, VA 22201
If you are more into mani-pedis than massages, Aura Day Spa is one of the best-rated day spas in Arlington for manicures, pedicures, nail extensions, dipping powders, and a la carte nail care, with one of the largest selections of colors around. They also offer eyelash extensions, waxing serviecs, and more.