The Boston Marathon is held annually by several cities and towns in the greater Boston, Massachusetts area on Patriots' Day, or the third Monday of April. This year, the 127th marathon will be held on Monday, April 17, 2023.
In this unofficial Boston Marathon guide, I share information and tips about the race, including information on some fun things you can do while in Boston.

Information in this Boston Marathon guide comes from information curated from the official Boston marathon website as well as information curated from participant experience. Keep in mind that participant information is subject to change, You can get the most up-to-date information at baa.org/races/boston-marathon.
Boston Marathon Guide: How to Get to the Starting Line
Address and Hours
Massachusetts Bay Transportation Authority (MBTA) transit tips
I definitely recommend using public transportation on the morning of the race. All subway stations will have vending machines where you can purchase tickets with cash, debit, or credit cards. A 1-day LinkPass costs $11, or the equivalent of 4 subway trips, but will give you a whole day of unlimited trips on both subway and bus. The Commuter Rail weekend pass allows unlimited rides on the commuter rail and ferry but not the subway or bus.
Where is the best place to park for the Boston marathon on race morning?
Parking will be extremely limited, if not impossible, on the morning of the race. Two of the most conveniently located parking garages that aren't closed on race day are:
Prudential Center Parking (Huntington Avenue)
111 Huntington Avenue, 800 Boylston St – (617) 236-3060
Copley Place Parking (2 Copley Place)
2 Copley Pl – (617) 369-5026
How to get to the starting line
Plan for most roads to be closed on the morning of the race, so public transportation is definitely recommended. Your best option is using athlete transportation from the pickup point on Charles Street between the Public Garden and Boston Common; you will need your bib number and wristband.
You can get on the B.A.A. shuttle buses if you are a spectator and use the MBTA to get to the pickup points. Several stops on the Framingham/Worcester Line and Green Line C Branch will be all you need depending on which part of the race you will want to watch.
Here is the 2022 Boston Marathon race map: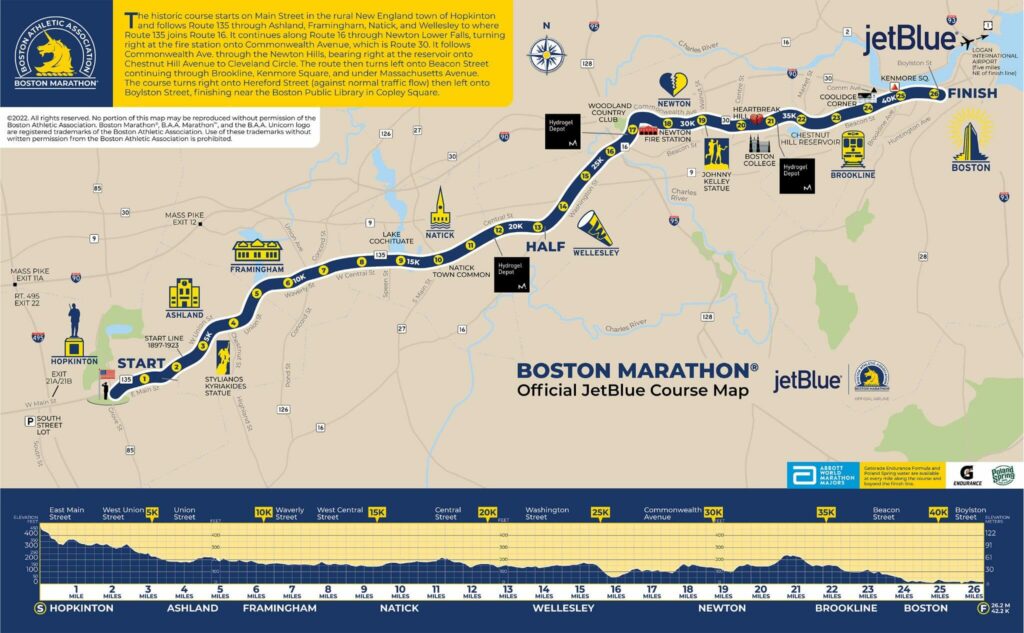 Address & Hours
Race Start Times
Start times are subject to change but are currently listed as the following:
Men's Wheelchair: 9:02 a.m. ET
Women's Wheelchair: 9:05 a.m. ET
Handcycles & Duos: 9:30 a.m. ET
Professional Men: 9:37 a.m. ET
Professional Women: 9:45 a.m. ET
Para Athletics Division: 9:50 a.m. ET
Wave 1: 10:00 a.m. ET
Wave 2: 10:25 a.m. ET
Wave 3: 10:50 a.m. ET
Wave 4:11:15 a.m. ET
Boston Marathon course strategy
Miles 1-3
The first few miles of the Boston Marathon are mostly downhill, which can be treacherous. If you haven't practiced running downhill, you will notice the effects later. If you go out too fast, you will likely pay for it later. Most runners who have run the marathon advise starting slow and at your goal pace. You will be fired up, and your adrenalin will flow, so hold back these first few miles.
Miles 4-7
You will be alternating between downhill stretches and some hills, and if you're feeling comfortable, keep doing what you're doing. There will be plenty of time later for pushing yourself, and you will want to have the energy for it. The motto here is "be conservative."
Miles 8-9
This part is more mentally challenging than anything, as you know what's ahead… The climb to the zoo. Another issue is the total lack of shade, which can be brutal if we're having a hot Spring. Try to keep your pace and not compete with others or compare yourself to them. Take advantage of the flat stretches.
Miles 10-12
Watch out for the uphill stretches and the continuing lack of shade. Even the most seasoned marathoners can feel a bit intimidated by that point. Don't forget, this is one of the most prestigious marathons and also one of the hardest. You can do it!
Miles 13
Essentially known as the "Scream Tunnel" mile, you will know you're there by the screaming ladies offering kisses to the runners (which you might or might not want to do with the pandemic). Enjoy the flat stretch and the encouragement from the crowd but don't push it. There are plenty of tough hills ahead.
Miles 14 to 19
You've completed the half marathon… Congratulations! Now the second half awaits. With a big downhill at mile 15 and a steep uphill at mile 16, this stretch is taxing physically and emotionally. As you get to the end, hydrate, hydrate, hydrate. Breathe, watch your heart rate, and top off your fuel tank. If you've studied the course ahead of time, you've visualized yourself running it, and you know what's ahead.
Miles 20
You guessed it, you just turned into Heartbreak Hill. The 91-foot incline at a 3.3 percent grade is the culmination of a 1,200-yard uphill stretch, so while it is not especially scary on its own, the few miles before and after really make all the difference.
Miles 21-24
You're nearly done! You will mostly need to be kind to your quads as they suffer yet more downhill stretches, and make sure to keep steady on the trolley tracks. Now is the time to get all the energy you've been saving out and get ready to give it all you've got.
Miles 25-26
That's it! Even the signs are there to let you know that you've nearly made it. Congratulations! Especially if this is your first time running the Boston Marathon, remember to be proud of yourself even if you didn't smash any records. This is a deceptively challenging race, and qualifying and finishing are already an achievement.
8 Additional Tips for Running the Boston Marathon
Don't try anything new, like foods and gels, before and during the race. This means bringing your own preferred fueing options.
Don't wear a new pair of shoes, or make sure to have about 30 days between getting a new pair and the day of the race.
Use the bathroom before the race. Porta potty lines get long!
Eat meals you are used to the night before the marathon, and avoid sugary foods and drinks and saturated fats.
Stay hydrated! Note that personal hydration system products are prohibited in the Boston marathon but standard manufactured "fuel belts" with bottles one liter or smaller are allowed. There will also be plenty of water stations available.
Save the sightseeing for after the race. You will want to start the marathon well-rested.
Have your family install the B.A.A. Racing App and go over the race map with them to plan meetups at specific points.
Visualize the whole course and study the route. Sit comfortably and go through the whole map in your head, including tough spots and areas where you can get a break. The best times to do this are right before bed and after waking up.
Boston Marathon Guide: Where to Stay
If you are coming to the race from out of town, there are hundreds of places to stay in and around the area. Many provide early morning go-bag breakfasts or open early so that you can grab a pre-race breakfast. Just be sure to call ahead and ask, or bring your own food.
The Boston Marathon Guide to the Best hotels
PRO TIP: Find a hotel close to the race start or finish. Walking far after running 26.2 miles is not fun when you are sore and tired. All options in this Boston Marathon Guide are either near the starting or the finish line. Remember that you will likely need transportation to and from the hotel.
Hotels that are closest to the Boston Marathon Starting or Finish Line
The Boston Marathon Guide to Hotel Alternatives
Hostels and Bed & Breakfasts
Boston Marathon Guide: Where to eat before and after
Here is a list of some of the best places to eat around the area. Due to the number of people attending the Boston Marathon from out of town and the fact that some of these places are popular with locals, I highly recommend researching where you want to eat in advance and making the appropriate reservations.
If you plan on eating healthy while in Boston, Ocean Nutrition is the local go-to for smoothies, teas, and protein-enriched iced coffees. Try the pink passion tea, blueberry cobbler smoothie, or the specials tailored for every season. Note that they are closed on Sunday.
76 Main St, Hopkinton, MA 01748 • (774) 312-4303
Closed on Monday, Tuesday, and Wednesday, which should not affect pre-marathon plans, Snappy dogs is a highly-rated hotdog stand right on Main Street. You can choose from a wide selection of dogs, including turkey, chicken, spicy beef, sweet Italian, and more, with chili and cheese add-ons. Reasonable prices and very friendly owners.
61 Main St, Hopkinton, MA 01748 • (617) 383-7627
Central Public House offers a mouthwatering and regularly updated menu with clearly labeled vegetarian and gluten-free options. Choose from classics like roasted chicken with potatoes, steak tips, or veggie burgers, or try something new like burrata with figs, honey, and zaatar or scallop stuffed-stole with mashed potatoes. Great beer selection.
42 Main St, Hopkinton, MA 01748 • (508) 625-2570
Bill's Pizzeria Kitchen + Grille
Bill's Pizzeria Kitchen + Grille has been making pizza, pasta, and panini for the past 25 years, and it shows. They offer gluten-free options with every pizza, as well as a variety of vegetarian options. Their kid's menu features everything from hamburgers and chicken fingers to linguine and mac and cheese. They've expanded their drinks menu with signature cocktails, fine wines, and over a dozen beers on tap.
14 Main St, Hopkinton, MA 01748 • (508) 435-0447
Sushi fans will not be disappointed at Ko Sushi and Grill, where vegan, gluten-free, organic, and fresh fish options abound. For those in your group who would rather eat something else, they offer grilled meats and burgers as well.
25 Hayward St, Hopkinton, MA 01748 • (508) 625-2082
As its name indicates, The Salty Pig is a pork-focused bistro, although you can find a variety of other dishes like chicken liver, cheese boards, and delicious salads. Diners recommend the Fresno Pepper Jam, the Salty Pig Pizza with mustard crema, arugula, and beer caramel, and the local burrata with prosciutto, figs, and hazelnuts.
130 Dartmouth St, Boston, MA 02116 • (617) 536-6200
If you're looking for a high-end steakhouse with a great wine list, this is it. This is not the least expensive restaurant on the list for sure, but it is the place to be for wagyu beef, lobster, and decadent desserts.
793 Boylston St, Boston, MA 02116 • (617) 536-6300
Boston Marathon Guide: Where to celebrate
After you finish your race, it is time to celebrate with family and friends in the many pubs and bistros in the Boston area. Here's a selection of some of the best-rated options near the finish line by Copley Place.
One of the best Irish pubs in Boston, J.J. Foley's Cafe has a friendly staff and good food, as well as a great selection of drinks, including draft beer, bottled beer, cans, wine, and cocktails. The menu showcases quesadillas, wings, and fries but also salads, burgers, pizza, pasta, and grilled meats.
117 E Berkeley St, Boston, MA 02118 • (617) 728-9101
This Irish pub doubles as a premiere destination for musicians and fans alike, and celebrities like Bruce Springsteen have been known to drop in. Enjoy specialty cocktails, beer, and wine with live music 7 days a week, including Gypsy Jazz and Bluegrass. Brunch is offered on the weekends with various omelets and other breakfast dishes. Diners love the salmon, avocado toast, and shepherd's pie.
1116 Boylston St, Boston, MA 02215 • (857) 250-4641
Anchovies is a cozy neighborhood bar where you will enjoy celebrating after the marathon. Unlike some other bars with so-so food, Anchovies features tasty Chicken Parmigiana with linguine marinara, Burrata Ravioli in brown butter sauce, sandwiches like the Columbus loaded with prosciutto, fresh mozzarella, tomato & roasted red pepper with fresh basil on ciabatta bread, and more.
433 Columbus Ave, Boston, MA 02116 • (617) 266-5088
This cafe and bar features gourmet sandwiches & craft cocktails and is open until 2 AM on Saturdays. Try the Mexican Meatball sandwich, the Mac and cheese, the Spicy Tuna burger, and the kettle chips. Each sandwich is named for the famous Boston chef who created it and the restaurant they are from.
361 Boylston St, Boston, MA 02116 • (617) 247-4777
Boston Marathon Guide: Where to wander and relax
Boston is a town full of culture and beauty. Instead of trying to make a comprehensive list of every Instagrammable spot and must-see museum, I chose to showcase some of the most famous ones alongside lesser-known attractions.
The best Instagram spots in Boston
Boston Public Garden (and swan boats)
No trip to Boston would be complete without visiting the Public Garden and seeing the swan boats, whether you've read Make Way for Ducklings as a child or not. Visitors are welcome to enjoy the live music, do yoga surrounded by the beautiful landscaping, or set up a picnic.
4 Charles St, Boston, MA 02116 • (617) 635-4505
Copley Square (and the Trinity Church and Public Library)
This public square by Boylston Street, Clarendon Street, St. James Avenue, and Dartmouth Street, is where you will find several landmarks within walking distance of each other. I recommend at least checking out the Trinity Church designed by Henry Hobson Richardson and the Public Library which boasts the first children's room in the nation and has been described as a "palace for the people".
The Charles River Esplanade is not just a great place for picnics and leisurely walks, it is also a fantastic spot to get a good view of the city. A great option If you are tired of the city noise and need a quiet place to relax. It is very kid friendly with a few playgrounds but you will have to go elsewhere for restrooms.
Charles River, Esplanade, Boston, MA 02116 • (617) 227-0365
Arnold Arboretum of Harvard University
One of the best gardens to see beautiful flowers, the Arnold Arboretum of Harvard University will be well on its way to stunning beauty by the time the marathon rolls around in April. It is kid and pet-friendly despite the distinct lack of restrooms. Don't miss the bonsai garden and various exhibits.
125 Arborway, Boston, MA 02130 • (617) 524-1718
The best museums and historic sights in Boston
Boston Tea Party Ships & Museum
The Boston Tea Party Ships and Museum is a floating history museum with a friendly and knowledgeable staff that stays in character as they teach you all there is to know about this important time in our nation. Don't forget to stop by the tea house for a pastry or two before leaving.
306 Congress St, Boston, MA 02210 • (617) 338-1773
This historic church and National Historic Landmark is a breathtaking example of gothic architecture. Many stained glass windows were made by the Tiffany Glass and Decorating Company in the late 1800s, and the staff is helpful and friendly.
67 Newbury St, Boston, MA 02116 • (617) 266-7480
Also known as the Boston Opera House, this is the place to go to for musicals with impressive acoustic and comfortable sitting in a beautifully restored building. It might be best to eat beforehand as the lines to get food and drinks can be very long.
539 Washington St, Boston, MA 02111 • (617) 259-3400
A replica of the original settlement of the Plymouth Colony, this kid-friendly museum features in-character staff members teaching you everything there is to know about pilgrims and natives. Don't miss the militia exercise, medicines and musket/gunpowder display, and the gift shop for unique souvenirs.
137 Warren Ave, Plymouth, MA 02360 • (508) 746-1622
The Harvard Museum of Natural History
Located on the Harvard campus, this natural history museum features a gorgeous gemstones and crystals section, a breathtaking glass art collection, and a wide variety of animals. You get free entry to the Peabody museum with your ticket. This is one of the most affordable attractions in Boston and a great value for the price.
26 Oxford St, Cambridge, MA 02138 • (617) 495-3045
A must-see for fans of Boston-area sports memorabilia & artifacts. The Sports Museum staff is knowledgeable and engaging, making this one of the best attractions for fans of the Celtics, Bruins, and Red Sox, or anyone interested in sports, including children.
TD Garden, 100 Legends Way, Boston, MA 02114 • (617) 212-6814