This vegan Mushroom, Artichoke & Grilled Cheese Toast features melted vegan cheese topped with golden mushrooms, savory artichokes, and a sprinkling of pine nuts. Such a yummy meal for vegan and non-vegan runners alike!
Print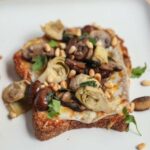 Vegan Mushroom, Artichoke & Grilled Cheese Toast
---
Description
A hot, gooey sandwich that is full of flavor and is also vegan? This is exactly what you will find with this Vegan Mushroom, Artichoke, and Grilled Cheese toast! Better than the grilled cheese of your childhood, this one is open-faced and finished with a sprinkling of pine nuts for a stunning presentation.
Vegan Mushroom & Artichoke Dip in a Sandwich
You've probably had some form of artichoke dip before, but if you haven't, you're going to love the combination of savory mushrooms cooked in vegan butter and freshly minced garlic that makes up the bulk of this Vegan Mushroom, Artichoke & Grilled Cheese Toast recipe. As they cook, they will start releasing their juices. The trick here is to wait until they evaporate and the mushrooms start to turn golden.
This is when you add the drained and chopped artichokes. There is no need to start from scratch with fresh artichokes, which take a long time to prepare and cook. Here, canned works just fine, and there's plenty of evidence that artichokes are a wealth of nutrition, and still retain much of their nutritional value even after processing.
Both veggies had a savory, umami dimension that really makes the vegan cheese sing. Sure, grilled cheese is delicious, but add golden vegetables and garlic, and you'll never want to go back to plain cheese toast again.
Crispy Bread and Melted Cheese
While you could make grilled cheese the traditional way by cooking it in a pan, toasting it in the oven helps keep calories down and turn your Vegan Mushroom, Artichoke & Grilled Cheese Toast into a fancy open-faced sandwich that will look great for simple lunches or even a dinnertime appetizer. 
To do this, I'm adding grated vegan cheese on top of whole-wheat bread and toasting it until it is fully melted. The bread slices are then ready to be topped with golden, hot mushrooms and artichokes. 
For added nutrition and flavor, I recommend sprinkling pine nuts over each plate. You can go a step further and delicately place the Vegan Mushroom, Artichoke & Grilled Cheese Toast after cutting it in half diagonally onto a bed of spring greens or tender lettuce leaves. Thinly sliced radishes can add an additional touch of color and a little crunch. No one will know this Vegan Mushroom, Artichoke & Grilled Cheese Toast recipe was done in less than 20 minutes!
Are you an artichoke fanatic? This Slow Cooker Chicken and Artichoke Stew is another way to eat more of this nutritious and delicious vegetable.
Do you track your meals using MyFitnessPal?  If so, simply scan the following barcode to quickly enter your item into your food tracking: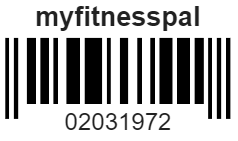 ---
2 slices whole wheat bread
¼ cup (20 g) vegan cheese, grated
1 tablespoon vegan butter
1 clove garlic minced
1 cup mushrooms, sliced
¼ cup (25 g) artichokes, drained & chopped
2 tablespoons pine nuts, toasted
---
Instructions
Heat the oven to 350°F (180°C). Line a baking sheet with baking paper, or use a non-stick pan.
Place the slices of bread onto a baking tray and top them with the cheese. Toast in the oven for 8-10 minutes or until the cheese is fully melted.
Meanwhile, heat the butter in a pot over medium-high heat and cook the garlic for 1 minute until fragrant. Keep an eye on it so it does not burn. Add the mushrooms to the pot, and continue to cook for 5-6 minutes. They will release their juices, which will then evaporate. If you can, wait until the mushrooms start to turn golden for the best flavor and to ensure your toast won't get soggy.
One or two minutes toward the end of the cooking time, add the artichokes and cook until heated through.
Check the toast, and once the cheese has melted and is slightly golden, take the tray out of the oven. Divide the toast between 2 plates.
Top each slice of toast with the mushroom mixture and sprinkle over some toasted pine nuts. Serve immediately.
Prep Time:

10 minutes

Cook Time:

10 minutes
Nutrition
Serving Size:

2

Calories:

264 grams

Fat:

19 grams

Carbohydrates:

17 grams

Fiber:

3 grams

Protein:

9 grams
Keywords: vegan, vegan cheese, artichoke, mushrooms, garlic, vegan butter, mushrooms, pine nuts, vegan recipes, recipes for runners, runner-friendly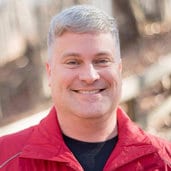 I am a NASM-certified personal trainer, PN1-certified nutrition coach, and RRCA/USATF-certified running coach. I have been coaching since 2010 and have helped thousands of runners online and in the Central Ohio area. I am the owner of RunBuzz and Run For Performance.com. If you are interested in online run coaching, or sports performance training (Central Ohio only), feel free to reach out.