During hot summer days or anytime we're craving a comforting, filling dish, this White Bean Summer Salad is a hit. It features creamy butter beans, various colorful veggies, fragrant herbs and spices, and a creamy vegan Parmesan and Dijon mustard dressing. 

This is a great summer salad for runners! It contains plenty of carbohydrates while remaining plant-based for vegan and vegetarian runners.
Print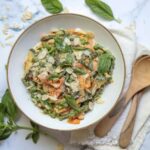 White Bean Summer Salad
---
Description
During hot summer days, this White Bean Summer Salad is a hit around here, with creamy butter beans, a slew of veggies, herbs and spices, and a creamy vegan Parmesan and mustard dressing. 
White Bean Summer Salad: A Rainbow of Colors and Textures
Because we eat with our eyes first, I turned a humble bean salad into a feast for the senses with various colors and textures. Several shades of greens are featured in my White Bean Summer Salad with zucchini semi-circles, chopped asparagus, round peas, sliced green onion, fresh basil leaves, and a sprinkling of dried oregano. Shaved carrots are a fun addition, adding a burst of color, and red pepper flakes dot the dish with spice. 
Beans and Oat Cream
Butter beans are some of the best beans to use in salads. They are also commonly found as "lima beans" and might bring back unpleasant memories of bland and boring beans, but this recipe is anything but. Full of minerals, vitamins, and a lot of other nutrients, butter beans are also rich in fiber and antioxidants.
On their own, they aren't especially flavorful, but they really shine in this White Bean Summer Salad when cooked in vegan butter and garlic and tossed in a creamy vegan dressing. You can also use cannellini beans or regular white beans, which are smaller, but still taste delicious.
The dressing calls for oat cream, which might not be a common ingredient in your pantry. Thicker than oat milk, you can make it at home by blending soaked rolled oats with a little oil to emulsify. It has become easy to find in many grocery stores as well.
If you can't find it, you can use other non-dairy cream substitutes. The taste will vary depending on what you settle on, but you'll still get great results as long as your options are unflavored. The sauce is made creamier and savory with the addition of vegan Parmesan and a touch of mustard.
What to Serve with White Bean Summer Salad
White Bean Summer Salad is great on its own, served on a bed of sturdy lettuce leaves. They also make a fantastic potluck dish and go great with chicken skewers or steak and salad. You can make it your own by adding finely diced red onions, some vegan feta cheese, and even a little crushed garlic to the dressing.
White Bean Summer Salad is deliciously eaten immediately, but you can also refrigerate it and eat it cold. For more easy meal prepping tips for runners, be sure to check out this article!
Do you track your meals using MyFitnessPal?  If so, simply scan the following bar code to quickly enter your item into your food tracking: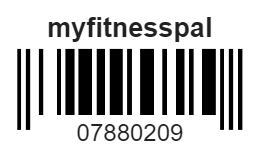 ---
3 tablespoons vegan butter, unsalted
1 zucchini, sliced into semi-circles
8 oz. (225 g) asparagus
2 carrots, peeled, then shaved into strips with a vegetable peeler
3 garlic cloves, finely chopped
1 cup (140 g) frozen peas
2 green onions, sliced
½ teaspoon red pepper flakes
½ teaspoon dried oregano
Salt and pepper
1 x 14 oz. (400 g) cans butter beans, drained
¾ cup (180 ml) oat cream
½ lemon juiced
2 oz. (60 g) vegan Parmesan, grated
1 tablespoon Dijon mustard
½ cup slivered almonds
4 tablespoons fresh basil leaves, for garnish
---
Instructions
Heat the vegan butter in a large pot over a medium/high heat. Add the zucchini and season with salt. Stir and cook until golden, about 6 minutes.
Add in the asparagus, carrot, and garlic, and cook, stirring occasionally for a further 4 minutes.
Stir in the peas, green onions, red pepper flakes, and oregano, and season with salt and black pepper. Cook, stirring constantly, until the peas are warmed through, around 2 minutes.
Lower the heat, add the white beans and oat cream, bring to a simmer, continue to cook for a minute. Turn off the heat.
Drizzle with lemon juice, mix in the Parmesan and Dijon mustard, and season to taste with salt and pepper. If necessary, add 1 or 2 tablespoons of warm water to loosen the sauce.
Serve the bean salad in bowls garnished with almonds and basil leaves.
Prep Time:

10 minutes

Cook Time:

15 minutes

Category:

salad

Cuisine:

Plant-based
Nutrition
Serving Size:

6

Calories:

296 grams

Fat:

19 grams

Carbohydrates:

21 grams

Fiber:

7 grams

Protein:

12 grams
Keywords: vegan butter, zucchini, asparagus, garlic, carrots, onions, peas, butter beans, vegan parmesan, oat cream, dijon mustard, almonds, recipes for runners, runner-friendly, plant-based recipes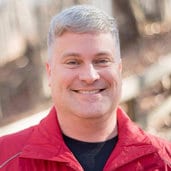 I am a NASM-certified personal trainer, PN1-certified nutrition coach, and RRCA/USATF-certified running coach. I have been coaching since 2010 and have helped thousands of runners online and in the Central Ohio area. I am the owner of RunBuzz and Run For Performance.com. If you are interested in online run coaching, or sports performance training (Central Ohio only), feel free to reach out.