The 2023 New York Marathon will be held on Sunday, November 5th, 2023. It is the largest marathon in the world and is held on the first Sunday in November. Originally a repeating loop around Central Park, it now runs through the Bronx, Brooklyn, Manhattan, Queens and Staten Island.
The race starts at the Verrazano–Narrows Bridge on Staten Island and ends in Central Park. You will run by the Fort Tompkins, a Civil War fort, the Green-Wood Cemetery gates, the New York State Supreme Court, the Empire State Building, Saint Andrew's Church, and much more.
Race information is subject to change. If you plan to participate in the race, you can get the most up-to-date information at nyrr.org.
2023 New York Marathon race information
Race packet pickup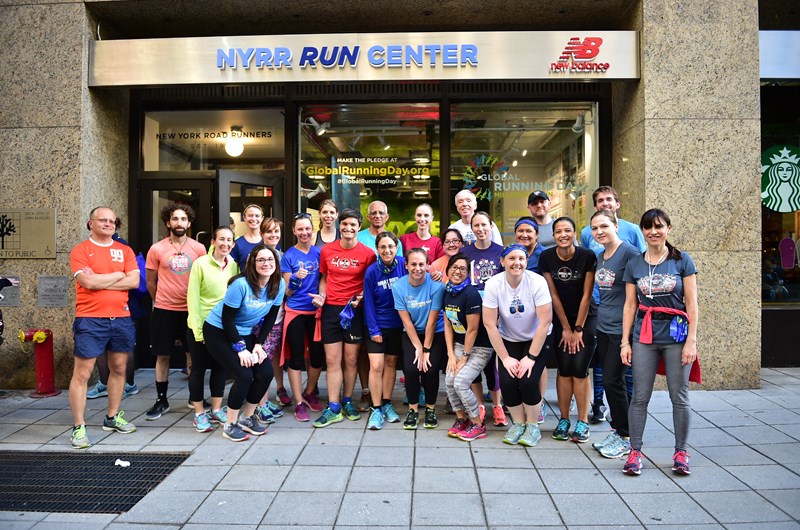 Mon–Fri: 9:00 a.m.–8:00 p.m.
Saturday: 9:30 a.m.–5:30 p.m.
Sunday: 9:30 a.m.-5:30 p.m.
Packet pickup will be held at the NYRR RUNCENTER located at 320 West 57th Street in Manhatten. You will need your full name and date of birth to pick up your packet, or you can have a friend pick up your packet for you with your race QR code.
I recommend getting there early to avoid the largest crowds or having one person pick up packets for your whole group if running with others.
How to get to the NYRR RUNCENTER
Getting to the NYRR RUNCENTER is easy. It is located near Central Park. You can get there by foot, subway (stations Bay St/Shore Acres Dr, Fingerboard Rd/Tompkins, and Bay St/St Johns Av), bus (routes S79-SBS, S93, SIM1C, SIM33C), car, or via a Rideshare services like Uber or Lyft.
Location: 320 West 57th Street, New York, NY 10019
Race Day: Getting to Fort Wadsworth in Staten Island
If there is one piece of advice I can give about race day, it is to get there early. While the race volunteers do a great job getting you to the start line, traffic in and around the area will be heavy. In 2019, before the pandemic reduced the number of participants, 53,627 runners crossed the finish line. Many runners, their families, and friends will be making their way to the starting line at once, and the crowd can be intimidating and slow if you aren't used to it.
Fort Wadsworth, located in Staten Island near the start line, will be your stop for restrooms, water points, medical help, Flow Alkaline Water, sports drinks, coffee, tea, hot cocoa, and bagels, and more.
To get there, you have several options, the most convenient of which is likely to be the subway. 2 Av and Astor Pl are the closest stations, and both will be open by 6 AM on race day. 
For those driving over, you will be able to choose from several paid parking options nearby.
Some of our favorite New York Marathon race tips
Pre-race meals and fueling
Nutrition and fueling are important parts of your race strategy. The biggest tip regarding what to eat before you race is to not eat anything you are not used to eating. Nothing new the night before or during a race.

If heading to the race early, take a disposable go-bag with light snacks and water. Standing around for a couple of hours can use vital energy, so having something on hand can keep your glycogen levels topped off.
Training runs prior to race day is when you should test various pre-race meals and marathon-fueling options. If you read this guide before your New York Marathon race, and you would like a few ideas, you can check out some of our favorite meals to eat before long runs and races.
For more guidance on fueling options during your race, check out our article on the Basics of Endurance Fueling. It is a great guide that will help you stay fueled and energized during long training runs and races.
And don't forget hydration! Dehydration can impact you negatively, from poor performance to heat illness to stomach distress. Here is a quick guide on staying hydrated.
2023 New York Marathon course map
Knowing where you are on the course can help you mentally during your race. In advance, visualize the course and imagine you running through each section. If you have the opportunity to drive the course in advance, it will help you come up with a great race strategy in terms of pacing, where hills are, and where your family and friends can potentially meet you along the course.

If you know a hill is coming up, it will help you adjust your pace, so you don't burn your legs out.
Here is the 2023 New York Marathon race map: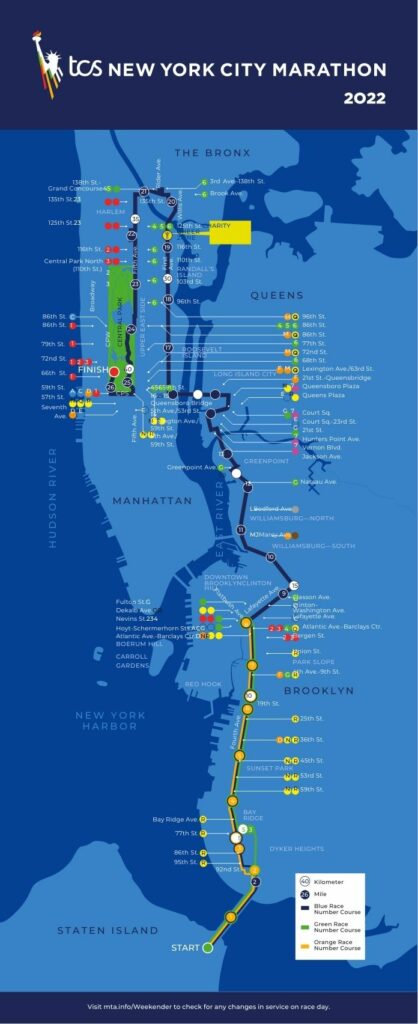 Where to stay if you are traveling to the New York Marathon
If you are coming to the race from out of town, there are hundreds of places to stay in and around the area. Many provide early morning go-bag breakfasts or open early, so you can grab a pre-race breakfast. Just be sure to call ahead and ask.
Best hotels For the New York Marathon
The New York Marathon has partnered with On Location, formerly Anthony Travels, to give participants special perks or discounts for race weekend. You can learn more by checking out their site.
PRO TIP: Find a hotel close to the race start or finish. Having to walk far after running 26.2 miles is not fun when you are sore and tired. Most options are near the finish line.
Empire Hotel
Hotel Beacon
Fairfield Inn & Suites by Marriott New York Manhattan/Central Park
JW Marriott Essex House Hotel New York
Alternatives to hotels
AirBnb
Hostels and Bed & Breakfasts
HI New York City Hostel
Jazz on The Park Hostel
West Side YMCA
Jazz on Columbus Circle Hostel
Where to eat before or after the marathon
Here is a list of some of the best places to eat around the Staten Island/Central Park area. Due to the number of people attending the New York Marathon from out of town and the fact that some of these places are popular with locals, I highly recommend researching where you want to eat in advance and making the appropriate reservations.
A family-owned, top-rated Italian restaurant on Staten Island, Patrizia offers traditional appetizers, pasta dishes, brick-oven pizza, and various drinks and desserts. They also do brunch on Saturday and Sunday with pancakes, eggs, and more.
4255 Amboy Rd, Staten Island, NY 10308 • (718) 317-6600
Look no further than Bayou for authentic Cajun cuisine. Don't load up on the free bread, and save your appetite for the jambalaya, alligator bites, roasted duck, creme brulee, Mississippi mud pie, and more.
1072 Bay St, Staten Island, NY 10305 • (718) 273-4383
Known for its Spanish cuisine and tapas, Beso is a relaxed, family-friendly restaurant with an outdoor terrace. The bartenders are known for their mojitos and other alcoholic drinks. Vegetarian friendly.
70 Bay St, Staten Island, NY 10301 • (718) 816-8162
If you would rather go to a steak house, Ruddy & Dean is one of your best choices in the area. The staff is attentive, portions are generous, and the wine list is decent. They also have a good selection of seafood dishes, and vegetarian-friendly sides.
44 Richmond Terrace, Staten Island, NY 10301 • (718) 816-4400
Offering affordable prix-fixe selections for lunch and dinner Tuesday through Thursday, as well as full dinner menus, this award-winning Italian restaurant on Staten Island is a favorite with the locals. The food is fresh, the pastries homemade, and the pizzas are baked in an old-fashioned wood-burning oven.
4105 Hylan Blvd, Staten Island, NY 10308 • (718) 317-8507
For the sushi-loving crowd, Ocean Sushi always delivers. Self-described as a Japanese fusion restaurant, they offer a variety of sushi and sashimi using fish delivered fresh daily, as well as soups, salads, rolls, and cooked dishes. Pickup and delivery are available.
20 Jefferson Blvd, Staten Island, NY 10312 • (718) 966-6888
This smaller Mediterranean restaurant with patio near Central Park will delight you with its complimentary freshly baked bread, lamb soujouk, cheese pastries, and of course the usual Middle Eastern hummus, eggplant dip, and salads.
473 Columbus Ave, New York, NY 10024 • (212) 595-5554
If you are not looking for a heavy meal, Community Food & Juice near Central Park will meet your needs for fresh salads, rice & veggie bowls, egg dishes, and fresh juices, while also catering to those in your group who might want something more substantial like burgers and sandwiches. Food is local and organic as much as possible.
50 W 72nd St, New York, NY 10023 • (212) 932-0600
Located near the Children's Museum by Central Park, Jakob's Pickles is a Southern restaurant known for its comfort food and craft beers. It is a fairly popular brunch spot, but the chicken biscuit, fried green tomatoes, collard greens with black-eyed peas, and of course pickles are worth the wait.
509 Amsterdam Ave, New York, NY 10024 • (212) 470-5566
Where to celebrate after the marathon
After you finish your race, it is time to celebrate with family and friends in the many pubs and bistros in New York City. Here's a selection of some of the best-rated options.
This fun literary-themed Irish pub offers a variety of drinks including cocktails named after poets and books. You will want to try the Ulysses, the Dead Poet (their popular mix of 7 liquors), and the Edgar Allan Poe. They don't have a food menu, but you can bring your own. They also have several TVs to watch sports.
450 Amsterdam Ave #2, New York, NY 10024 • (212) 595-5670
A sports bar with great bar food like quesadillas, nachos, fries, hot dogs, and more, The Gin Mill has a half-price bar until 8 PM, live music, and plenty of TVs.
442 Amsterdam Ave, New York, NY 10024 • (212) 580-9080
Open daily until 4 AM, the Dublin House is a 10-year-old Irish pub that has dart boards, a jukebox, and a big variety of cocktails, mules, gins, and tonics, as well as beers in bottles, cans, or on draft. Note that they do not serve food.
225 W 79th St, New York, NY 10024 • (212) 874-9528
If you're looking for a bar with a solid alcohol selection that also serves food, Prohibition is one of your best options. Specialty cocktails, draft beers, bottled beers, and wine are available alongside chicken skewers, seared salmon, cheeseburgers, fries, steaks, tacos, and more.
503 Columbus Ave, New York, NY 10024 • (212) 579-3100
This cozy little bar offers free candy, a jukebox, a wide selection of alcoholic drinks, and a lounge area with board games. The spots by the fish tank are a favorite.
101 W 75th St, New York, NY 10023 • (212) 362-7518
Where to wander and relax after the Marathon
The best Instagram spots on Staten Island
Wander inside the Chinese Scholar's Garden, part of the Snug Harbor Cultural Center and Botanical Garden, and admire Ming Dynasty-style gardens with a bamboo forest path, waterfalls, a koi pond, bridges, and more.
1000 Richmond Terrace, Staten Island, NY 10301 • (718) 425-3504
Bike along the Manhattan waterfront with a great view of the Verazano bridge, walk your dog, or go for a jog. You will not regret seeing the beautiful skyline that is even more breathtaking at sunset!
Fort Wadsworth, Staten Island, NY 10305 • (718) 354-4606
Jacques Marchais Museum of Tibetan Art
This museum built like a Tibetan monastery has beautiful art displayed throughout and gorgeous gardens. Try booking a private tour, yoga session, or meditation session for a unique experience in a beautiful setting.
338 Lighthouse Ave, Staten Island, NY 10306 • (718) 987-3500
One of the largest and best natural harbors in the world, and a must-see while in New York City, the New York Harbor is the place to be to see the Statue of Liberty, Ellis Island, the Verrazzano Bridge, Governors Island, along with great views of Manhattan.
Snug Harbor Cultural Center & Botanical Garden
This 83-acre park is free and open seven days a week, and houses the Newhouse Center for Contemporary Art, the Staten Island Museum, the Staten Island Children's Museum, the Noble Maritime Collection, the Staten Island Conservatory of Music, and more.
1000 Richmond Terrace, Staten Island, NY 10301 • (718) 425-350
The best museums and historic sights on Staten Island
Celebrating its 140th year, the Staten Island Museum features unique exhibits showcasing what makes Staten Island unique, including local history and natural sciences. It is kid-friendly and offers temporary exhibits as well that are worth checking out.
1000 Richmond Terrace, Staten Island, NY 10301 • (718) 727-1135
Learn all about the nation's lighthouses through mini replicas, informative videos, and knowledgeable staff. Don't forget to check out the view of the waterfront!
200 The Promenade at Lighthouse Point, Staten Island, NY 10301 • (718) 390-0040
This 8-acre urban zoo is great for kids and adults alike. There, you will be able to see a multitude of animals and even endangered species. Look for bats, foxes, reptiles, lemurs, peacocks, mammals, and the petting zoo where you can feed goats and poneys.
614 Broadway, Staten Island, NY 10310 • (718) 442-3100
The best Instagram spots in the Central Park area
Located in the southeast corner of the park, this ornamental stone bridge is the perfect spot for romantic photos. Or, sit right by it to read a book or admire the open sky. The perfect place to relax especially when it isn't too crowded.
Minton Tiles at Bethesda Arcade
The arched walkway inside the park is an attraction in itself, with a ceiling made from 15,000 tiles from the famous Minton Tile Company in England that were originally the floors of European cathedrals.
The ice rink is open from October to April, and is affordable with friendly staff. Lots of fun is to be had there, but this also means longer waiting lines. Plan ahead, and book your tickets online!
You might not want to climb this scenic spot before or after one of the toughest marathons in the country, but if you feel up to it, these carved stoned stairs lead to the highest natural elevation in Central Park.
The best museums and historic sights near Central Park
The Metropolitan Museum of Art
Famously known as "The Met," The Metropolitan Museum of Art is one of the largest and finest museums in the world. Walk through exhibits starting in prehistoric times up until today, divided between 17 departments. You won't be able to see it all in a day or even a weekend, so come prepared knowing which sections you want to visit the most. Or, focus on the temporary exhibits if you plan to return to New York!
1000 5th Ave, New York, NY 10028 • (212) 535-7710
American Museum of Natural History
Grab a map, stroll through geode exhibits, explore the lost world of dinosaurs, and don't forget the planetarium and sea creatures exhibit.
200 Central Park West, New York, NY 10024 • (212) 769-5100
This art museum designed by architect Frank Lloyd Wright mixes modern and contemporary art and is built in a spiral with an exhibit on nearly each floor. Online reservations are highly recommended.
1071 5th Ave, New York, NY 10128 • (212) 423-3500
Known as one of the most influential modern art museums in the world, the Museum of Modern Art has many famous collections that include the works of Francis Bacon, Cezanne, Chagall, Dahli, Kahlo, Picasso, van Gogh, and much more.
11 W 53rd St, New York, NY 10019 • (212) 708-9400
The best places to relax and unwind in New York City
Shopping 
This upscale department store is a one-stop shop if you are looking for luxury goods. Or, look for the tasty treats provided by shops like Forty Carrots for frozen yogurt or Magnolia Bakery for banana pudding. The outlet has many of the same brands but at deeply discounted prices.
1000 Third Avenue 59th Street and, Lexington Ave, New York, NY 10022 • (212) 705-2000
2085 Broadway, New York, NY 10023 (Outlet) • (212) 634-3190
You might not do any actual shopping there, but this landmark store is a must-see for many New York visitors. The friendly staff is attentive if you are looking to buy, but is happy to let your browse as well.
6 E 57th St, New York, NY 10022 • (212) 755-8000
Great for high-end shopping, Saks Fifth Avenue also offers alterations, complimentary makeup sessions, facials, and more. A fun way to relax after a long run!
611 5th Ave, New York, NY 10022 • (212) 753-4000
With two floors dedicated to the building bricks, you will find everything you are looking to add to your collection, from mini figurines to accessories, without forgetting full sets, display items, giant figures (including the Statue of Liberty), and more.
636 5th Ave, New York, NY 10020 • (212) 245-3248
Fleet Feet – New York Running Company powered by JackRabbit
This sporting goods store is all about running. Find your dream pair of shoes, take a foot scan, and get all your questions answered by the helpful staff.
10 Columbus Cir, New York, NY 10019 • (212) 823-9626
Theater
Lincoln Center for the Performing Arts
Located on the Upper West Side of Manhattan, the Lincoln Center for the Arts is a gorgeous building that is worth seeing even if you are not going inside. If you can attend a show, you will get to enjoy superb acoustic and comfortable seats at prices that go from affordable to very expensive depending on where you sit – but know there is no such thing as a bad seat there.
Lincoln Center Plaza, New York, NY 10023 • (212) 875-5456
The Majestic Theater is a beautiful building listed in the US National Register of Historic Places that offers beautifully written and choreographed shows, one of the latest ones being The Phantom of the Opera. It is a more affordable option than some of the other New York City shows but is still absolutely worth it.
245 W 44th St, New York, NY 10036 • (212) 239-6200
Known as one of the must-see attractions in New York City, the Broadway Theater is famous for its stellar performances with talented (and often famous) actors.
1681 Broadway, New York, NY 10019 • (212) 239-6200
One of the oldest Broadway venues dating back to 1902, the New Amsterdam Theater is a gorgeous building that is worth checking out. Shows are offered during the day and in the evening as well, and are often kid-friendly.