This Vegan Potato and Bean Salad with Avocado Jalapeño Dressing is a delicious variation on classic potato salad and features beautifully oven-roasted baby potatoes and green beans tossed in a creamy dressing spiked with fresh garlic and jalapeño peppers.
While I am not personally a Vegan runner, I am constantly on the lookout for healthy meals. This is a good one that my wife and I recently tried that turned out great!
Print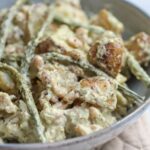 Vegan Potato and Bean Salad with Avocado Jalapeño Dressing
---
Description
Regular potato salad can be a mess of refined oils and so-so nutrition but has the potential to be so much better. Using the wrong types of potatoes, using cheap oils, or skipping on crisp seasonal veggies can make all the difference between an average dish and a mind-blowing one. 
This Vegan Potato and Bean Salad with Avocado Jalapeño Dressing is everything you love about this traditional favorite of family dinners and get-togethers, with the added benefits of protein-rich beans, the flavors of garlic, jalapeño peppers, and the creaminess of avocado.
The Main Stars of the Vegan Potato and Bean Salad
Baby potatoes: Baby potatoes are one of the keys to this vegan potato and bean salad because they barely need any cutting or trimming to be a perfect size. But most importantly, they are generally lower in starch and will hold up beautifully as they cook instead of falling apart as some mature potatoes might. 
Beans: In my Vegan Potato and Bean Salad with Avocado and Jalapeño Dressing, I like to use both green beans and white cannellini beans. Cannellini beans are rich in protein and contain about 25 grams per can.
Green beans have been shown to help with anemia potentially, something female runners need to watch out for in general. Green beans are also rich in vitamins and minerals and are thought to have anti-inflammatory properties. 
A Creamy And Spicy Avocado Jalapeno Dressing 
While you could change up the vegan potato and bean salad ingredients and use regular mayo, there's no need to, thanks to the big variety of high-quality vegan mayonnaise that is offered in grocery stores nowadays. Here's a breakdown of some of the best ones:
Paleo mayonnaise: While some Paleo mayo list eggs and other non-vegan ingredients, there are also brands that are completely plant-based and still don't use refined oils like canola, preferring alternatives like avocado oil. 
Aquafaba mayonnaise: If you've ever drained a can of chickpeas or white beans, you've seen aquafaba, which is essentially the liquid that beans are cooked in. As it turns out, you can whip it up into anything from marshmallow cream to creamy dressings like mayonnaise.
Make your own: Making your own vegan mayonnaise at home is easy, and you'll know exactly what goes in it. All you will need is aquafaba, oil, vinegar, and some flavorings. Or, look for recipes using soy milk for an equally easy and tasty alternative.
How to Plan Your Vegan Potato and Bean Salad
This vegan potato and bean salad is fairly straightforward but includes a few steps. Because you can serve it warm, one way to speed things up is to prep all the roasting ingredients, so you just have to pop them into the oven while you mingle with your guests or relax after a long day at work. The dressing can be made the day before and kept in a closed container. You can even make extra and use it to dip veggies in!
Love this vegan potato and bean salad? You will want to try my Healthy White Bean Summer Salad which also features delectable white beans.
Do you track your meals using MyFitnessPal?  If so, simply scan the following barcode to enter your meal into your food tracking quickly: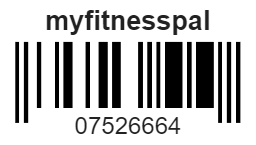 ---
For the vegan potato and bean salad:
2 lbs. (900 g) baby potatoes, cut into 2-inch pieces
2 tablespoons olive oil
1 teaspoon garlic powder
Salt and pepper
1 lb. (450 g) green beans, trimmed and cut into 2-inch pieces
14 oz. (400 g) can cannellini beans, drained
1 lime, cut into wedges, to serve
For the avocado and jalapeno dressing:
1 avocado
½ cup (115 g) vegan mayonnaise
½ cup (4 g) chopped dill
2 tablespoons olive oil
2 tablespoons lime juice
1 clove garlic, chopped
1 jalapeño pepper, chopped
Salt and pepper
---
Instructions
Heat your oven to 425°F (220°C).
Place the potatoes onto a baking sheet lined with baking paper. Drizzle with 1 tablespoon of olive oil and season with garlic powder, salt, and pepper. Place the sheet into the oven and roast for 25 minutes or until golden and almost cooked through.
Meanwhile, make the spicy dressing by adding the avocado, mayonnaise, dill, olive oil, lime juice, garlic, and jalapeño pepper into a blender or food processor, and blitzing to a smooth consistency. Season to taste with salt and pepper.
After 25 minutes of roasting, remove the sheet from the oven, push the potatoes to one side of the tray and add the green beans.
Drizzle the beans with the remaining olive oil then return the sheet to the oven and roast for a further 10 to 15 minutes, until the beans are tender and the potatoes fully cooked.
Transfer the potatoes and green beans to a large bowl and allow to cool for 5 minutes. Add the white beans and toss with half of the dressing.
Serve your

vegan potato and bean salad

in the bowl with lime wedges and the remaining dressing on the side.
Vegan Potato and Bean Salad with Avocado Jalapeño Dressing is best eaten within 48 hours if kept refrigerated at all times in a tightly closed container.
Prep Time:

10 minutes

Cook Time:

40 minutes

Category:

dinner
Nutrition
Serving Size:

4

Calories:

588 grams

Fat:

35 grams

Carbohydrates:

67 grams

Fiber:

10 grams

Protein:

10 grams
Keywords: vegan potato salad, vegan bean salad, baby potatoes, avocado, grean beans, pepper, aquafaba, vegan mayo, recipes for runners, vegan running recipes,