Whether you are an avid runner or just try to eat well, Thai Pineapple Fried Rice fits the bill with delicious ingredients that are full of nutrition, including tofu, brown rice, and colorful vegetables.
Print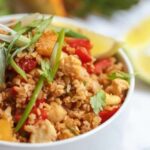 Thai Pineapple Fried Rice
---
Description
While pineapple on pizza can cause quite a divide between friends, pineapple with tofu, crisp tender vegetables, brown rice, and mouthwatering seasonings is a winner with everyone who has tasted my Thai Pineapple Fried Rice.
Dinner in a Snap
The last thing you want to do on busy weeknights is to spend hours preparing a bunch of ingredients, which is why this pineapple fried rice recipe is perfect when you need something delicious that comes together quickly. However, since meal prep goes fast with this one, I would recommend reading the recipe fully at least once to be prepared unless you're a fast chopper and can dice as you go!
Flavorful Ingredients That Nourish
Whether you are an avid runner or just trying to eat well, Thai Pineapple Fried Rice fits the bill with delicious ingredients that are full of nutrition. To make this dish, you will need:
Tofu: While generally bland on its own, tofu quickly picks up the delicious flavors of garlic, caramelized pineapple, tamari, and sriracha. It is best to use firm or extra-firm tofu here instead of the soft, silken type. Not in the mood for tofu? Cooked shrimp is a great substitute, and so is chicken. Your pineapple fried rice will no longer be vegan, but it will still be delicious.
Veggies: Here, I am using bell pepper, green onion, and garlic. That being said, feel free to use whatever is starting to look less than perfectly fresh in the fridge. Shredded kale, cilantro, peppers of different colors, and regular onions would work great.
Brown rice: Fried rice is often made with white rice, but sometimes, I just want the texture and nuttiness of brown rice. It is also higher in fiber and nutrients, but if you want to use white rice, go right ahead. The pineapple fried rice will be just as delicious. The added crunch comes in the form of chopped cashews. 
Spices: Spicy flavors go together so well with the caramelized sugars of the pineapple. I am using two of my favorite ones, garlic and sriracha. Sriracha is made from sun-ripened chilies and is easy to find in most supermarkets. If you don't have any, sweet chili sauce or Indonesian sambal oelek are fine substitutes.
A Great Meal Prep Recipe
Not only is this pineapple fried rice recipe quick to put together, but the leftovers are also delicious, so don't hesitate to make a bigger batch and reheat it. Microwaving is generally the go-to method, but a quick toss in a hot pan with a little water works great too.
Do you track your meals using MyFitnessPal?  If so, simply scan the following barcode to quickly enter your item into your food tracking: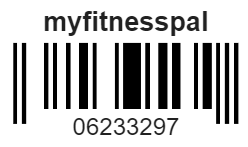 ---
2 tablespoons coconut oil, divided
14 oz. (400 g) tofu, crumbled
1 ½ cups (250 g) pineapple, chopped
1 red bell pepper, diced
5 green onions, sliced
2 cloves garlic, minced
½ cup cashews
2 cups (400 g) brown rice, cooked & chilled
1 tablespoon tamari
1–2 teaspoon sriracha
Salt and pepper
1 lime, halved
2 tablespoons cilantro, to garnish
---
Instructions
Heat 1 teaspoon of coconut oil in a large wok or non-stick skillet, over a medium-high heat.
Add the crumbled tofu and sauté, stirring frequently, until lightly browned, around 2-3 minutes. Transfer the tofu to a large bowl and set aside.
Add 1 tablespoon of the coconut oil to the wok, along with the pineapple and red bell pepper. Cook, stirring constantly, until the pineapple has caramelized around the edges, about 3-5 minutes.
Add the green onions and garlic, cook for a further 30 seconds, then transfer to the bowl with the tofu.
Reduce the heat to medium and add the remaining coconut oil to the wok. Add in the cashews and cook for about 30 seconds. Next, add the cooked brown rice, stir to combine, and cook until heated through, about 3 minutes.
Transfer the contents of the bowl back into the pan and stir to combine, then remove from the heat and stir in the tamari and sriracha sauces.
Squeeze in the juice of ½ lime season to taste with salt and stir well.
Slice the remaining ½ lime into 4 wedges. Serve the pineapple fried rice with the lime wedges and cilantro.
Prep Time:

15 minutes

Cook Time:

15 minutes
Nutrition
Serving Size:

4

Calories:

387 grams

Fat:

21 grams

Carbohydrates:

38 grams

Fiber:

3 grams

Protein:

17 grams
Keywords: vegan fried rice, thai, pineapple, brown rice, sriracha, bell peppers, tofu, Thai Pineapple Fried Rice, recipes for runners, meal prep recipes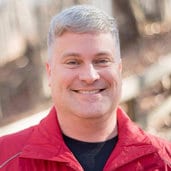 I am a NASM-certified personal trainer, PN1-certified nutrition coach, and RRCA/USATF-certified running coach. I have been coaching since 2010 and have helped thousands of runners online and in the Central Ohio area. I am the owner of RunBuzz and Run For Performance.com. If you are interested in online run coaching, or sports performance training (Central Ohio only), feel free to reach out.