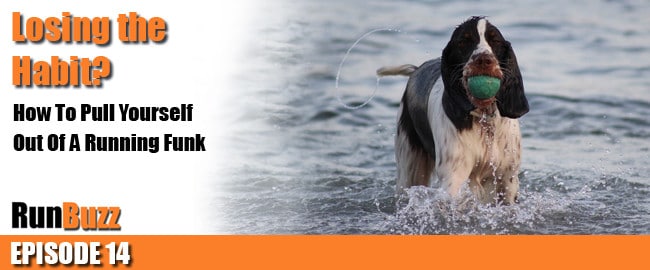 Show Notes:
Do you sometimes find yourself in a running funk?  Do you have a deep down desire to train, but often just feel "bleh" or like skipping workouts? Maybe you've found yourself in a frustrating cycle where you start running only to walk away from it for weeks or months at a time before getting started yet again.
In this podcast, I share some practical steps to help any runner in a funk and some tried and true strategies for avoiding any future running funks.
Sarah, one of our own RunBuzz community members, has found herself in this exact situation on more than one occasion. Frustrated with her situation, she emailed me about her (common) conundrum …
How do you continuously stay motivated and get out of a funk when you get into a funk?

I'll go through spurts and just quit running all together. It is usually before I have signed up for a race. I was signed up for my first half marathon in March and just up and quit running three to four weeks before the race. I finished the race at 2:59,  but was miserable.  I signed up for the 15k Boilermaker that was last weekend and backed out because I was not prepared as I had quit running for months.  I am signed up for my next half marathon on 10/19/14 and just started a training plan this week. So far so good…but I am only three days into the training.  What are your suggestions?
The first thing you should know about running funks, or funks of any kind (be them relationship, career, health, etc.) is that they're universal.
Everyone seems to get in a funk or a rut every now and then.  The frustration that we feel after we start falling into a funk often propels the funk forward and creates a negative reinforcement cycle that is incredibly difficult to escape from.  Today, we'll cover why this occurs and why overcoming a funk is so hard.
This is such a universal problem that I really feel responding via podcast is the best way to make sure I completely respond to Sarah's inquiry and make sure that all listeners understand why funks happen and what we can do to prevent them.
In this episode:
How to use self-analysis to address the causes of funks and develop workable solutions.
How to make realistic expectations.
The role of habit, stress, lifestyle, diet, and emotion as contributing factors to running funks. (Podcast 2 has more information on how to develop a healthy running lifestyle)
How to break out of a running funk.
How to identifying trigger behaviors.
Guilt spiraling and the importance of forgiveness.
How, sometimes, funks are self-sabotage in disguise – don't let fear control you (I talk more about this in Podcast 8)
How to tell if you're training too hard and if you should take a (planned) break.
How to address your love/hate relationship with running in a blog.
What the support of a community (like the RunBuzz Facebook community) can do to help you avoid running funks.
How to stay positive. (try some of these motivational running quotes to get you started)
Getting out of a funk is an extremely hard thing to do.  No single tip seems to do it and it does take time, but pulling yourself out of one is completely possible.
I hope you all have a great week and I look forward to getting back to all of you very soon.
Happy Running!
---
Running Resources
PaceBuilders™ Training System – A complete, end to end, custom training program for runners. Get unlimited 'customized' training plans with unlimited modifications that match your lifestyle and running goals. PLUS, get access to video training sessions and unlimited support so you can blast through your running goals.
Customized Training Plans For Any Race Or Distance – 100% handwritten custom training plans written around your unique situation. Don't settle for generic training plans found in books, magazines, or online. Our training plans take your history, your goals, your fitness profile and your lifestyle into consideration. Includes free access to Final Surge, where you can view and log your workouts anywhere you have access to a web browser, or use the mobile app.
Runner's Toolkit – Get access to 30 days of free coaching tips by email and get your #1 running question personally answered by me, just for signing up. Plus get free access to our private Facebook community where other RunBuzz community members gather for support, camaraderie and general shenanigans.
Find out how you can support RunBuzz's mission to bring quality running content (educational, inspirational, etc) to the running community. Help support me in my mission to make every runner regardless of age, size and ability a better runner.
---
Join The Community: Subscribe and Review!
If you'd like to get RunBuzz delivered automatically to your smartphone or podcast player at no charge to you, please subscribe using your preferred method below:
If you'd like the direct RSS feed for your own favorite RSS Podcast Player, click here to get it!
If you get a chance, please leave me an honest review and rating on iTunes by clicking here. (This helps me get the show up in the rankings and I'd deeply appreciate it. 🙂 )
---
I Appreciate Your iTunes Reviews!
Getting a 5 star rating and/or written review is incredibly important for this show. It helps with ranking and with generating the necessary exposure that gets this podcast out in front of other runners.
But it is even more important to me!
I read each and every comment and really take them all to heart. They provide encouragement that what I am doing is getting noticed and that the show is getting listened to.
I am so thankful to those who have recently gone into iTunes to provide a five star rating and written a review of RunBuzz Radio.
If you can and would like to provide a rating and/or write a review (there's certainly no obligation), then you can do so by following these instructions:
1) Go to the show's iTunes Page or search "RunBuzz" from iTunes if you aren't already a subscriber.
2) Open the page in the iTunes app, and click on the number of stars for the rating you think I deserve.
3) Write a sentence or two to share your comments.
Thank you SO Much!
---
The following two tabs change content below.
Steve is the founder and head running coach of RunBuzz.com. Steve is host of the RunBuzz podcast and founder of
PaceBuilders
, a complete online training program for runners. Steve is a RRCA / USA Track and Field Certified Running Coach and resides in Lewis Center, Ohio.