This vegan, gluten-free Healthy Tropical Smoothie Bowl is rich in carbohydrates and makes a great post-run recovery meal for topping off your muscle glycogen with healthy carbohydrates.

It features a creamy base of mangoes and bananas, topped with fresh strawberries, pineapple, and coconut flakes. It's great for breakfast and is kid-friendly too.
Print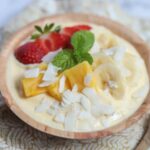 Runner-Friendly Healthy Tropical Smoothie Bowl
---
Description
Deliciously refreshing, this Healthy Tropical Smoothie Bowl is a gluten-free vegan delight that only takes a few minutes to make. 
The Makings of a Healthy Tropical Smoothie Bowl
You could throw all the ingredients in a blender and have a fabulous smoothie. But here, I'm going for a smoothie bowl, where juicy pineapple, strawberries, and coconut are used as toppings.
The basic recipe is a blend of soy yogurt, frozen mango, and frozen bananas. The yogurt should be enough to get the mixture going, so don't worry about needing to add any water, although you could add a splash of orange juice or coconut water if you like a thinner smoothie. The yogurt also adds a punch of protein to balance out the sweetness of the fruit. 
You can jazz up your Healthy Tropical Smoothie Bowl further by adding chia seeds, which add omega-3 fatty acids and calcium, hemp seeds for protein and zinc, granola for crunch, or different fruits like blueberries, dragon fruit, or a drizzle of passion fruit on top.
Making Your Own Smoothie Bowls
If you like this Healthy Tropical Smoothie Bowl, don't hesitate to branch out and try different flavors. In general, you will need a thick base, which usually will require bananas. But for variety, the meat from young coconuts, readily available at most Asian grocery stores, works great as well. Creamy fruits then get added to the mix, and while I'm using mango here, strawberry/acai, peaches, or pineapple/avocado are popular combinations.
You will need a liquid to get the blender going without jamming up the blades. Instead of soy yogurt, you can use almond milk, Greek yogurt, orange juice, etc. The more frozen fruit you use, the more liquid you'll need, but the final consistency is up to you. Make sure the smoothie base is thick enough to keep the toppings on the surface.
And on that topic, instead of fruits and coconut, you can use chopped nuts like almonds, pecans, and walnuts, seeds like sunflower, pumpkin, chia, or hemp, chopped dried fruits, a drizzle of maple syrup, or honey (or a good chocolate syrup if you're feeling decadent.) For more texture, granola, cacao nibs, or crunchy peanut butter would be a delicious addition.
Adding in Protein to your Healthy Tropical Smoothie Bowl
If you're the type who needs added protein with carbohydrates or are increasing your protein intake during periods of heavy training, you can still have smoothie bowls. One common trick is to simply add protein powder to the smoothie base. Great vegan options include hemp protein, pea protein, rice protein, or a high-quality store-bought blend. If you can have dairy, whey protein is a popular option as well. You can also play with the flavors, using chocolate protein with strawberries or vanilla protein with peaches or tropical fruits. 
This Healthy Tropical Smoothie Bowlis delicious any time of day, but it is best enjoyed right away. If you plan on having it later, you might want to add the toppings at the last minute. Of course, you could also just stir them in for more of a chunky smoothie you can eat with a spoon. It won't be as visually stunning, but it will still be delicious and nutritious.
If you're a fan of smoothies, don't forget to check out my Stress Busting Orange Smoothie and Banana Mocha Protein Smoothie.
Do you track your meals using MyFitnessPal?  If so, simply scan the following barcode to quickly enter your item into your food tracking: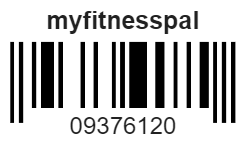 ---
2 cups (500 g) natural soy yogurt
1 cup (165  g) mango, diced, frozen
2 bananas, sliced, frozen
¾ cup (125 g) pineapple, diced
6 strawberries, sliced
2 tablespoons coconut flakes
---
Instructions
Combine the yogurt, frozen mango, and banana together in a blender. Blend until smooth.
Transfer the smoothie into serving bowls.
Garnish with the pineapple, strawberries, and coconut. Serve immediately.
Prep Time:

10 minutes

Cook Time:

0 minute

Category:

smoothie
Nutrition
Serving Size:

2

Calories:

235 grams

Fat:

4 grams

Carbohydrates:

53 grams

Fiber:

7 grams

Protein:

3 grams
Keywords: pineapple. strawberry, coconut, yogurt, mango, recipes for runners, healthy smoothie, runner-friendly