Almond Butter Energy Bites are a filling and delicious blend of rolled oats, almond butter, coconut, honey, dark chocolate chips, and more. They are a tasty on-the-go snack as well as a great source of slow-release carbohydrates.

If you are looking for an on-the-go natural fuel option for your next long run, this is it!
Print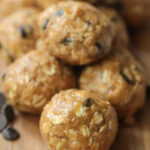 Almond Butter Energy Bites
---
Description
Almond Butter Energy Bites are one of my favorite snacks, because I can grab them from the fridge any time when I'm home, or take them with me on hikes or runs for a quick energy boost. If you are looking for a natural fueling option for your long run or race, this is it!
While many energy bites are a blend of nuts and dates, I created this recipe to be more filling and with a variety of textures. They keep well for a week, so don't hesitate to double or triple the recipe, and give some away as well!
A Slow Release of Energy
Some grains are far from being slow-release carbohydrates, the kind that will not spike your blood sugar and cause a crash a few hours later. But if you're looking for steady energy and focus, look no further than rolled oats, the main ingredient in this recipe. Oats are also rich in minerals, vitamins, and a great source of fiber.
Rolled oats provide substance, but not a lot of flavor. That's where the other ingredients come in. Almond butter adds nuttiness and creaminess while getting the shredded coconut, chocolate chips, and oats to stick together into a mixture you can roll out into balls.
Almonds also happen to be rich in fiber, calcium, magnesium, and plenty of vitamins. And just like oats, this low-carb wonder is unlikely to increase blood sugar levels.
Superfoods and Super Flavor
It's not enough for energy bites to be healthy, you actually have to want to eat them. If you like coconut and chocolate, then this is the recipe for you with two superfoods that transform simple ingredients into an addictive treat you'll want to keep on hand at all times.
Cacao, the main ingredient in dark chocolate chips, is a powerhouse of nutrition in addition to being one of the most sought-after flavors worldwide. It is thought to help keep blood pressure down, improve blood flow, and helps boost happiness by helping symptoms of depression and anxiety.
This is not just due to its delicious taste, but also its high magnesium and tryptophan content (the precursor to serotonin and melatonin), and many other neurochemicals.
Coconut is the perfect companion to cacao with its hydrating electrolytes, potassium, sodium and magnesium. It is also rich in medium-chain triglycerides, a heart-healthy kind of fat that might improve digestion as well.
A No-Bake Easy Recipe
These Almond Butter Energy Bites taste like delicious cookies, but require nothing more than a bowl and a spoon to stir the ingredients together. Refrigerate them for an hour, and they're ready to be enjoyed. 
Once you're ready to change up the ingredients, here are several you might want to try. Instead of almonds, sunflower seed and pumpkin seed butter works great and provide a different balance of nutrients. You can also use a balance of different nut butters with a mix of whole seeds stirred in, like chia or flax.
Honey is a delicious sweetener, but for a vegan alternative, maple syrup works great, or experiment with dried fruits like raisins or dates, or even cranberries.
A Snack for Every Occasion
Almond Butter Energy Bites aren't just for snacks. Frozen, they will keep well during hikes, and they are a great dessert to bring to potlucks. And of course, don't forget lunch boxes!
Do you track your meals using MyFitnessPal?  If so, simply scan the following barcode to quickly enter your item into your food tracking: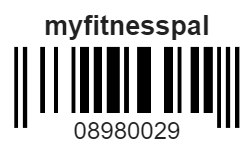 ---
1 cup (80 g) rolled oats
2 ½ tablespoons honey
½ cup (125 g) almond butter
1 tablespoon water
2 tablespoons shredded coconut
2 tablespoons dark chocolate chips
---
Instructions
Place all the ingredients into a large bowl, mix well to combine and roll into 12 individual balls.
Place the balls on a tray in the refrigerator for 1 hour to harden before enjoying.
Store the balls in an airtight container in the refrigerator.
Prep Time:

10 minutes

Chill Time:

60 minutes
Nutrition
Serving Size:

12

Calories:

123 grams

Fat:

8 grams

Carbohydrates:

12 grams

Fiber:

2 grams

Protein:

3 grams
Keywords: oats. almond butter, honey, coconut, chocolate chips, long run, natural fueling options, recipes for runners, runner-friendly