This Banana Mocha Protein Smoothie combines coffee, cacao powder, and chocolate protein powder and is sweetened with a frozen banana.
While some smoothies can leave you hungry half an hour later, this one will keep you full for a while thanks to its balance of protein and touch of carbohydrates.
Print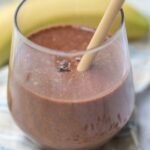 Banana Mocha Protein Smoothie
---
Description
If you're like me, you probably love a hot cup of coffee. But when I'm craving that rich mocha flavor but don't want a sugar spike, this Banana Mocha Protein Smoothie is my go-to recipe.
Perfectly refreshing after a run, nourishing as a breakfast smoothie on the go, or as a source of fuel an hour or so before working out, it is as versatile as it is tasty. While some smoothies can leave you hungry half an hour later, this one will keep you full for a while thanks to its balance of protein and touch of carbohydrates.
A Double Boost of Flavor
Experienced bakers know that coffee and chocolate together really shine, and that's exactly what we're going for here. The liquid base is cold coffee, and it gets its flavor boost from not one but two chocolate sources, unsweetened cacao, and protein powder.
The whole thing blends up beautifully frosty thanks to the frozen banana, which also adds subtle sweetness without any added sugars. You can use a touch more almond milk for a bigger serving and if you prefer a thinner drink.
A Multi-Use Recipe
If you love this recipe, you can make so much more out of it than a smoothie! Try freezing it in Popsicle molds to enjoy right out of the freezer, churn it into ice cream, or use it to make smoothie bowls.
All you need to do is pour the smoothie into a bowl and top it with anything you like, including dark cherries, cacao nibs, hemp seeds, chia seeds, banana slices, chopped almonds, and more. You can be extra fancy and give it a small dusting of cacao powder or extra cinnamon.
Smart meal planning
You can make this Banana Mocha Protein Smoothie anytime as long as you have the ingredients.
For the bananas, peeling ripe bananas and freezing them on a tray before storing them in a resealable plastic bag ensures your smoothies will always be cold without needing ice.
For coffee, you can make a large batch of cold brew coffee by steeping 1 cup of ground coffee beans in 4 cups of water overnight or for about 12 hours. Strain and keep refrigerated for up to a week.
Do you track your meals using MyFitnessPal?  If so, simply scan the following barcode to quickly enter your item into your food tracking: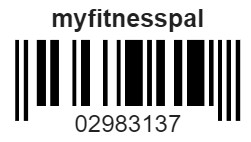 ---
½ cup (120 ml) almond milk, unsweetened
¼ cup (60 ml) cold coffee
1 banana, frozen
1 scoop (25 g) chocolate protein powder
¼ teaspoon ground cinnamon
1 tablespoon cacao powder, unsweetened
---
Instructions
Place all the ingredients into a high-speed blender and blitz until smooth. If necessary, add in more almond milk to thin the smoothie to the desired consistency.
Pour into a glass and serve immediately.
Prep Time:

5 minutes

Cook Time:

0 minute

Category:

smoothie
Nutrition
Serving Size:

1

Calories:

253 grams

Fat:

4 grams

Carbohydrates:

32 grams

Fiber:

6 grams

Protein:

25 grams
Keywords: smoothie, banana smoothy, healthy smoothy, banana mocha protein smoothie, high-protein smoothie, runner-friendly, recipes for runners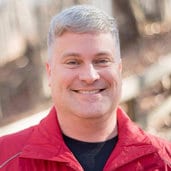 I am a NASM-certified personal trainer, PN1-certified nutrition coach, and RRCA/USATF-certified running coach. I have been coaching since 2010 and have helped thousands of runners online and in the Central Ohio area. I am the owner of RunBuzz and Run For Performance.com. If you are interested in online run coaching, or sports performance training (Central Ohio only), feel free to reach out.