This Stress-Busting Orange Smoothie features ingredients like fresh oranges, vanilla, and almonds. Rich in powerful nutrients, they help keep you feeling relaxed while fighting oxidative stress and it tastes delicious too.
As a runner, I love a great smoothie. I drink them occasionally after long runs or as a healthy snack.
Print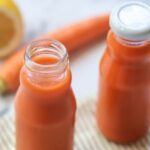 Stress Busting Orange Smoothie
---
Description
Whether you are mostly sedentary or are a high-performance athlete, odds are you are under some kind of stress. From environmental stressors like pollution to ones like lack of sleep or just training hard, our bodies work hard to keep us going.
While we can't get rid of all types of stress, science has given us many tools to handle them, from meditation to food and more. In this Stress Buster Orange Smoothie, I have packed in a lot of ingredients that help you do just that.
Stress Busting Ingredients
My Stress Buster Orange Smoothie features powerful nutrients that help you feel more centered, healthier, and relaxed and help you recover from workouts no matter how strenuous. 
Orange juice is the real star here. It provides loads of vitamin C, which has been shown in studies to lower the levels of stress hormones and is thought to reduce anxiety. Not bad for a fruit that also happens to be delicious! Here, I'm including it in juice form as well as whole before blending it all together for the best texture.
Almonds are also great for lowering stress. Heart rate variability can drop during periods of stress, but almonds have been found to potentially reduce that, helping cardiac function and having brain-protective properties. Almonds are also a good source of protein and fats, giving this smoothie a creaminess without a touch of dairy.
And it might not come as a surprise that vanilla is also a great stress-busting ingredient. It works quickly to calm nerves down, thanks to its delicious scent that is commonly used in aromatherapy, candles, bath products, baked goods, and more.
Vanilla might not be something you think of adding to smoothies, but a little goes a long way, and it complements the taste of oranges and almond milk perfectly. You can choose regular alcohol-based vanilla extract or glycerin-based alternatives. Make sure it's labeled "pure vanilla extract" or, if using a non-alcoholic brand, that it is made from real vanilla beans.
The carrot may seem like an odd addition, but don't skip it. Carrots aren't just for chopping and adding to soups and salads! They are a powerhouse of beta-carotene, which protects against oxidative stress, and is thought to be beneficial to brain and eye health. And carrots are powerful antioxidants that boost skin health, and can improve self-esteem.
Tips for the Best Smoothie
If you like your smoothies cold, don't hesitate to use bananas straight from the freezer. It can be a good idea to keep a frozen stash at all times by peeling and freezing bananas regularly. You can still pour the smoothie over ice or skip the ice if you don't have any on hand. Or blend the ice with the other ingredients!
You can use store-bought orange juice, but the best ones will be found in the refrigerated section and will be advertised as being "not from concentrate" – that being said, any orange juice will work.
As for the almond milk, store-bought works fine too. The last thing you need is to stress about whether or not the ingredients you're using are good enough! High-quality nut milk has become increasingly available and is a great substitute for homemade. 
Stress Buster Orange Smoothie is best enjoyed right after blending, but it makes great ice pops too!
Do you track your meals using MyFitnessPal?  If so, simply scan the following barcode to quickly enter your item into your food tracking: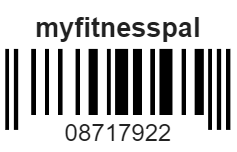 ---
2 ripe bananas
1 cup (240 ml) orange juice
1 orange, peeled and chopped
¾ cup (180 ml) almond milk, unsweetened
1 teaspoon vanilla extract
1 carrot, peeled, chopped
---
Instructions
Place all ingredients into a high-speed blender and blitz until smooth.
Divide the smoothie between 2 glasses and serve over ice.
Prep Time:

5 minutes

Category:

smoothie
Nutrition
Serving Size:

2

Calories:

225 grams

Fat:

2 grams

Carbohydrates:

52 grams

Fiber:

6 grams

Protein:

3 grams
Keywords: smoothie, orange juice, carrot, vanilla, orange, bananas, healthy smoothies, recipes for runners, runner-friendly