These 5-Ingredients Peanut Butter Chocolate Rice Krispies Treats are great snacks for runners. With a great carb-to-protein ratio, creamy peanut butter, dark chocolate, and real maple syrup, they are perfect right out of the fridge or after a run or hike.
Print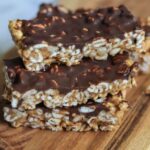 Healthy Peanut Butter Chocolate Rice Krispies Treats
---
Description
Rice Krispies on a site dedicated to running and healthy eating? Yes, but hear me out! There's no refined white sugar here, and each portion has a hefty dose of protein and coconut oil for sustained energy. 
A good carbohydrate-to-protein ratio is about 60% carbohydrates to 20% protein. In this recipe, I aimed to create a high-energy snack that was also easy to make. These Peanut Butter Chocolate Rice Krispies Treats are healthy and provide 17 grams of carbs and 6 grams of protein per serving, making them a pretty good choice on high activity days, or a a post-run snack.
Nutritious Peanut Butter Chocolate Rice Krispies Ingredients
To make peanut butter chocolate rice krispies treats, you will need the following high-energy, nutritious ingredients:
Maple syrup: Made from the sap of maple trees, maple syrup is a pourable sweetener with a good amount of minerals and antioxidants, and is lower on the glycemic index than white sugar. It also has a delicious taste with caramel and dates undertones. Grade B is going to be the one with the deepest flavor.
Peanut butter: Rich in protein, peanut butter is a favorite ingredient of bodybuilders, vegans, and anyone looking to boost their nutritional intake with more protein, fat, and calories. If you can't have peanuts, almond butter or even cashew butter works great here, but the flavor will, of course, be different.
Coconut oil: With its pleasant, mild coconut flavor, as well as antioxidant and antibacterial properties, coconut oil is often used instead of butter and refined oil in cooking and baking. It's a good source of energy as well, and can help with fat burning.
Refined coconut oil has close to no coconut scent, while you can taste the coconut in the regular extra-virgin coconut oil. Either work but I prefer the refined version in these peanut butter chocolate rice krispies.
Chocolate chips: While chocolate chips aren't the most nutritious ingredient on the list, they're definitely delicious and go great with coconut and peanut butter. Besides, chocolate is a heart-healthy food when low in ingredients other than cacao, and is a gentle stimulant when you would rather avoid caffeine. Look for the darkest, least-sweetened chocolate chips. 
Puffed rice cereal: Puffed rice cereal is a little harder to find nowadays as many brands stopped making it, but you can still find it in a few varieties including some made from brown rice instead of white.
All you need to do is assemble these ingredients as described below, freeze your peanut butter chocolate Rice Krispies for an hour, and you're done!
Other Great Peanut Butter Chocolate Rice Krispies Add-Ons:
If you want to take this recipe to the next level, try adding one or more ingredients to the essential list. Popular additions include goji berries, cacao nibs, crunchy peanut butter instead of smooth, protein powder, collagen powder, or even tiny vegan marshmallows.
For more delicious chocolate recipes, try my Healthy High Protein Chocolate Mousse and Banana Mocha Protein Smoothie!
Do you track your meals using MyFitnessPal?  If so, simply scan the following bar code to quickly enter your item into your food tracking: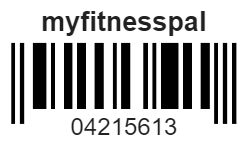 ---
4 tablespoons maple syrup
¾ cup (190 g) peanut butter
2 tablespoons + 1 teaspoon coconut oil
2 ½ cups (35 g) puffed rice cereal
⅓ cup (55 g) dark chocolate chips
---
Instructions
Line an 8×8 inch baking tray with parchment paper.
Add the maple syrup, peanut butter, and 2 tablespoons of coconut oil to a pot. Cook for 1 to 2 minutes on medium/low heat, mixing until well combined.
Remove from the heat, add the puffed rice, and stir gently to coat the puffed rice in the mixture.
Now, gently press the puffed rice mixture into the baking tray and place in the refrigerator to chill.
Meanwhile, melt the chocolate chips and the remaining 1 teaspoon of coconut oil together in a small bowl placed over a pot of gently boiling hot water. Alternatively, melt together in the microwave.
Drizzle the chocolate over the puffed rice mixture and place the tray into the freezer for about one hour to set.
Remove the tray from the freezer, allow it to stand for 5-10 minutes and slice into bars.
Store the 

peanut butter chocolate rice krispies

 in an airtight container, in the refrigerator for up to 4 days.
Prep Time:

10 minutes

Chill Time:

60 minutes

Category:

snacks

Cuisine:

Plant-based
Nutrition
Serving Size:

9

Calories:

237 grams

Fat:

17 grams

Carbohydrates:

17 grams

Fiber:

2 grams

Protein:

6 grams
Keywords: Rice Krispies, maple syrup, peanut butter, coconut oil, runner snacks, snacks for runners, healthy recipes, recipes for runners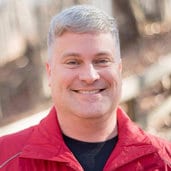 I am a NASM-certified personal trainer, PN1-certified nutrition coach, and RRCA/USATF-certified running coach. I have been coaching since 2010 and have helped thousands of runners online and in the Central Ohio area. I am the owner of RunBuzz and Run For Performance.com. If you are interested in online run coaching, or sports performance training (Central Ohio only), feel free to reach out.