This Healthy Vegan Carrot Cake with cream cheese frosting is out of the oven in just an hour and is full of freshly grated carrots, fragrant spices, raisins, and pecans without a drop of dairy. It is perfect for runners or those who want a healthy dessert option.


Print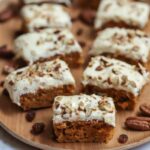 Vegan Carrot Cake with Cream Cheese Frosting
---
Description
Sometimes, you just need a delicious, rich slice of cake with a creamy frosting. This vegan carrot cake is perfect when the mood strikes but you still want to keep it dairy-free and vegan.
How to Make a Fluffy Vegan Carrot Cake
This wholesome vegan carrot cake calls for freshly grated carrots and a variety of spices and is finished with a creamy, sweet, decadent cream cheese frosting. It's definitely good enough for a special occasion, but don't hesitate to make it on a whim during the week. There's always a good reason to have some cake!
The best way to make a fluffy, moist vegan carrot cake is not to overwork the ingredients. To do that, you will need to stir the dry ingredients (flour, baking powder, baking soda, and salt) together in a bowl, do the same with the wet ingredients in another, and gently combine them just before putting the pan in the oven. This will ensure the proper rise.
Also, make sure to have the freshest spices possible. That old jar of ground nutmeg at the back of the cupboard from a year ago? Toss it, and get a new one if you can, although the best option is to get a whole nutmeg and grate it as needed.
While many vegan cake recipes call for soy milk with a touch of vinegar, I'm skipping that step by using soy yogurt, which has the tanginess necessary to help the vegan carrot cake rise while providing a delicious flavor that compliments the spices and carrots so well.
A Cream Cheese Frosting Made in Heaven
There's no denying that a plant-based diet can still be full of rich and delicious treats nowadays, and this vegan carrot cake is proof of that. Just spread it on the cake when it has cooled completely. Spreading frosting on a hot or even warm cake is a recipe for disaster, as it will melt and run off the sides right away. You will be rewarded for your patience with the perfect vegan carrot cake!
Do you track your meals using MyFitnessPal?  If so, simply scan the following barcode to enter your item into your food tracking quickly: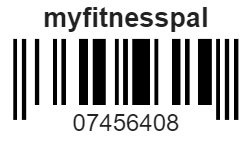 ---
For the cake:
2 large carrots, peeled
5 tablespoons natural soy yogurt
½ cup (100 g) soft brown sugar
4 tablespoons + 2 teaspoons olive oil
1 teaspoon vanilla extract
¾ teaspoon ground cinnamon
¼ teaspoon ground nutmeg
¼ teaspoon ground ginger
⅓ cup (40 g) pecans, chopped
3 tablespoons raisins
1 cup + 1 tablespoon (120 g) all-purpose flour
1 teaspoon baking powder
½ teaspoon baking soda
½ teaspoon salt
2 tablespoons almond flour
For the frosting:
½ cup (110 g) vegan cream cheese
4 tablespoons vegan butter, room temperature
1 teaspoon lemon juice, optional
1 teaspoon vanilla extract
6 tablespoons powdered sugar
---
Instructions
Preheat the oven to 375°F (190°C). Line a square baking tin with baking paper.
Grate one carrot using a standard grater and the other using a fine grater.
Place the yogurt and brown sugar in a bowl and whisk to combine. Add in the olive oil, vanilla extract, and ground spices, and whisk together.
Now add in the grated carrots, chopped pecans and raisins, and stir to combine.
Sift in the flour, baking powder, baking soda and salt. Add the almond flour and fold until just combined.
Transfer the cake batter into the prepared cake tin.
Bake for 35-40 minutes or until a skewer inserted into the center of the cake comes out clean.
Remove the cake from the oven and let it cool in the pan for 5 minutes, then remove the cake from the tin and set aside on a wire rack to cool completely.
In the meantime, make the cream cheese frosting. Add the cream cheese, butter, lemon juice, and vanilla extract to a bowl and whip until smooth and well combined. Add the powdered sugar and whip again. Chill the frosting in the fridge until ready to ice the cake.
Once your vegan carrot cake has cooled, spread the cream cheese frosting on top and garnish with additional chopped pecans (optional and not included within nutritional breakdown).
Prep Time:

15 minutes

Cook Time:

40 minutes

Category:

dessert
Nutrition
Serving Size:

12

Calories:

195 grams

Fat:

9 grams

Carbohydrates:

27 grams

Fiber:

3 grams

Protein:

2 grams
Keywords: carrots, soy yogurt, brown sugar, pecans, nutmeg, cinnamon, raisons, flour, desserts for runners, runner friendly recipes, vegan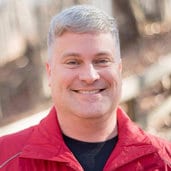 I am a NASM-certified personal trainer, PN1-certified nutrition coach, and RRCA/USATF-certified running coach. I have been coaching since 2010 and have helped thousands of runners online and in the Central Ohio area. I am the owner of RunBuzz and Run For Performance.com. If you are interested in online run coaching, or sports performance training (Central Ohio only), feel free to reach out.