This Sweet & Spicy Mango Tofu Curry is full of that sweet and spicy flavor we often crave during the colder months. With firm tofu, colorful veggies, and a creamy sauce, it is comforting and nutritious, and leftovers are even better the next day.

If you are a Vegan runner looking for a new recipe to add to your pre-run or post-run meal list, or if you are a non-Vegan runner just looking for a healthy meal, I recommend that you try this one!
Print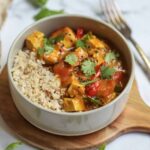 Sweet and Spicy Mango Tofu Curry
---
Description
It doesn't take a lot of ingredients to make a delicious steaming bowl of Mango Tofu Curry. Fully vegan and gluten-free, it will warm you up from the inside out while giving you your fill of protein, healthy fat, and of course, that sweet and spicy flavor we so often crave during the colder month.
The Key to a Great Mango Tofu Curry
There are a few important components that make a curry truly great. One of them, and some might say the most important, is the blend of spices and aromatics. I am using fresh ginger root, garlic, pepper flakes, and Thai red curry paste in this mango tofu curry. But if you're feeling creative, try adding some turmeric for a beautiful golden color!
Thai curry paste is found in most well-stocked grocery stores, but different brands will have different levels of spiciness. I recommend trying what you have before adding it to the recipe in case you prefer a milder curry. If you like it spicy, use the full four tablespoons – or more! You will find red, yellow, and green curry paste, the difference being the type of chili used. I like red best for this mango tofu curry recipe.
The next component is creaminess, which makes the dish so comforting but also helps cut down on the spiciness. Here, I am cooking the dish in coconut oil, known for its healthy medium chain triglycerides content, as well as coconut milk. You can use your preferred brand, but my go-to is full-fat coconut milk without additives like guar gum. 
And finally, let's not forget the protein. I use firm tofu cubed into bite-sized cubes to keep the dish vegan. You can use it as is, which I do when I'm short on time, but I also like to press the tofu, cut into slices, between paper towels until most of the moisture has been absorbed when I want to go the extra mile.
A Rainbow of Veggies
You can use a variety of veggies in addition to the mango. I usually go for bell peppers and cilantro, but popular options include shallots, peas, broccoli, cauliflower, and carrots. All in all, this is a super healthy but incredibly flavorful mango tofu curry with the right amount of crunch, creaminess, and spice.
One common side dish for Mango Tofu Curry is fluffy white rice, but you can also use brown rice. Or, go the gluten-free way by using cooked quinoa or cauliflower rice. 
Do you track your meals using MyFitnessPal?  If so, simply scan the following barcode to quickly enter your item into your food tracking: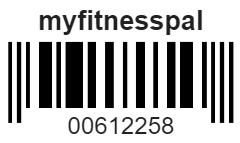 ---
1 tablespoon coconut oil
3 garlic cloves, minced
1 teaspoon root ginger, grated
2 onions, diced
½ teaspoon red pepper flakes
14 oz. (400 g) firm tofu, cubed
4 tablespoons Thai red curry paste
14 oz. (400 ml) can coconut milk
¾ cup (180 ml) vegetable broth
1 mango, peeled and pureed
3 tablespoons tamari
1 lime, juiced
1 red bell pepper, chopped
1 green bell pepper, chopped
2 tablespoons cilantro, chopped
---
Instructions
Heat the coconut oil in a large pot over a medium to high heat and sauté the garlic, ginger, onions and red pepper flakes until fragrant, around 3-4 minutes.
Add in the tofu and sauté for a further 5 minutes. Next, add in the red curry paste and cook for 2 minutes, stirring well until combined.
Add in the coconut milk and vegetable broth. Stir well, and bring to a simmer. Add in the mango puree, tamari, lime juice and bell peppers. Turn the heat down to medium and simmer gently for 15 minutes.
Taste the curry and adjust the seasoning by adding in more tamari, lime juice, and red pepper flakes.
Serve the mango tofu curry with the chopped cilantro, additional lime wedges and jasmine rice (not included in nutrition information).
Prep Time:

10 minutes

Cook Time:

30 minutes
Nutrition
Serving Size:

6

Calories:

272 grams

Fat:

18 grams

Carbohydrates:

20 grams

Fiber:

4 grams

Protein:

10 grams
Keywords: vegan running recipe, recipes for runners, healthy recipes, vegan, vegan meal, tofu, bell pepper, mango, red curry paste, coconut oil, garlic, vegetable broth, tamari, lime juice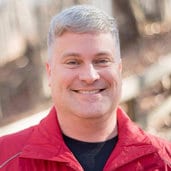 I am a NASM-certified personal trainer, PN1-certified nutrition coach, and RRCA/USATF-certified running coach. I have been coaching since 2010 and have helped thousands of runners online and in the Central Ohio area. I am the owner of RunBuzz and Run For Performance.com. If you are interested in online run coaching, or sports performance training (Central Ohio only), feel free to reach out.