This Healthy Melon Protein Smoothie is nourishing and contains a satisfying blend of coconut, avocado, and melon, enhanced with flavorful basil leaves and a bit of lime juice. Delicious right out of the blender, it also makes for great ice pops that children and adults will love.
At 25 grams of protein per serving, it makes a great recovery drink for after your next run.
Print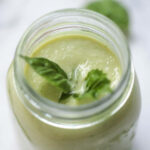 Healthy Melon Protein Smoothie
---
Description
My favorite alternative to the conventional smoothie is a Nourishing Melon Protein Smoothie enhanced with protein powder, fresh herbs, and more. Most smoothies are made of bananas and fruit, but they don't have to be.
A Delicious Melon Protein Smoothie with unconventional ingredients
You might not have ever used most of the ingredients below in a smoothie, but I bet you'll love the final result, which is fresh and tangy with just the right amount of sweetness and creaminess. You will need the following:
Avocado and coconut milk: You don't need bananas for creaminess and thickness. Both avocado and coconut provide a satisfying texture with plenty of minerals and healthy fats. Avocados are also rich in folate, magnesium, and potassium, while coconuts are high in manganese, copper, iron, and selenium. These are all great nutrients but are especially beneficial to runners and athletes in general.
Lime and basil leaves might not be your usual smoothie go-to ingredients, but they go so well with honeydew melon, adding a nice flavor dimension to the fruit's natural sweetness. Be sure to use fresh basil, not dried, as they have a completely different flavor. If you find yourself running out of fresh herbs, one easy trick is to chop them and freeze them in ice cube trays with water to cover. You can then use the frozen herbs anytime in sweet and savory recipes.
Honeydew melon: Because many people add frozen fruits to smoothies, and melon is generally only available fresh, we tend to eat it whole. But just like other unconventional smoothie ingredients like kiwi or persimmon, you might be surprised at how delicious it is when blended into this melon protein smoothie!
Honeydew melon is not just a sweet, water-rich fruit. It's also rich in antioxidants, minerals and vitamins, including vitamin C, A, potassium, folate, and B vitamins. On top of that, it is rich in fiber, which promotes digestive health and slows down blood sugar spikes. Because the honeydew melon is blended and not juiced, you still get all the benefits of its soluble and insoluble fiber but in drink form.
Protein powder:
Vegan protein powder takes this refreshing, sweet drink and turns it into a complete meal. For plant-based and Vegan runners, I like Superfood Protein from Ground Based Nutrition.
Superfood Protein is an organic protein powder designed for optimal nutrient intake. It is packed with 20g of multi-source plant protein and has a complete amino acid profile. It includes alkalizing greens and superfoods, foods with exceptionally high nutritional density, and a wealth of essential phytonutrients, vitamins, and minerals. Superfoods are known for their health benefits, contributing to overall well-being and enhanced recovery.

It is a little pricey but has added greens and superfoods.
If you prefer a cheaper option but also want a high-quality traditional protein powder, Whey protein, Optimum Nutrition carries 100% Whey protein powder. However, this is not Vegan or Plant-based. For more information about these protein powders, please scroll down to the bottom of this post.
Vanilla is the best option in this melon protein smoothie because it's not overpowering. Good options include brown rice protein, pea protein, and protein blends for the broadest spectrum of nutrients.
More Delicious Melon Protein Ingredient Variations
If you love this melon protein smoothie, try using strawberries instead of melon since they go great with lime and basil. Or, keep the recipe as is, and add some frozen blueberries instead of the ice. And while this is one of the few smoothies without bananas, feel free to add them if you're in the mood!
This melon protein smoothie does not keep well once it is made, but if you have leftovers, they make fantastic ice pops and smoothie bowls. And if you enjoyed this recipe, you'll want to give my Runner-Friendly Healthy Tropical Smoothie Bowl a shot!
Do you track your meals using MyFitnessPal?  If so, simply scan the following barcode to enter your item into your food tracking quickly: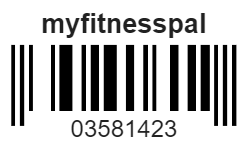 ---
½ lime, juiced
6 basil leaves, chopped 
¼ avocado, peeled and chopped
1 cup (240 ml) coconut milk from a carton
Handful of ice
1 scoop (25g) vegan vanilla protein powder
---
Instructions
Place all ingredients into a high-speed blender and blitz until smooth.
Pour into a glass and serve immediately.
Prep Time:

5 minutes

Cook Time:

0 minute

Category:

smoothies

Cuisine:

Plant-based
Nutrition
Serving Size:

1

Calories:

320 grams

Fat:

13 grams

Carbohydrates:

29 grams

Fiber:

5 grams

Protein:

25 grams
Keywords: melon smoothie, basil, lime, avacado, protein powder, coconut milk, recipes for runners, runner-friendly, plant-based, smoothies
Recommended Protein Powders for this recipe
For vegans and plant-based runners, or for those who want healthy greens and extra superfood nutrition added to your smoothie, I recommend:
Best for Vegans or Plant-Based Runners
Superfood Protein, Plant-Based Protein Powder – Super Food + Essential Greens
Superfood Protein is a plant-based protein powder enriched with essential greens, offering a complete amino acid profile and organic, non-GMO ingredients for health-conscious individuals.
Pros:
Plant-Based Formula: Ideal for those following a vegan or vegetarian diet.

Complete Amino Acid Profile: Supports muscle growth and recovery.

Includes Superfoods and Greens: Provides additional nutrients beyond just protein.

USDA Organic and Non-GMO Verified: Ensures high-quality, natural ingredients without genetic modification.

Versatile Use: Can be used in shakes, smoothies, or as a healthy breakfast option.
Cons:
Taste and Flavor: As with many protein powders, the taste might not appeal to everyone, especially when mixed only with water.

Price: Plant-based, organic protein powders can be more expensive than conventional protein powders.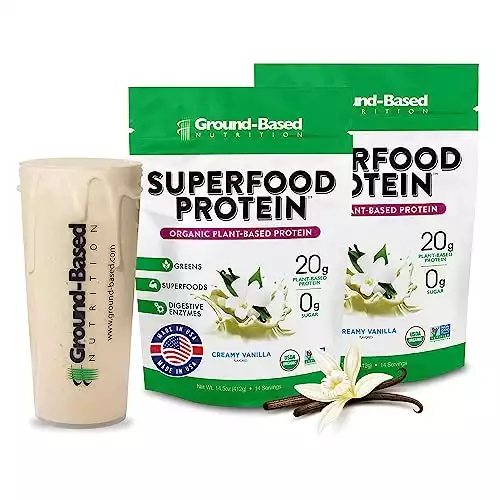 We earn a commission if you make a purchase, at no additional cost to you.
The price is expensive, but I have found that this lasts much longer than you think, especially if you are not a heavy protein powder user, and just want to increase the nutrient value of your smoothies.
For a cheaper option without the greens added Optimum Nutrition is my next go-to choice. I use it as my primary protein for strength training and everyday use. It tastes amazing and can. be used in a lot of recipes as well.

If you are making the healthy Melon Smoothie recipes described in this recipe, you will want the Vanilla flavor.
Optimum Nutrition Gold Standard 100% Whey Protein Powder - French Vanilla Creme
The Optimum Nutrition Gold Standard 100% Whey Protein Powder is a versatile, high-quality protein supplement that can be easily mixed into water, milk, or smoothies for daily consumption, enhancing muscle growth and repair.
Pros:
High-Quality Protein Source: Whey protein is known for its high biological value and rich amino acid profile, which is essential for muscle growth and repair.

Variety of Flavors: This product comes in a wide range of flavors, catering to different taste preferences.

Ease of Mixing: The product is designed to mix easily with a spoon or in a shaker, making it convenient to prepare.

Brand Reputation: Optimum Nutrition is a well-known and trusted brand in the sports nutrition industry.

Versatility: Can be used in various recipes, not just shakes, to increase protein intake.
Cons:
Potential Allergens: Contains ingredients from milk and soy, which might not be suitable for people with allergies to these components.

Artificial Ingredients: May contain artificial flavors and sweeteners, which some users might want to avoid.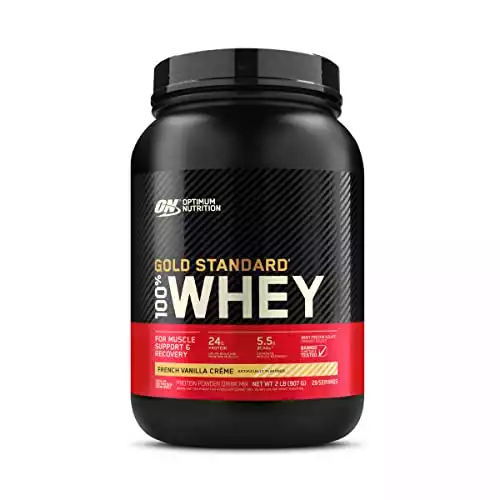 We earn a commission if you make a purchase, at no additional cost to you.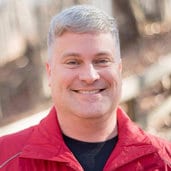 I am a NASM-certified personal trainer, PN1-certified nutrition coach, and RRCA/USATF-certified running coach. I have been coaching since 2010 and have helped thousands of runners online and in the Central Ohio area. I am the owner of RunBuzz and Run For Performance.com. If you are interested in online run coaching, or sports performance training (Central Ohio only), feel free to reach out.