This Protein Banana Pancakes recipe is a runner's dream, especially if you love pancakes as much as I do. I prefer pancakes after long runs as they provide a great source of post-run carbohydrates.
To kick the protein up a notch, I add whey protein powder so I increase my protein intake for better recovery from my long run or workouts. See below for my recommendation.
Print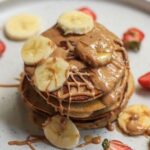 Healthy, Runner-Friendly Protein Banana Pancakes
---
Description
These 6-ingredient protein banana pancakes are made with wholesome rolled oats, protein powder, eggs, and fruit. They are great to fuel your morning workouts or restore your energy levels after a run. And, of course, they are tender and delicious.
Protein Banana Pancakes Ingredients
Regular pancakes are often just a mess of refined flour, white sugar, and essentially a carb overload that leaves you hungry a few hours later. And who needs a sugar crash mid-morning? Not runners and athletes. I created these protein banana pancakes to be nourishing and provide both slow-release healthy carbs as well as a good dose of protein.
You only need a few basic ingredients to make Protein Banana Pancakes, most of which you might already have on hand. The liquid portion is simply banana and applesauce, both of which are great for athletes who need extra carbohydrates as well as essential nutrients like potassium, which is important for muscle function. 
My protein picks here are both eggs and whey protein powder. Eggs are a powerhouse of nutrients, including choline for brain health and antioxidants, and whey protein not only promotes muscle growth but might also lower blood pressure, inflammation, and cholesterol. I like to use Optimum Nutrition's French Vanilla here, but any protein powder will work if it is a good-quality protein. 
I also added some more fiber in the form of rolled oats, which happen to help you fuel as well as slow the release of the sugar from the banana and applesauce. Quick-cooking old-fashioned oats will give different results, but both are equally tasty.
What to Serve with Protein Banana Pancakes
If you are looking for even more nutrition, toppings are your friends. Pick and choose from the following list, and you'll have a solid breakfast or snack any time of day:
Nut butter: Peanut butter, almond butter, and other nut butters are a great source of healthy fats, fiber, protein, and minerals. 
Fresh fruit: Need more carbohydrates? A sliced banana will take care of that. Fresh or sauteed apples are also a great choice with these protein banana pancakes, as are fresh berries.
Dark chocolate chips: Sometimes, we just want to eat for fun and not for nutrition. Luckily, dark chocolate chips add a little decadence along with flavonols and antioxidants to help reduce inflammation. 
Coconut nectar or maple syrup: You don't want to overdo it on simple sugars, but a thin drizzle of syrup makes them taste even better. And you shouldn't feel guilty about it. Running and working out eat up a lot of calories and energy.
Greek yogurt: A favorite ingredient of athletes and busy people, Greek yogurt is packed with protein and provides a welcome creaminess. You can even whip it with erythritol for a sweet whipped cream substitute. 
These protein banana pancakes are fluffy and delicious but are also packed with nutrition. If you enjoy them, don't forget to also try my Gluten-Free Peach Pancakes, which call for oat flour instead of rolled oats, and my healthy Chocolate Pancakes, which get most of their protein from Greek yogurt.
Do you track your meals using MyFitnessPal?  If so, simply scan the following barcode to enter your item into your food tracking quickly: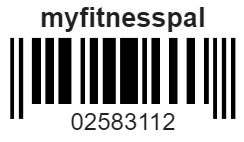 ---
1 ripe banana
4 tablespoons applesauce, unsweetened
2 eggs
¾ cup (60 g) rolled oats
3 tablespoons vanilla whey protein powder
1 tablespoon melted coconut oil, divided
---
Instructions
Place all the ingredients with 2 teaspoons of melted coconut oil into a blender and blitz until combined.
Heat a non-stick skillet over medium heat, add the remaining teaspoon of coconut oil. Coat the skillet with the oil using a heat-resistant pastry brush or paper towels. Flick a few drops of water on the skillet. If they bead up and sizzle, you are ready to cook the pancakes.
Divide the batter so that you can cook two medium-sized pancakes. Cook for 2-3 minutes on each side.
Serve with your favorite toppings! These nourishing Banana Protein Pancakes are best fresh, but can be frozen and reheated as well.
Prep Time:

5 minutes

Cook Time:

18 minutes
Nutrition
Serving Size:

2

Calories:

319 grams

Fat:

14 grams

Carbohydrates:

38 grams

Fiber:

5 grams

Protein:

12 grams
Keywords: banana, applesauce, eggs, whey protein powder, pancakes, rolled oats, coconut oil, healthy pancakes, runner-friendly recipes, recipes for runners, post-run recovery, running nutrition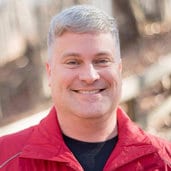 I am a NASM-certified personal trainer, PN1-certified nutrition coach, and RRCA/USATF-certified running coach. I have been coaching since 2010 and have helped thousands of runners online and in the Central Ohio area. I am the owner of RunBuzz and Run For Performance.com. If you are interested in online run coaching, or sports performance training (Central Ohio only), feel free to reach out.