This Greek Chicken and Feta Salad is easy-to-digest, low-carb, keto-friendly, and can be made ahead of time. It's a crowd-pleaser too, with garlicky chicken, feta cheese, and crunchy vegetables. 

While you need carbohydrates to fuel your runs, this low-carb recipe is great for those days you want something light and healthy but with plenty of protein.
Print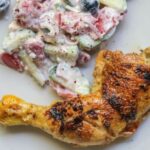 Greek Chicken and Feta Salad
---
Description
On the days when I want an easy-to-digest, low-carb meal I can make ahead of time, I often opt for this Greek Chicken and Feta Salad. It's a crowd-pleaser too, with garlicky chicken, feta cheese, and crunchy vegetables. It also happens to be keto-friendly.
Tender, Melt-in-the-Mouth Chicken Secrets
The star of this Greek Chicken and Feta Salad is definitely the yogurt-marinated chicken. If you've never tried this method of tenderizing meat, you're in for a treat! Often used in Indian cooking as well, yogurt marinades help break down the proteins in chicken, steaks, and other meats without turning them rubbery like with some other acidic mediums. 
In this Greek Chicken and Feta Salad , the yogurt is seasoned with garlic and salt, ramping up the flavors without being overwhelming, as the garlic is then mellowed out during a quick run in hot olive oil later on. The olive oil cooks it fully while lending its luscious Mediterranean flavor which goes so well with feta cheese and keeps the chicken moist at the same time.
If you can, use the kind of feta that comes in blocks, rather than the dryer crumbled variety that contains anti-clumping additives.
Perfect Sides for Greek Chicken and Feta Salad
One of my favorite ways to serve Greek Chicken and Feta Salad is on a bed of fresh, vibrant green lettuce leaves. Here, I prefer tender leaves like Bibb, also known as butter lettuce, or gem varieties, but spring greens or even baby spinach would work well too.
You can turn this into a full size salad by adding kalamata olives, which are great with feta and chicken, cherry tomatoes, green onions, and more. 
Or, go the opposite way, and serve Greek Chicken and Feta Salad with hot dishes like a bowl of soup, steamed green beans, or even sauteed kale.
Safety Tips
As with all dishes involving raw meat, be sure not to let the raw chicken come in contact with the other ingredients to avoid them being contaminated with salmonella, and wash your hands well until the chicken is fully cooked. You'll know it is ready when the internal temperature reaches 170°F or 75°C, the meat is no longer pink, and the juices run clear.
For more feta recipes, check out my Melon and Proscuitto Salad, Healthy Air Fryer Egg Bites, and High Protein Mediterranean Frittata.
Greek Chicken and Feta Salad is best eaten right away, but you can also make it ahead of time and keep it in the fridge for up to a day. After that, the tomatoes tend to get mushy and the salad will be runnier. But it will still taste great!
Do you track your meals using MyFitnessPal?  If so, simply scan the following barcode to quickly enter your item into your food tracking: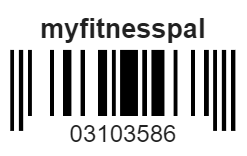 ---
1 cup (285 g) Greek yogurt
3 cloves garlic, minced
Salt and pepper
1 teaspoon dried oregano
2 lbs. (900 g) chicken legs
1 cucumber, chopped
3 tomatoes, chopped
1 red onion, chopped
1 green bell pepper, chopped
2 tablespoons olive oil
¾ cup (120 g) feta cheese, crumbled
---
Instructions
In a large bowl, combine the yogurt and garlic and season to taste with salt and pepper. Transfer half of the yogurt to a medium bowl and set aside until needed.
Add the oregano to the yogurt in the large bowl and mix well. Season the chicken with salt and pepper. Add the chicken and turn to coat in the yogurt, then set aside.
Place the chopped cucumbers and tomatoes in a separate bowl and add 1 teaspoon of salt. Toss to combine and leave to drain.
Heat some of the olive oil in a large skillet over medium heat. Scrape excess marinade off the chicken, then cook the chicken in batches for 5-7 minutes. Turn the chicken over and cook for a further 5-7 minutes, until cooked through. Remove the chicken from the skillet and set aside to rest.
To the bowl of yogurt, add the feta and mix until a paste forms. Drain the liquids from the cucumbers and tomatoes and add to the yogurt, alongside the onions and pepper, and mix well.
Serve the salad with the chicken.
Prep Time:

15 minutes

Cook Time:

15 minutes

Category:

side dish

Cuisine:

salads
Nutrition
Calories:

643 grams

Fat:

43 grams

Carbohydrates:

12 grams

Fiber:

2 grams

Protein:

53 grams
Keywords: greek yogurt, chicken, salad, greek chicken, feta, garlic, cucumber, lettuce, runner-friendly, recipes for runners