These vegetarian and keto Air Fryer Egg Bites are fluffy, flavorful morsels filled with spinach, bell pepper, and feta cheese. They are ready in less than 20 minutes and keep well for several days.

Print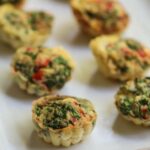 Healthy Air Fryer Egg Bites
---
Description
Gone are the days of deep-frying food in hot oil to get a crispy exterior and golden brown caramelization. You can now get the same result by using an air fryer, and as a bonus, you won't heat up the house either, making air fryer recipes perfect even on hot days when you don't want to turn on the oven.
One of my first experiments using the air fryer was this Egg Bites recipe, which has now become a regular in my house. It's fully vegetarian, keto-friendly, and Paleo if you are fine with a little dairy. With only four ingredients plus some salt and pepper, it comes together in minutes. 
While Egg Bites can be pretty obvious breakfast food, don't hesitate to make them for dinner when you're too tired to cook and might be drawn to pizza delivery or basic spaghetti and jarred sauce. Not only are they quick to make, they are also high in protein and nutrients and are the perfect way to end a long day.
Air Fryer Egg Bites Tricks
Using silicone cups is best. If you use a pan that needs to be oiled first, use a very small amount of oil and wipe off the excess with a paper towel. Do not use oils that come in a spray as they can leave a residue in the air fryer that is very difficult to remove.
There are actual molds designed specifically for Egg Bites, and while you don't need them, they are very handy if you make them often!
Another way to make these Egg Bites is to add the vegetables to the molds first, pour the beaten eggs over them, and top everything with feta cheese. Either way, these little morsels will turn out fluffy and delicious.
Ingredients and Variations
The spinach is used right out of the bag, but you can experiment with frozen spinach that's been thawed and squeezed dried for more of a Spinach & Feta Quiche variation. You can use different cheeses, and cheddar, Gruyere, or goat cheese go well with spinach and other leafy greens such as kale.
And on that note, if you use a sturdier green, it is best to cook it first. While it does take a few more minutes, it can be your chance to add chopped garlic and other ingredients that benefit from a quick toss in a pan.
The sky's the limit when creating variations, but some popular add-ons include bacon or ham, cooked mushrooms, broccoli, and halved cherry tomatoes. Try making a broccoli and cheddar version, or a mushroom and Swiss one, or even a kale and bacon variation.
Egg Bites are best fresh, but you can reheat them in the air fryer, and they will still taste great.
Do you track your meals using MyFitnessPal?  If so, simply scan the following barcode to quickly enter your item into your food tracking: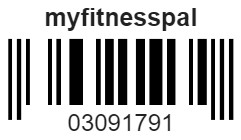 ---
5 eggs
1 cup (30 g) spinach, chopped
½ red bell pepper, diced
¼ cup (40 g) feta cheese, crumbled
3 tablespoons almond milk, unsweetened
Salt and pepper
---
Instructions
Heat the Air Fryer to 300°F (150°C).
Whisk the eggs in a large bowl.
Add spinach, red pepper, crumbled feta, and almond milk, and season with a little salt and pepper.
Evenly divide the egg mixture into eight silicone muffin cases, filling each cup ¾ of the way. Place the filled silicone cups into the Air Fryer and fry for 10-14 minutes. Do this in two batches if necessary.
Once cooked, allow the egg bites to cool completely before removing them from the cups.
Notes
Nutrition information per one egg bite.
Prep Time:

10 minutes

Cook Time:

14 minutes

Category:

breakfast
Nutrition
Serving Size:

8

Calories:

61 grams

Fat:

4 grams

Carbohydrates:

1 gram

Fiber:

0 gram

Protein:

5 grams
Keywords: eggs, spinach, red bell pepper, feta cheese, almond milk, air fryer, healthy air fryer recipe, runner-friendly, recipes for runners