This Melon and Prosciutto Salad will transport you to a Mediterranean seaside restaurant with every bite. Loaded with fresh, seasonal fruits, salty feta cheese, delicate slices of Italian ham, and a delicious honey mustard dressing, this salad makes a great side dish for runners who enjoy lots of flavors and wants a healthy, fulfilling snack.
Print
Melon and Prosciutto Salad
---
Description
I am transported to a Mediterranean seaside restaurant every time I make my Melon and Prosciutto Salad, even when it's gray and rainy outside. The bold flavors mixed together hit all the taste buds, and while this recipe serves 4, you'll probably want a few portions all to yourself. You've been warned! But that's not necessarily a bad thing because it is full of good-for-you ingredients you can feel good about eating at any time.
Palate-Pleasing Ingredients
There's a lot going on in the recipe, but the flavors complement each other perfectly. The dressing is a simple, traditional blend of olive oil, lemon juice, honey, and mustard, with just a pinch of salt and pepper.
The salad itself is a mix of 2 different types of sweet melons, cantaloupe and honeydew, mixed with salty feta cheese and delicately flavorful prosciutto. Chopped almonds and basil round out the dish. 
At RunBuzz, we generally recommend block feta rather than crumbled, which contains anti-clumping ingredients and is often dryer, with the best varieties often being from Greece or Cyprus. 
Prosciutto is a type of Italian ham that has not been cooked, cured, or smoked. Thinly sliced with beautiful streaks of fat throughout its vibrant pink to dark red flesh, it has a pleasant flavor that makes the sweet and salty flavors of melon and cheese really shine. 
How to Serve Melon and Prosciutto Salad
Melon and Prosciutto Salad can make a nice, light lunch on its own on hot summer days when you don't feel like cooking or eating a rich meal. With a respectable 12 grams of protein and a good amount of fiber, it is great on its own. It also makes a great appetizer before an Italian soup like a veggie-loaded minestrone with pesto or oven-roasted chicken and vegetables.
An eye-catching way to prepare this salad is to cut the feta into cubes while using a melon-baller for the fruits. Drizzling the dressing onto the dish and tossing at the last minute right at the dinner table makes for a stunning presentation. We eat with our eyes first, after all!
Delicious Variations and Substitutions
Common variations include using mozzarella instead of feta. The flavor will be different, and the saltiness of the feta will be replaced with the creaminess and slight tanginess of mozzarella, but both versions are equally delicious. With mozzarella, you can play around with different shapes. Larger balls can be cut into cubes or use smaller ones like bocconcini or ciliegine, which would look great with the round melon pieces. 
You can also use other fruits. Watermelon is a traditional addition to feta salad, and peaches or figs make great seasonal substitutes. Mint can be used instead of basil, and if you wanted to make this a complete meal, you could easily add a cooked grain like quinoa. And finally, for a lower fat version, skip the dressing altogether, and you will still have a salad packed with flavor.
Do you track your meals using MyFitnessPal?  If so, simply scan the following barcode to quickly enter your item into your food tracking: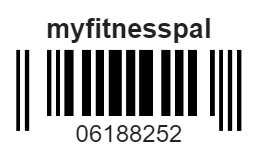 ---
For the dressing:
4 tablespoons olive oil
2 tablespoons lemon juice
1 tablespoon honey
1 teaspoon Dijon mustard
Salt and pepper 
For the salad:
1 cup (160 g) cantaloupe, cubed or balled
1 cup (160 g) honeydew melon, cubed or balled
½ cup (80 g) feta, crumbled
4 oz. (115 g) prosciutto, torn
4 tablespoons almonds, chopped
4 tablespoons basil, chopped
---
Instructions
In a bowl, whisk together the dressing ingredients and season to taste with salt and pepper.
Place the melon into a large bowl and drizzle with the dressing. Add the feta, prosciutto, almonds, and basil.
Mix gently to combine and serve.
Prep Time:

15 minutes

Cook Time:

0 minute

Category:

side dish
Nutrition
Serving Size:

4

Calories:

335 grams

Fat:

26 grams

Carbohydrates:

15 grams

Fiber:

2 grams

Protein:

12 grams
Keywords: cantaloupe, honeydew melon, prosciutto, feta cheese, runner-friendly, recipes for runners, healthy recipe