Keema Shimla Mirch is one of the quickest low-carb and Paleo meals you could make. And with its high protein levels, it makes a great post-run meal.
This mouth-watering mix of ground chicken cooked with fragrant spices, tomatoes, and peppers is delicious as is, or can be served with a grain for more carbohydrates and calories.
Print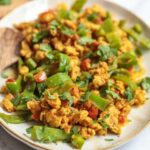 Keema Shimla Mirch (Ground Chicken with Bell Pepper)
---
Description
One of the quickest low-carb and Paleo meals you could make, Keema Shimla Mirch is essentially ground meat ("keema" in India) cooked with fragrant spices, tomatoes, and peppers. It is delicious as is, or can be served with a grain for more carbohydrates and calories.
Why Add Spices to Your Diet
Spices are an underrated food that can really help boost results while training for marathons or other high intensity events. Plus, they taste great! Among other things, spices have antioxidant and anti-inflammatory properties, and can help lower glucose and cholesterol levels. This recipe features ginger root, garlic, cumin, cayenne, coriander, and turmeric, on top of the many spices already featured in garam masala. All of them have been shown to benefits runners, and might also help you absorb food-based nutrition better.
If you don't have garam masala on hand, it is easy to make at home. Simply stir together 1 tablespoon of ground cumin with 1 teaspoon each of ground coriander, cardamom, cloves, nutmeg, cinnamon, and black pepper. You can toast them lightly in a dry pan to develop the flavors.
Delicious Twists on Chicken Keema
This recipe uses ground chicken, which packs a lot of protein like beef, and can help you stay more easily within your fat macros too. But you can use other kinds of meat as well. In Pakistan, they will often replace chicken with beef or lamb, which will change the flavor but will still taste delicious. 
If you eat dairy, and especially if you find the final recipe a little too spicy, you can add a little yogurt as you cook the Keema Shimla Mirch, but be sure to simmer the dish gently so it does not separate. And, for a more traditional twist, you can use ghee or clarified butter instead of olive oil. While this too adds dairy, ghee is extremely low in lactose and casein, making it a digestible fat even if you are lactose intolerant.
And since we're talking about spice, green chilis are commonly used in Indian cooking because of their flavor and the heat that they bring. Before adding the green chilis, taste one. If it's already more than you can handle, you might want to add less, and definitely remove the white inner membranes as well as the seeds. If you're a fan of spice, use the whole thing!
Storing Keema Shimla Mirch
Making Chicken Keema is pretty straightforward and quick, but you might want to make extras to eat throughout the week. It will keep well for about 3 days in a tightly closed container in the refrigerator, and you can also freeze it for about 2 months. 
Do you track your meals using MyFitnessPal?  If so, simply scan the following barcode to quickly enter your item into your food tracking: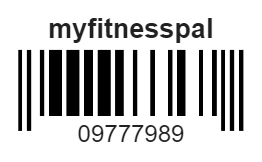 ---
2 tablespoons olive oil
1 onion, chopped
1 lb. (450 g) ground lean chicken
1 teaspoon ginger root, grated
1 teaspoon garlic, minced
1 teaspoon salt
1 teaspoon cumin seeds
½ teaspoon cayenne pepper
¼ teaspoon ground coriander
¼ teaspoon ground turmeric
2 medium tomatoes, chopped
1 green bell pepper, sliced
3 green chilis, stems removed, chopped
¾ teaspoon garam masala
3 tablespoons lemon juice
3 tablespoons cilantro, chopped
---
Instructions
Heat the oil in a medium pot over a medium to high heat. Add the onion and cook for 4-5 minutes, stirring occasionally, until translucent.
Next, add the ground chicken, ginger, garlic and salt, and cook on high heat, stirring occasionally, until most of the liquid has evaporated and the chicken starts to brown, about 7-10 minutes.
Lower the heat to medium and add the cumin seeds, cayenne pepper, ground coriander, and turmeric. Add the tomatoes and continue cooking for 5 minutes.
Add the bell pepper and green chilis, and continue cooking for a further 5 minutes.
Add the garam masala, lemon juice, and chopped cilantro.
Serve immediately.
Prep Time:

10 minutes

Cook Time:

25 minutes
Nutrition
Calories:

268 grams

Fat:

16 grams

Carbohydrates:

11 grams

Fiber:

3 grams

Protein:

22 grams
Keywords: chicken, tumeric, bell pepper, tomatoes, garlic, garlic