My Garmin Forerunner 265 Review:
Is It The Best Running Watch
For Runners?
In this Garmin Forerunner 265 Review, I'll be sharing my thoughts and experience on Garmin's latest running smartwatch. It has been designed to be the perfect running watch for runners of all levels. But does it live up to its hype? In this review, I will share my experience with it after 3 months of use.
As an avid runner, I've been using this smartwatch for a while now, and I have to say, it's been a nice upgrade from previous Garmin models. The colorful AMOLED touchscreen display and traditional button controls provide a seamless user experience. Plus, the lightweight design makes it comfortable to wear during long runs.
You can check out the product link for more information.
Pros and Cons
What I Liked
Impressive Battery Life: The Forerunner 265 offers up to 13 days of battery life in smartwatch mode and up to 20 hours in GPS mode, which is great for longer runs and multi-day activities. This was critical for marathon training, 50k's and long runs. Too many watches die before the training run or race ends.
Comprehensive Training Metrics: The watch provides detailed insights into sleep, recovery, and training outlook, helping you plan and optimize your workouts effectively. Additionally, the training readiness score and personalized daily suggested workouts are valuable features for improving performance.
Wide Range of Activity Profiles: With over 30 built-in activity profiles, including running, triathlons, cycling, and open-water swimming, this watch is suitable for various athletes and activities.
Safety and Tracking Features: The Garmin Forerunner 265 offers incident detection during select outdoor activities, allowing you to feel safer during your runs. The Assistance feature is also handy, sending a message with your live location to emergency contacts in case of an emergency.
Garmin Pay Contactless Payments: Leave your cash and cards at home! This smartwatch supports Garmin Pay contactless payments, making it convenient for on-the-go purchases.

What Can Be Improved
Price: I was a little more than shocked to see the price of this particular model. I feel like it is much higher compared to other watches traditionally in the 200 series range. However, this watch has more features than alternatives like the Garmin 255 and Garmin 245 models.
Limited Screen Compatibility: While I do not mind the larger screen size, some users may find the screen size a bit large for their liking. It would be great if Garmin offered more size options to cater to different wrist sizes.
Rubber Watch Band: This is probably more specific to my experience with Garmin watches, but the rubber watch bands that Garmin uses, seem to irritate my skin. This has happened with just about every model of Garmin watch I own, but it usually requires changing out my original band with an aftermarket fabric-style watch band. I haven't really found one for this watch. For those that can tolerate a rubber watch band, this should not be an issue. The bands are durable.
Quick Verdict
Overall, the Garmin Forerunner 265 Running Smartwatch is a fantastic option for athletes and fitness enthusiasts who want a reliable and feature-packed smartwatch.
Pro Tip: I recommend spending 20 minutes or so with this watch before your first run, will help you get a feel for its capabilities and usage.
Its colorful and easy-to-read AMOLED display, extensive training metrics, safety features, and contactless payment support make it a great watch for the intermediate or serious runner.

If you want to take your training and performance to the next level, I highly recommend checking out the Garmin Forerunner 265. Check it out here!
Unboxing – What's Inside?
I recently purchased the Garmin Forerunner 265 Running Smartwatch from Amazon, and I couldn't wait to unbox it. Living in the USA, I ordered the smartwatch on Amazon because of its competitive price and reliable delivery service. The product arrived at my doorstep within a couple of days.

One thing I noticed when searching for the watch was that stock levels, at least early on, was hit or miss. Some Garmin 265's came bundled with accessories and some didn't so price and availability fluctuated. If you prefer some of the non-black traditional colors, you may have to wait a bit to get the color choice you want. I assume this will change once the watch has been out awhile.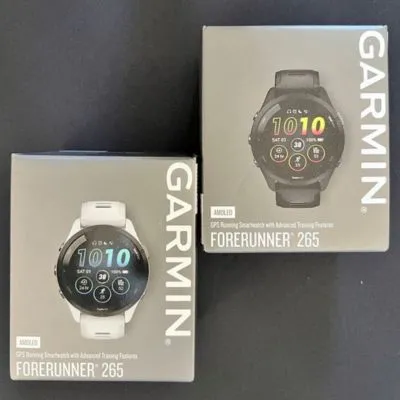 The cost and availability were two of the reasons I sat on my decision to purchase for at least a week because I wasn't 100% sure I needed this watch. Mainly because I already own several Garmin models. However, I have been more than happy with my purchase.
Inside the box, were the following items:
Garmin Forerunner 265
Charger/Data Cable
Documentation
Specifications
Here are some of the specifications of the Garmin Forerunner 265 Smartwatch:
Brand: Garmin
Manufacturer: Garmin
Dimensions: 1.81 x 1.81 x 0.51 inches
Weight: 47 grams or 1.66 ounces
Country of Origin: Taiwan
Model Name: Garmin Forerunner 265
Screen Size: 1.3 Inches
Special Feature: GPS
Color: Black and Powder Gray
Style: Modern
Standing screen display size: 1.3 Inches
Date First Available: May 2, 2023
Documentation
The documentation provided with the Garmin Forerunner 265 Smartwatch was helpful in understanding its features and functionalities. It explained how to set up the watch, navigate through different menus, and utilize various fitness tracking features effectively.
The user guide served as a comprehensive reference for maximizing the use of the smartwatch. You can find the user guide here. If you are like me and want to just get started, I found this 4-minute overview on YouTube helpful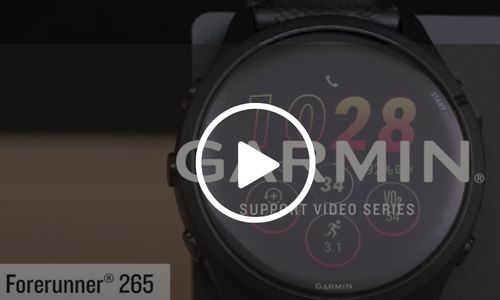 Feature Details
AMOLED touchscreen display with traditional button controls; lightweight design in 46 mm size
The Garmin Forerunner 265 Running Smartwatch features a vibrant AMOLED touchscreen display with stunning visuals and easy navigation. The touchscreen allows you to effortlessly scroll through menus, select options, and view your data, even with sweaty fingers.

Additionally, traditional button controls are available, giving you quick access to important functions even in challenging conditions.
The smartwatch is designed to be lightweight, making it comfortable to wear during your runs and workouts. The 46 mm size ensures a good fit on different wrist sizes, providing a balance between readability and portability. All but the smallest wrist sizes will be fine.
Pro-tip: Customize your display by choosing from various watch faces and data screens to tailor the information that is most important to you during your training sessions.
Up to 13 days of battery life in smartwatch mode and up to 20 hours in GPS mode
The Garmin Forerunner 265 offers impressive battery life, allowing you to use it as a smartwatch for up to 13 days on a single charge. This means you can wear it throughout the day and night without worrying about frequent recharging.
When using GPS mode during your runs or outdoor activities, the battery can last for up to 20 hours, ensuring you have enough power to track your routes and performance.
Whether you're going on a weekend adventure or training for a marathon, the long-lasting battery life of the Forerunner 265 ensures it can keep up with your active lifestyle. So far I have found the battery life to be fairly close to what is advertised.
I tend to recharge my Garmin after each use, but I have seen it go three days or more with no issues and plenty of battery left.
Visit the product link to learn more about the Garmin Forerunner 265's battery-saving features and charging options.
Daily suggested workouts adapt after every run to match performance and recovery
One of the standout features of the Garmin Forerunner 265 is its ability to provide personalized daily suggested workouts based on the race and course information you input into the Garmin Connect app.
Once you have set your race goals and preferences, the watch will generate workouts that align with your training requirements.
These suggested workouts adapt and evolve based on your performance and recovery. After every run, the watch analyzes your data to assess your progress and adjust the upcoming workouts accordingly. This dynamic approach ensures that you are consistently challenged and motivated, helping you optimize your training and achieve your goals.

Pro tip: I have found the workout suggestions feature to be great when not following any specific training plan but a bit annoying when following my own customized training. As a running coach, I like to write my own plans and follow my own needs for recovery. I recommend using these training suggestions as a general guide and not something you absolutely need to stick to.
Safety and tracking features for outdoor activities
In addition to its advanced training metrics, the Garmin Forerunner 265 also prioritizes your safety during outdoor activities. It features incident detection, which can alert designated contacts if it senses a potential accident or injury during select outdoor activities. This provides peace of mind for both you and your loved ones.
The watch is also equipped with assistance capabilities, allowing you to send a message with your live location to emergency contacts when paired with your compatible smartphone. This feature can be a lifesaver in critical situations, especially when you are in areas with limited network coverage.
For outdoor enthusiasts and athletes who often venture into challenging environments, the Forerunner 265's safety and tracking features provide an additional layer of security and reassurance.
Multi-band GNSS with SatIQ technology for superior positioning accuracy
The Garmin Forerunner 265 is equipped with multi-band GNSS (Global Navigation Satellite System) technology, utilizing various satellite systems to deliver highly accurate positioning information. This ensures that your distance, pace, and route tracking are precise and reliable, even in challenging environments with limited GPS signal.
The watch's SatIQ technology optimizes the device's battery life while maintaining superior positioning accuracy. This allows you to confidently explore new routes, venture off-road, or participate in activities that require accurate navigation.
I have found that the GPS connection is fairly fast once you have made an initial connection in a frequently visited location. For example, connection in a new starting location took about 25-30 seconds the first time, but only 10-15 seconds (and sometimes sooner) at locations I frequently visit.
Other Garmin Alternative Models To Consider
When it comes to smartwatches, the Garmin Forerunner 265 Running Smartwatch is undoubtedly a top choice. However, if you're looking for some alternative options that offer similar features and functionalities, here are a couple Forerunner 265 alternatives worth considering:
Garmin Forerunner 255 GPS Running Smartwatch: This runner's bundle includes HD screen protectors and a portable charger, making it a convenient choice for those who want to keep their smartwatch protected and powered up throughout the day. It also offers VO2 Max, race predictor, body battery, heart rate monitoring, and recovery tracking.
Garmin Forerunner® 955 GPS Running Smartwatch: Tailored to triathletes, this smartwatch provides a long-lasting battery life and a host of advanced features. If you're an avid triathlete, this watch will be your perfect companion with its specialized functions and durability.
These alternate products offer similar functionalities to the Garmin Forerunner 265 Running Smartwatch. Whether you are looking for additional accessories, specific capabilities like music playback or catered features for triathletes, these alternatives provide great options to suit your unique needs and preferences.
Frequently Asked Questions
Is the Garmin Forerunner 265 waterproof?
Yes, the Garmin Forerunner 265 is water-resistant to 50 meters.
How long does the battery last on the Garmin Forerunner 265?
Smartwatch mode: Up to 13 days
GPS mode: Up to 20 hours
Can I use the Garmin Forerunner 265 without a smartphone?
Yes, but you will not be able to receive notifications or use some of the advanced features.
Is the Garmin Forerunner 265 a good watch for beginners?
Yes, the Garmin Forerunner 265 is a good watch for beginners. It is easy to use and has a variety of features that can help you track your progress and improve your fitness.
Does the Garmin Forerunner 265 have Garmin Pay
Yes. The Garmin Forerunner 265 does support Garmin Pay. Garmin Pay is a contactless payment method that can be used with the watch.