Traditionally, jambalaya is a dish filled with meat, seafood, or sometimes even both. Can you even make Vegan Jambalaya? The answer is a resounding yes, using vegan sausage, plenty of colorful veggies, long-grain rice, and authentic Cajun spices.
A great vegan meal for runners!
Print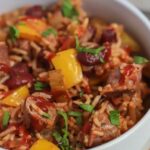 Vegan Jambalaya
---
Description
Traditionally, jambalaya is a dish filled with meat, seafood, or sometimes even both. Can you even make a vegan version? The answer is a resounding yes, and while RunBuzz has plenty of recipes that are not plant-based, this Vegan Jambalaya can compete with any of them with its bold flavors and satisfying mix of different textures. 
Getting The Flavors Rights
Sausage is a common ingredient in jambalaya. It only felt natural to use vegan versions since we've come a long way since the bland, unappetizing meat substitutes from decades ago. You can use any vegan sausage you like. Plain ones will let the spices shine, while seasoned ones will add to the other flavors. The final dish will still taste great whatever you decide.
You want the sausages to brown nicely, so ensure the oil is hot and don't crowd the pan. The protein count will be boosted even more later when we add red kidney beans.
Next up come the vegetables. For convenience and flavor, they are sauteed in the same pan. It's even more important here to use hot oil because the water-rich onions and celery could cause the veggies to steam instead of sauteing. It will still taste great, but without as much of the caramelization that happens when sweet bell peppers and onions get to turn golden brown.
Once the seasonings have been added, it's time to cover the pan and let the rice cook. That's it! You've got a Vegan Jambalaya loaded with protein, fiber, and bold flavors.
Vegan Jambalaya Variations
During the hot summer days, you can substitute the canned tomatoes for fresh ones. With a sharp knife, cut gently through the bottom of the tomatoes, slicing through the skin but keeping the tomatoes whole. Submerge them in boiled water for about 10 to 15 minutes, peel and chop them, and add them to the pan.
Instead of red kidney beans, use a variety of other beans. Chickpeas make a great addition here. You can also add different vegetables. Carrots are especially popular. And instead of the spices, a convenient shortcut is a ready-made Cajun seasoning blend. And finally, if you love brown rice, you could use it instead but note that the dish will take at least twice as long to cook.
Do you track your meals using MyFitnessPal?  If so, simply scan the following barcode to quickly enter your item into your food tracking: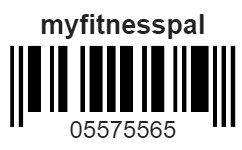 ---
4 vegan sausages, sliced
1 tablespoon olive oil
1 onion, diced
4 cloves garlic, minced
2 celery sticks, diced
1 red bell pepper, diced
1 green bell pepper, diced
1 tablespoon smoked paprika
1 teaspoon dried thyme
2 teaspoons dried oregano
½ teaspoon cayenne pepper
14 oz. (400 g) can chopped tomatoes
1 ½ cups (300 g) long-grain rice, dry
2 bay leaves
3 ½ cups (840 ml) vegetable broth
14 oz. (400 g) can red kidney beans, drained
Salt and pepper
To serve:
2 green onions, sliced
2 tablespoons parsley, chopped
Hot sauce (optional – not included in nutritional breakdown)
---
Instructions
Heat 1 tablespoon of oil in a skillet over a medium heat. Place the sausages into the skillet and cook for 8-10 minutes, or until browned on all sides. Transfer to a small plate and set aside.
In the same skillet, add the onion, garlic, celery, and bell peppers, and sauté for 5 minutes. Add the smoked paprika, cayenne pepper, thyme, and oregano, and cook for 1 more minute.
Next, add the chopped tomatoes, rice, bay leaves, and vegetable broth and stir well to combine. Bring to a boil, then reduce the heat, cover with a lid, and simmer on low for 20-25 minutes, stirring often.
In the last 5 minutes of cooking, add the kidney beans and the cooked sausage. Continue to cook until warmed through.
Remove the bay leaves, season with salt and pepper and serve garnished with green onions, parsley and optional hot sauce.
Leftovers can be stored in an airtight container in the refrigerator for up to 5 days.
Prep Time:

15 minutes

Cook Time:

30 minutes

Category:

dinner
Nutrition
Serving Size:

6

Calories:

559 grams

Fat:

9 grams

Carbohydrates:

98 grams

Fiber:

14 grams

Protein:

21 grams
Keywords: vegan, jambalaya, bell peppers, vagan sausage, kidney beans, spices, tomatoes, recipes for runners, runner-friendly