Full of antioxidants and creaminess, this all-vegan and dairy-free Matcha and Coconut Shake only calls for four ingredients and is a high-protein recovery shake for post-run refueling. It is like the adult version of your childhood milkshakes.
Print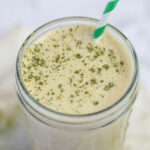 4-Ingredient Vegan Matcha and Coconut Shake
---
Description
Full of antioxidants and creaminess, this all-vegan and dairy-free smoothie only calls for four ingredients and is like the adult version of your childhood's milkshakes. I like to make it when I need to get a little more fat in my diet, to increase my intake of antioxidants (for example, if I've been training more than usual), or to start a long day during which I know I'll need a steady supply of energy without the jitters of coffee.
Matcha is considered to be one of the most gentle but effective sources of caffeine for athletes and especially runners.
A Healthy Dose of Green
So what exactly is matcha? Matcha is a type of green tea that has been specially grown and processed before being ground to a fine powder. It is high in antioxidants, might have a protective impact on the brain, heart, liver, and other organs, and is thought to have weight-loss properties. It has more benefits than regular tea because you're eating the whole leaf, which would be mostly discarded after brewing tea.
It also has a delicate, complex flavor with some grassiness of green powders, the slightly nutty and pleasantly bitter notes of green tea, and a touch of umami. If you enjoy a cup of green tea, you will love having matcha in cold drinks as well, like this frosty Matcha & Coconut Shake.
Canned Coconut Milk: Perfect for Smoothies
Fresh coconuts are amazing, but cracking them open and getting the meat out isn't always convenient (or easy!). This shake calls for unsweetened coconut milk, which comes in light and regular varieties, and with or without guar gum (a thickener).
You can use your favorite brand based on your preferences, as all canned coconut milk will taste great here. Still, if you want to make your own or are out of coconut milk but are craving this shake, you can blend 1 ½ cups of shredded, unsweetened coconut with 1 cup of water until completely smooth. Strain through a nut milk bag or muslin cloth, and measure 1 cup.
Keeping It Cool
This smoothie tastes best when chilled, and the frozen banana ensures it is perfectly cold without diluting any flavors. With just a little planning, you can have a continuous supply of frozen bananas. Here's how:
Simply buy a few extras every week, peel them when ripe, and set them to freeze on a baking tray. You can transfer them to a container or plastic bag and use them as needed. If you're out of frozen bananas, it is also fine to use a cup of ice cubes, but the flavors will be a little milder. It will still taste delicious, and ice cubes could help balance out the richness of full-fat coconut milk.
You can serve this Matcha & Coconut Shake as is, or top it with coconut flakes or shavings, a small pinch of cacao nibs, or even some more matcha powder around the rim of the glass for an elegant and healthy drink that only took a few minutes to prepare.
Do you track your meals using MyFitnessPal?  If so, simply scan the following bar code to quickly enter your item into your food tracking: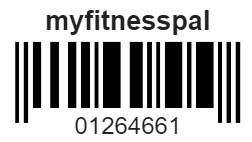 ---
1 cup (240 ml) coconut milk, unsweetened
1 banana, chopped, frozen
2 teaspoons matcha powder
1 teaspoon maple syrup
---
Instructions
Place all the ingredients into a blender, and blend until smooth and creamy.
Pour into a glass and serve immediately.
Prep Time:

5 minutes

Cook Time:

0 minute

Category:

smoothie
Nutrition
Serving Size:

1

Calories:

280 grams

Fat:

5 grams

Carbohydrates:

35 grams

Fiber:

3 grams

Protein:

24 grams
Keywords: coconut milk, frozen banana, maple syrup, matcha powder, runner-friendly, recipes for runners