Eggplant Spring Rolls are made with eggplant slices instead of rice paper, rolled around delectably crunchy fillings made of sprouts, cabbage, mushrooms, and dipped in sweet and sour sauces.

My wife and I made these recently for a small gathering we attended. Several of my local-coached cross-country runners' parents got together for a pre-season kickoff. The party host follows a plant-based diet, so we picked this healthy alternative to traditional spring rolls. We loved them! I hope you do too!
Print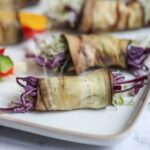 Plant-Based Healthy Eggplant Spring Rolls
---
Description
Spring rolls using traditional rice paper are delicious, but using thinly sliced eggplant instead makes for a mouth-watering variation. And with a choice of several fillings and sauces, this recipe makes a stunning addition to a potluck or buffet.
The trick to making this recipe as streamlined as possible is to be organized, and then it all comes together pretty quickly. One option is to make the eggplant slices, set them aside, and then focus on the fillings and the sauces.
But for meal prep, you can make everything the day before and assemble the final dish just before serving (or have your guests make your own).
Making the Crunchy Fillings & Sweet Sauces
The first filling is nothing more than alfalfa sprouts and cabbage, but don't be fooled by its simplicity! The crunch of the veggies goes great with the tender eggplant wrap, and their mild bite is the perfect complement to the sweet dipping sauces.
The second filling is a colorful blend of bell peppers with enoki mushrooms. You might not have tried enoki mushrooms before, but don't fret. Available in many well-stocked grocery and Asian food stores, they are very easy to prepare. Not only can you eat them raw, but they also come ready to use in small bundles, and you might find them easier to wrap than the peppers!
The sauces are sweet and sour mixed with rice vinegar and either maple syrup or coconut sugar. No need to simmer them or do anything aside from whisking the ingredients together.
Tips & Tricks for the Best Eggplant Rolls
For the best result, use a mandolin to slice the eggplants. You can just use a knife if that's what you have on hand, but a mandolin will make long, uniform, thin slices that lend themselves great to a quick, shallow fry in sesame oil.
You might have to use more oil as eggplant slices tend to soak it up quickly, but to use as little as possible, ensure that your pan is hot and the slices can sear as soon as you set them in. This will also prevent them from sticking. Cook them for a few minutes without peeking, and flip them over. You can also set them on paper towels as you cook them to absorb any excess oil.
And of course, if you're in the mood for rolls using rice paper, you can use it! Simply prepare rice paper sheets and layer them with eggplant slices and filling before rolling them up. While these rolls are great made soon after cooking the eggplant, they are also great cold and make a great addition to picnics. You just need to pack them tightly together, so they keep their shape.
Do you track your meals using MyFitnessPal?  If so, simply scan the following bar code to quickly enter your item into your food tracking: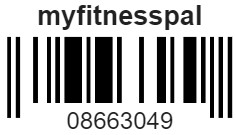 ---
2 eggplants
2 tablespoons sesame oil, untoasted
Salt and pepper
Filling 1:
1 cup (35 g) alfalfa sprouts
1 cup (90 g) red cabbage, shredded
Filling 2:
¼ red bell pepper
¼ orange bell pepper
¼ yellow bell pepper
¼ green bell pepper
1 cup (65 g) enoki mushrooms
Sauce 1:
2 teaspoons Dijon mustard
2 tablespoons rice wine vinegar
1 tablespoons maple syrup
2 tablespoons apple juice
Salt and pepper
Sauce 2:
1 tablespoon tamari
1 tablespoon rice wine vinegar
1 teaspoon coconut sugar
1 tablespoon apple juice
---
Instructions
Thinly slice the eggplant lengthwise using a mandolin or a sharp knife. Try to keep the slices uniform in thickness so they cook evently.
Heat the sesame oil in a large skillet. When the oil is hot, layer the eggplant slices in a single layer. Sprinkle with salt and pepper, and cook for 1-2 minutes on each side, or until tender enough to roll. Transfer to a plate. Work in batches if necessary.
To assemble, lay an eggplant slice on a flat surface and place the vegetables on top at one end of the eggplant slice. Now tightly roll up the eggplant, keeping all the vegetables inside. You can use toothpicks to keep the rolls tightly closed.
Make the sauces by mixing the sauce ingredients together in two separate bowls.
Serve the eggplant rolls with the two sauces.
Prep Time:

10 minutes

Cook Time:

15 minutes

Category:

Appetizer

Cuisine:

plant-based
Nutrition
Serving Size:

4

Calories:

181 grams

Fat:

8 grams

Carbohydrates:

28 grams

Fiber:

10 grams

Protein:

4 grams
Keywords: plant-based, eggplant, bell peppers, sesame oil, enoki mushrooms, alfalfa sprouts, red cabbage, recipes for runners, runner-friendly