Mediterranean Breakfast Burrito Egg Wraps make a great post-long-run breakfast or a healthy breakfast meal, especially when you need something quick on the go. Each wrap contains protein-rich eggs for post-workout recovery along with needed carbohydrates to refuel after a tough workout.
And these breakfast wraps taste amazing!
Mediterranean breakfast burrito egg wraps have a near-perfect combination of carbohydrates, fats, and proteins for post-run recovery or pre-run fueling. Due to the quick prep time and simple ingredients, breakfast wraps have become one of my favorite breakfast meals, especially during the work week when I am busy and don't have much time to make breakfast.
These breakfast wraps are also one of my go-to pre-race or pre-long run meals. Just make sure you eat them at least 90 minutes before you head out for your run. If you don't have time or are going for a short run, make them when you return because they make a great recovery meal as well.
I recommend using a non-stick 10 to 12″ frying pan or any appropriate size pan that will fit your tortillas. I use a healthy olive oil nonstick cooking spray most of the time instead of regular olive oil for convenience and then cook all ingredients in the pan. Any oil will work, but I prefer olive oil for taste.
When cooking your eggs, be sure to scramble them and make sure you cook them a little on the dry side. This keeps your breakfast burrito from getting a little soggy. If using sun-dried tomatoes that come in a jar, drain or pat dry with a paper towel to remove any excess oil. Sun-dried tomatoes are optional but add to the overall flavor.
During the last 1-2 minutes, I place the tortillas over the top of the pan/mixture to use the steam to heat up and soften my tortillas. Many tortillas are dry and will crack and break if you don't do this step. You could also wrap them in a damp paper towel and heat them in a microwave for 15-30 seconds.

Finally, I fill and wrap each tortilla, and I have a quick, healthy breakfast ready to go.
Easy. Easy. Easy.
This recipe uses Feta cheese, but if you are not a fan, you can also substitute Blue Cheese, pepper jack, or shredded cheddar. I have added Avacodo slices as a side or inside the wrap itself.

If you don't have baby spinach, you could also substitute with arugula, or add in chopped bell peppers,
All in all, I highly recommend these, and I hope you enjoy them as much as I do! If you are looking for other breakfast ideas or foods to eat before a run, check out my list of breakfast ideas for runners.
Print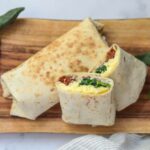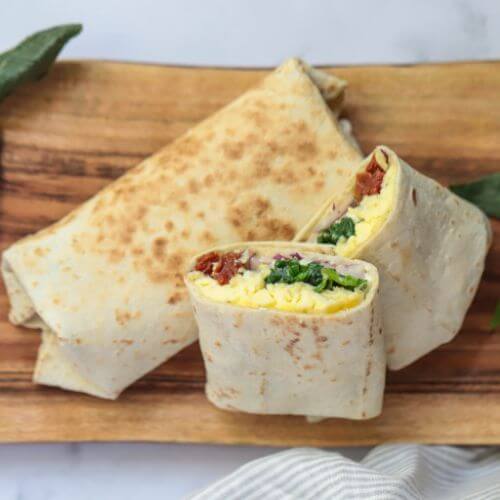 Mediterranean Breakfast Burrito Egg Wraps
---
Description
---
2 tsp. olive oil
2 cups (60g) of baby spinach
3 eggs, whisked
2 tbsp. milk
salt & pepper to taste
2 whole wheat tortillas
4 tbsp. sun-dried tomatoes, chopped
4 tbsp. feta cheese, crumbled
2 tbsp. red onion, sliced
---
Instructions
Heat 1 teaspoon of oil in a medium pan over medium-high heat. Add spinach and cook until wilted, 2-3 minutes. Remove from the pan and set aside.

Whisk the eggs with the milk, season with salt and pepper. In the same skillet, heat the remaining 1 teaspoon of olive oil and cook the eggs. Mix with a spatula and cook until scrambled, 3-4 minutes.

Heat the tortillas in a pan over medium heat and assemble the wrap. Place the scrambled eggs in the center, then add spinach, sun dried tomatoes, feta, and onions. Wrap, cut in half, and serve.
Notes
Nutrition information provided is an estimate. It will vary based on cooking method and specific ingredients used
Prep Time:

5 minutes

Cook Time:

5 minutes

Category:

breakfast
Nutrition
Serving Size:

2

Calories:

362

Fat:

21 grams

Carbohydrates:

27 grams

Protein:

19 grams
Keywords: breakfast, wraps, eggs, baby spinach, sun-dried tomatoes, feta cheese, runner-friendly, healthy recipes, recipes for runners,