If you are a vegan or vegetarian runner looking for a plant-based recipe, my Raspberry Chia Oats Pudding is a delicious blend of sweet raspberries, dates, and other tasty ingredients mixed with rolled oats, chia seeds, and protein-rich soy yogurt. It can be made just an hour before serving, so you can whip it up before going for a run and have it as soon as you get back.
Print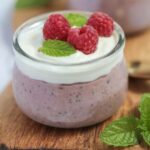 Healthy Raspberry Chia Oats Pudding
---
Description
One of the easiest and most nutritious breakfasts, oat puddings are often made overnight for a quick grab-and-enjoy option. But this Raspberry Chia Oats Pudding can be made just an hour before serving, so you can whip it up before going for a run and have it as soon as you get back.
Raspberry Chia Oats Pudding Ingredients
To make this quick and easy recipe, you will need the following:
Oat milk: Creamy and dairy-free, oat milk goes great here to complement the flavor of the rolled oats. Don't hesitate to add a touch of vanilla extract to it if it's plain. And while I'm using unflavored oat milk here, chocolate oat milk would go great with the raspberries.
Fruits: Raspberries and dates add quick sugars for energy, as well as sweetness from whole foods. You don't need to add sweeteners, although you can definitely try a thin drizzle of maple syrup if you have a sweet tooth. Dates are considered good for hormonal balance and a strong immune system. Raspberries are high in fiber, manganese, and potassium. Both are high in antioxidants. 
Seeds: Flaxseeds and chia seeds together add a lot of nutrition. Both seeds are very high in plant-based omega-3 fatty acids, which help lower blood sugar, cholesterol levels, and the risk of heart attacks. They are also thought to help fight off symptoms of depression and anxiety. Chia seeds are also high in calcium, which tends to lack in dairy-free milk.
Because they are both high in fiber, they are also beneficial to the digestive system. Ground flax seeds do not have a very long shelf life. You will need to either grind them as you need them, or keep your ground flax seeds in the freezer for optimal freshness.
Rolled oats: Rolled oats are whole grain, despite going through some minimal processing like rolling and steaming. They can be used in so many recipes, from oatmeal to bread, or even added to smoothies before blending. Their high fiber content also helps keep you full. Do not replace them with steel-cut oats or Scottish oats, as these need to be cooked first.
Natural soy yogurt: Because oats are a good source of carbohydrates, I'm balancing them out with soy yogurt for protein. Soy is thought to be good for bone density and heart health and might lower the risk of cancer. Yogurt is also a great source of probiotics and beneficial bacteria.
A Quick and Easy Recipe
There's really not much to this Raspberry Chia Oats Pudding recipe in terms of preparation. Simply blend everything but the rolled oats, chia seeds, and yogurt, which you will stir in at the end. The mix will seem quite thin at first but will thicken up nicely while it chills in the fridge for a quick hour.
All around, this is a highly nutritious recipe that also happens to taste delicious. While I designed it to be enjoyed the same day so you don't have to plan for it, you can definitely make Raspberry Chia Oats Pudding the day before and enjoy it in the morning, much like overnight oats.
Beyond Raspberry Chia Oats Pudding
If you like chia seeds, you'll want to try my Power Bites as well, as well as any of my runner-friendly recipes using oats and oatmeal. Or, tweak this recipe by adding goji berries, cacao nibs, and more.
Do you track your meals using MyFitnessPal?  If so, simply scan the following bar code to quickly enter your item into your food tracking: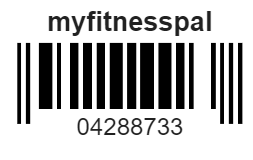 ---
1 cup (240 ml) oat milk
1 cup (125 g) raspberries
4 dates, pitted and chopped
1 teaspoon ground flaxseeds
½ cup (40 g) rolled oats
1 tablespoon chia seeds
4 tablespoons natural soy yogurt
---
Instructions
Place the oat milk, raspberries, dates, and ground flaxseeds into a blender. Blitz until smooth.
Mix in the rolled oats and chia seeds by hand, and divide the mixture equally between 2 serving glasses or jars.
Top each pudding with the yogurt and set aside in the refrigerator to chill for 1 hour before serving.
Prep Time:

10 minutes

Chill Time:

60 minutes

Cuisine:

Plant Based
Nutrition
Serving Size:

2

Calories:

247 grams

Fat:

7 grams

Carbohydrates:

43 grams

Fiber:

10 grams

Protein:

7 grams
Keywords: plant based recipe, chia seeds, soy yogurt, flax seed, rolled oats, raspberries, dates, oat milk, recipes for runners, runner-friendly, pudding