This traditional Mongolian Stir Fried Beef recipe tastes amazing and has been modified slightly to include healthy ingredients. A quick and easy meal for any runner or health and fitness enthusiast.
Print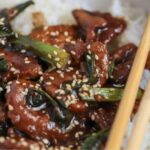 Healthy Mongolian Stir Fried Beef
---
Description
What is Mongolian Stir Fried Beef
A traditional Taiwanese dish tweaked to suit Western palates, Mongolian Stir Fried Beef has become increasingly more mainstream, and can be found on restaurant menus as well as ready-to-eat meals in supermarkets. I've recently seen a Paleo version at a nationwide grocery store chain!
An equally delicious and more economical way to enjoy it is to simply make it at home, using ingredients available in most well-stocked supermarkets, like steak, spices, and a touch of sugar. You can add any vegetables you like to it, but popular options include broccoli, cauliflower, snap peas, green beans, red bell peppers, carrots, and more.
Cornstarch, the Secret "Velveting" Ingredient
You might pause at the use of cornstarch, but it is used here for very good reasons. First, it absorbs the moisture that could otherwise prevent the meat from browning properly, and second, it makes any cut of meat more tender.
Since we're using New York strip steak, which can sometimes be a little tough, the cornstarch helps make it less chewy while keeping its distinctive, beefy flavor which goes so well with the sweet and salty sauce. Feel free to use flank steak or sirloin as an alternative.
A Quick and Popular Weeknight Dinner Option
You can also make this dish in a slow-cooker, so you can look forward to coming home to a hot meal, although it is so quick to make that it might not be worth it. This is truly a 15 minute meal. Because this dish isn't spicy like some other Asian meals, you can serve it to your friends and family as well.
Using cauliflower rice instead of steamed rice, or lettuce leaves as wraps, instantly transforms this recipe into a low-carb dish.
Do you track your meals using MyFitnessPal?  If so, simply scan the following barcode to quickly enter your item into your food tracking: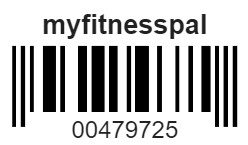 ---
1 ½ (680g) New York strip steaks, thinly sliced by cutting against the grain
Salt and pepper
3 tablespoons cornstarch
2 tablespoons olive oil, divided
3 cloves garlic, minced
1 tablespoons ginger, grated
⅓ cup (80ml) tamari
⅓ cup (80ml) water
½ cup coconut sugar
2 green onions, sliced
1 teaspoon sesame seeds, toasted
Steamed rice for serving
---
Instructions
Season the steak with salt and pepper to taste, then toss in cornstarch until evenly coated. Set aside. If slicing the beef thinly is a bit difficult, try freezing the meat for 15 to 20 minutes beforehand.
Heat 1 tablespoon of oil in a large pan over medium-high heat. Add garlic and ginger, and sauté for 1 minute to develop the flavors. Add tamari, water, and sugar. Bring to a boil, stirring until sugar dissolves. Transfer the sauce into a bowl or jar set aside.
Place the pan back over the heat and add remaining oil. Sear the steak until evenly browned on both sides, 1 to 2 minutes per side.
Transfer the sauce back into the skillet and stir together with the beef. Simmer for 1-2 minutes to allow the sauce to thicken. Add in green onion and continue to cook for 1 more minute.
Serve over cooked rice, with a sprinkling of toasted sesame seeds. You can also add the green onions at the end, for a bit of color and freshness. Mongolian Stir Fried Beef will keep for about 3 to 4 days in the fridge.
Prep Time:

5 minutes

Cook Time:

10 minutes
Nutrition
Serving Size:

4

Calories:

419 calories

Fat:

19 grams

Carbohydrates:

26 grams

Fiber:

1 gram

Protein:

39 grams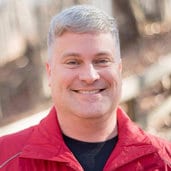 I am a NASM-certified personal trainer, PN1-certified nutrition coach, and RRCA/USATF-certified running coach. I have been coaching since 2010 and have helped thousands of runners online and in the Central Ohio area. I am the owner of RunBuzz and Run For Performance.com. If you are interested in online run coaching, or sports performance training (Central Ohio only), feel free to reach out.