Yogurt with oats, mixed seeds, and ginger syrup makes a quick and easy snack or light meal for any runner or health and fitness enthusiast.
Print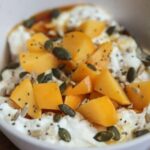 Yogurt with Oats, Mixed Seeds, and Ginger Syrup
---
Description
Why Oats Are a Good Source of Clean Carbs
Like other athletes, runners have specific nutrition needs with healthy amounts of protein, complex carbohydrates, healthy fats, and minerals. While some of these can be obtained through supplementation, a well-balanced diet based on whole, high quality foods can make all the difference during periods of sustained exercise. I know I perform at a higher level when I prioritize top notch nutrition, and this recipe was created with this in mind!
To kick things off, with their high need for glycogen (the fuel that keeps energy levels strong), runners need a healthy amount of carbohydrates from clean sources. Dip below the necessary intake, and fatigue and sluggishness start to rear their ugly head. To prevent that, oats fit the bill. With their low glycemic index, high soluble fiber content, and surprisingly good amount of protein, oats also make a good pre-workout meal if eaten within an hour of your run, during which they will deliver consistent energy levels.
Ingredients to Fight Off Inflammation and Boost Nutrition
That being said, the best oats for runners will usually come with added protein, and ingredients that help fight inflammation. Here again, this recipe delivers, with protein-rich Greek yogurt, and anti-inflammatory, anti-oxidative ginger. The ginger also adds a pleasant kick and a dose of minerals to get the blood flow going. Pro tip: use the back of a spoon to easily peel the ginger root by scraping it.
And to round things up, four different types of seeds are added for texture, adding a crunchy dimension to your bowl of oats, as well as nutrition. Pumpkin seeds are one of the best sources of plant-based zinc to support running performance, chia seeds are a high-quality vegan source of calcium for strong bones, and sunflower seeds are a vitamin E powerhouse to reduce the oxidative damage of endurance training.
Make it Easy and Tasty
Add in sweetness from honey and fresh fruit, and you've got some of the best runner's nutrition you could ask for in one easy bowl. To make things easier, much of the prep work can be done the night before. Simply prepare your seed mix, and set it aside while the oats and yogurt work their magic overnight. The syrup can be made a few days in advance, as long as you store it in the fridge whenever you are not using it.
This recipe is great 30 minutes to an hour before your run, or as a snack during the day based on your nutritional needs. It tastes great, so don't hesitate to share it with your non-runner friends and family members!
Do you track your meals using MyFitnessPal?  If so, simply scan the following barcode to quickly enter your item into your food tracking: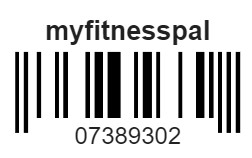 ---
For the yogurt:
4 tablespoon oats
1 ¼ cup (315 g) Greek yogurt, plain
2 tablespoons sunflower seeds
2 tablespoons pumpkin seeds
1 teaspoon poppy seeds
1 tablespoon chia seeds
1 peach, sliced
For the syrup:
¼ cup (60 ml) water
4 tablespoons honey
2 tablespoons ginger, peeled sliced thinly
---
Instructions
In a medium bowl, combine the yogurt with the oats, cover, and refrigerate overnight or at least 1 hour. Mix all the seeds in a small bowl, and set aside until ready to serve.

To make the syrup, combine all the syrup ingredients in a small saucepan and bring to a boil. Reduce heat and simmer for 10 minutes, until slightly thickened, then strain the ginger.

To serve, divide the yogurt between four bowls, and top with the seed mixture, sliced peach, and syrup.
Prep Time:

5 minutes

Cook Time:

10 minutes (plus additional time to chill)
Nutrition
Serving Size:

4

Calories:

205

Fat:

7 grams

Carbohydrates:

28 grams

Fiber:

2 grams

Protein:

11 grams