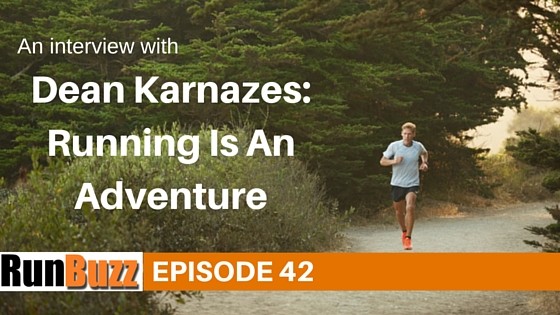 In this episode, I speak with running idol Dean Karnazes, the Ultra Marathon Man. We talk about running for fun, running for adventure, and how to be a runner that enjoys life and longivity with running.
He has been named by Time magazine as one of the Top 100 Most Influential People in the world.  Men's fitness named him as one the fittest men on the planet. He has run and conquered and dominated, not just once but like a million times, all of Ultramarathon's biggest races such as Badwater, Western States, The Vermont Trail 100, and the 4 deserts race series. He has run on all 7 continents 2 times over.
I first became aware of Dean personally, when he took on the challenge of running 50 marathons in 50 states on 50 consecutive days.   I don't have enough time to go through all his accomplishments but he also ran 350 miles in 80 straight hours without sleep. He even ran 148 miles in 24 hours on a treadmill.
Dean has written books and has made appearances all over the world to encourage runners. He has appeared on the Today Show, 60 Minutes, The Late Show With David Letterman, CBS News, CNN, ESPN, Howard Stern, Conan O'Brien among many others and now we can add RunBuzz to that list.
I met Dean at the Chicago marathon on 10/10/10. Here a picture of us at the race expo. (Yeah, I was star struck a bit, thus the goofy photo):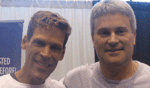 We discuss:
How Dean approaches training and how running is an adventure.
Racing vs. Running
How to keep our brain from getting in our own way.
How to maintain curiosity in our running.
How Dean maintains durability and what Dean does to maintain longevity.
Why we need to break the habit of idleness and focus on movement.
Dean's cross-training routine
Dean shares his craziest running experiences including sleep running, hallucinations, and possibly an out of body experience.
What's next for Dean?  dean shares his most ambitious and challenging adventure to date.
To follow and learn more about Dean Karnazes:
Dean Karnazes Ultramarathonman
Dean's books: I highly recommend all three!
Ultramarathon Man: Confessions of an All-Night Runner
Run! 26.2 Stories of Blisters and Bliss
50/50: Secrets I Learned Running 50 Marathons in 50 Days — and How You Too Can Achieve Super Endurance!
Happy Running everyone!
Running Resources
PaceBuilders™ Training System – A complete, end to end, custom training program for runners. Get unlimited 'customized' training plans with unlimited modifications that match your lifestyle and running goals. PLUS, get access to video training sessions and unlimited support so you can blast through your running goals.
Customized Training Plans For Any Race Or Distance – 100% handwritten custom training plans written around your unique situation. Don't settle for generic training plans found in books, magazines, or online. Our training plans take your history, your goals, your fitness profile and your lifestyle into consideration. Includes free access to Final Surge, where you can view and log your workouts anywhere you have access to a web browser, or use the mobile app.
Runner's Toolkit – Get access to 30 days of free coaching tips by email and get your #1 running question personally answered by me, just for signing up. Plus get free access to our private Facebook community where other RunBuzz community members gather for support, camaraderie and general shenanigans.
Find out how you can support RunBuzz's mission to bring quality running content (educational, inspirational, etc) to the running community. Help support me in my mission to make every runner regardless of age, size and ability a better runner.
---
Join The Community: Subscribe and Review!
If you'd like to get RunBuzz delivered automatically to your smartphone or podcast player at no charge to you, please subscribe using your preferred method below:
If you'd like the direct RSS feed for your own favorite RSS Podcast Player, click here to get it!
If you get a chance, please leave me an honest review and rating on iTunes by clicking here. (This helps me get the show up in the rankings and I'd deeply appreciate it. 🙂 )
---
I Appreciate Your iTunes Reviews!
Getting a 5 star rating and/or written review is incredibly important for this show. It helps with ranking and with generating the necessary exposure that gets this podcast out in front of other runners.
But it is even more important to me!
I read each and every comment and really take them all to heart. They provide encouragement that what I am doing is getting noticed and that the show is getting listened to.
I am so thankful to those who have recently gone into iTunes to provide a five star rating and written a review of RunBuzz Radio.
If you can and would like to provide a rating and/or write a review (there's certainly no obligation), then you can do so by following these instructions:
1) Go to the show's iTunes Page or search "RunBuzz" from iTunes if you aren't already a subscriber.
2) Open the page in the iTunes app, and click on the number of stars for the rating you think I deserve.
3) Write a sentence or two to share your comments.
Thank you SO Much!
---
The following two tabs change content below.
Steve is the founder and head running coach of RunBuzz.com. Steve is host of the RunBuzz podcast and founder of
PaceBuilders
, a complete online training program for runners. Steve is a RRCA / USA Track and Field Certified Running Coach and resides in Lewis Center, Ohio.