In this episode, I speak with running idol Dean Karnazes, the Ultra Marathon Man. We talk about running for fun, running for adventure, and how to be a runner that enjoys life and longivity with running.
He has been named by Time magazine as one of the Top 100 Most Influential People in the world.  Men's fitness named him as one the fittest men on the planet. He has run and conquered and dominated, not just once but like a million times, all of Ultramarathon's biggest races such as Badwater, Western States, The Vermont Trail 100, and the 4 deserts race series. He has run on all 7 continents 2 times over.
I first became aware of Dean personally, when he took on the challenge of running 50 marathons in 50 states on 50 consecutive days.   I don't have enough time to go through all his accomplishments but he also ran 350 miles in 80 straight hours without sleep. He even ran 148 miles in 24 hours on a treadmill.
Dean has written books and has made appearances all over the world to encourage runners. He has appeared on the Today Show, 60 Minutes, The Late Show With David Letterman, CBS News, CNN, ESPN, Howard Stern, Conan O'Brien among many others and now we can add RunBuzz to that list.
I met Dean at the Chicago marathon on 10/10/10. Here a picture of us at the race expo. (Yeah, I was star struck a bit, thus the goofy photo):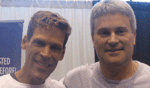 We discuss:
How Dean approaches training and how running is an adventure.
Racing vs. Running
How to keep our brain from getting in our own way.
How to maintain curiosity in our running.
How Dean maintains durability and what Dean does to maintain longevity.
Why we need to break the habit of idleness and focus on movement.
Dean's cross-training routine
Dean shares his craziest running experiences including sleep running, hallucinations, and possibly an out of body experience.
What's next for Dean?  dean shares his most ambitious and challenging adventure to date.
To follow and learn more about Dean Karnazes:
Dean Karnazes Ultramarathonman
Dean's books: I highly recommend all three!Ultramarathon Man: Confessions of an All-Night Runner
Run! 26.2 Stories of Blisters and Bliss
50/50: Secrets I Learned Running 50 Marathons in 50 Days — and How You Too Can Achieve Super Endurance!
Happy Running everyone!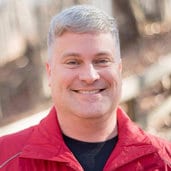 I am a NASM-certified personal trainer, PN1-certified nutrition coach, and RRCA/USATF-certified running coach. I have been coaching since 2010 and have helped thousands of runners online and in the Central Ohio area. I am the owner of RunBuzz and Run For Performance.com. If you are interested in online run coaching, or sports performance training (Central Ohio only), feel free to reach out.