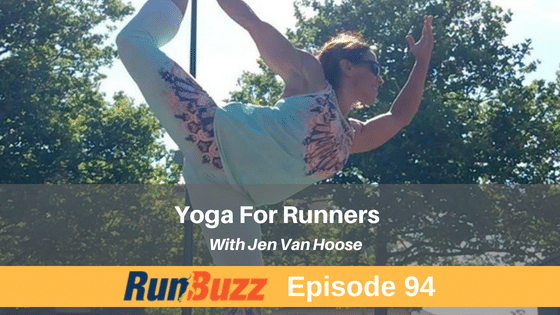 In this episode of the RunBuzz podcast we discuss yoga for runners.  We look at the various types of yoga, the numerous benefits of yoga and how to get started with yoga especially if you are someone like me, who despite knowing its amazing benefits, has not tried it before.  To do so, we bring you our special guest, Jen Van Hoose, who is a fitness trainer and yoga instructor here in the Central Ohio area to discuss the topic in great detail.  Jen joins us as we dig deep into this fitness activity and how it may be one of the best, if not THE best, cross training exercise for runners.
All this and more on today's episode!
About Our Guest:
Jen Van Hoose started her fitness journey back in in her early years of elementary school, middle school and high school where she participated in gymnastics, cross country and track. As an athlete she experienced injuries and her experience with injury helped eventually draw her into yoga.  After years of relative inactivity in her twenties and thirties she eventually found herself back at the gym using various fitness classes, strength training, running and yoga to reclaim her fitness. Jen, eventually took the next step and became a personal trainer and yoga instructor.
The Various Types Of Yoga:
There are numerous types of yoga, so many in fact that there is no easy way to discuss all of them.  In the interview, Jen walks through several of the following, but I have also found this resource that may help you choose some to look into and start with.
BodyFlow – A Les Mills program that combines elements of Tai Chi and Pilates. It follows a relaxing soundtrack and is great for beginners
Bikram – a little more rigid practice and hot yoga, done in 125 degree F heat,  but a type of yoga that can be great for your muscles and detox.
Vinyasa – Vinyasa means "flow" and a slow Vinyasa yogo style can help with breathing and relaxation but also there are many variations. For example, power yoga is a Vinyasa yoga with a little more intensity.
Restorative  – uses more props.  It is made up of constructive, relaxed poses. So in essence you are hanging out in a relaxed, no tension pose.
Yen – Opposite of Restorative and is also slow moving, but uses tension in it's poses. You could be holding a pose for as much as 5 minutes (or longer) where you are trying to create a opening, or lengthening or stretch on your muscles.
Ashtanga – similar to Bikram, is a dynamic, brisk, and physically demanding type of yoga which is great for strengthening the core and muscle toning.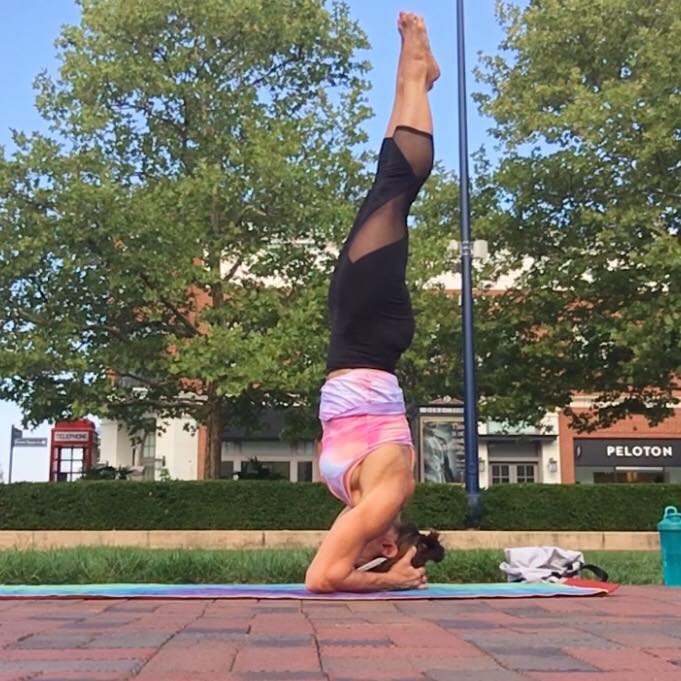 The Benefits of Yoga For Runners:
The benefits of yoga for runners, or anyone for that matter are endless. It can be done by anyone of any age, or fitness level because yoga adapts and can be modified so easily. It connects the mind, body and soul. The more you get into practicing yoga, the more you become self-aware of these benefits and you experience new ones. For example, research studies show that yoga can benefit you in the follow ways:
Relieves muscle tension and stress
Increases flexibility
Increases balance and alignment
Increases overall strength including core strength
Reduces recovery time
Increases focus and self awareness to be more in tune with your body
Fascia Release
and more!
How To Get Started With Yoga
Yoga can be intimidating for some people. However, Jen shares some great advice on how to get started with yoga without the mindset that yoga is complex or challenging. It can be if you want it to be, but most people will be able to find a yoga class geared towards beginners.
Here are some of the tips she shared on the podcast:
Get into a beginner class or find a workshop. Most yoga instructors can simplify yoga moves and help you out even if it is an experienced class. Most yoga classes are (or should be) welcoming towards beginners. Workshops are great because they often cover some of the terms and vocabulary that is used.
Don't focus, or worry about the movement 'levels',  it is just a way to categorize the complexity or intensity of the moves. You make yoga what you want to make of it, so don't let that intimidate you.  There are advanced classes, but those classes are usually well described that they are for experienced or advanced people.
Jen shared that early on she kept pushing and pushing yoga to learn more complex moves, but due to some early injuries, she now finds herself more 'relaxing into yoga' and finding different styles of yoga that benefits her more personally.
For runners, you often get 'intensity' through running or other fitness activities like strength training or group fitness classes. Jen uses yoga to be more restorative in terms of relaxing, relieving muscles tension and stress, and reducing recovery time.
Start by practicing with no expectations and goals at first. Just focus on being there, in the moment, and your yoga goals (if any) will develop over time. Just enjoy the moment, right then, right there, right now.
Start once a week at first and grow into it should you desire to do it more often. Give yourself time to adjust to the movements, in the beginning.
Thanks and Happy Running!
Running Resources
Runner's Toolkit – Get access to 30 days of free coaching tips by email and get your #1 running question personally answered by me, just for signing up. Plus get free access to our private Facebook community where other RunBuzz community members gather for support, camaraderie and general shenanigans.
Find out how you can support RunBuzz's mission to bring quality running content (educational, inspirational, etc) to the running community. Help us support our mission to make every runner regardless of age, size and ability a better runner. Each episode requires over 8 hours, or research, recording and editing.