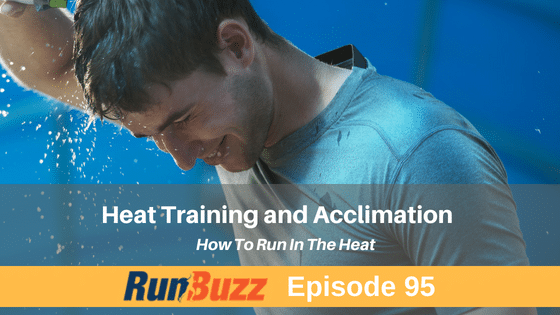 In this episode of the RunBuzz podcast, we discuss running in hot weather.  For example, did you know running on asphalt can increase the ground surface temperature around you by as much as 10-20 degrees Fahrenheit?
We discuss why you physiologically slow down in the heat, why it is not a bad thing, and what you can do to adjust your training. We teach you how to acclimatize to your climate and how your body adjusts when it acclimates.
We share a study that shows just how much you can expect to slow down based on the expected temperature ranges.
We discuss the use of cooling towels and cooling sleeves and what the studies show about their effectiveness.
We discuss what to wear, and what to avoid to keep you cool.
We talk about warm weather destination races and how to acclimatize even if you live in an area where temperatures are more moderate.
All this and more on today's episode!
Thanks and Happy Running!
Running Resources
Runner's Toolkit – Get access to 30 days of free coaching tips by email and get your #1 running question personally answered by me, just for signing up. Plus get free access to our private Facebook community where other RunBuzz community members gather for support, camaraderie and general shenanigans.
Find out how you can support RunBuzz's mission to bring quality running content (educational, inspirational, etc) to the running community. Did you know it takes approximately 8-10 hours of work to research, record, edit and release each podcast episode? Help support us in our mission to make every runner regardless of age, size and ability a better runner. Your support helps keep future RunBuzz podcast episodes ad-free and new episodes coming.
---