This Vegan Egg Salad Sandwich will satisfy even the most ardent meat lovers and Vegans alike with a mouth-watering blend of flavorful chickpeas, creamy vegan mayonnaise, salty seaweed, and more. It is great for picnics, road trips, and the office and keeps well for several days.

It also makes a great post-run meal as it contains lots of fuel-replacement carbohydrates.
Print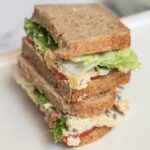 Vegan 'Egg' Salad Sandwich
---
Description
You don't have to be vegan to enjoy this Vegan Egg Salad Sandwich, which happens to be the perfect recipe for when you want a change from regular old egg salad. Eggs are a nutritious and delicious food, but the best diets are well balanced with a variety of ingredients like beans, which are high in protein, fiber, calcium, magnesium, and more.
Vegan Egg Salad Sandwich Secret Ingredient
In this recipe, I'm using canned chickpeas mashed with traditional egg salad add-ons like mayonnaise, onion, and garlic. A nutritional powerhouse, chickpeas are rich in protein, manganese, folate, copper, and much more. Nori seaweed is added for extra minerals, folate, and umami saltiness. If you want a yellow tinge to your "egg" salad, a pinch of turmeric will take care of it.
Texture is Everything
Because this "egg" salad is so close to the real thing, it is worth doing it right. Do not over-process the chickpeas and end up with a paste, but instead mash them thoroughly with a fork or potato masher. You don't want a creamy spread, but rather a smooth mash that holds together well.
The crunch will come from the onion and romaine, but feel free to add your favorite egg salad ingredients like finely chopped celery and pickles.
Vegan Egg Salad Sandwich: Beyond Sandwiches
Not in the mood for a sandwich, or maybe you're looking for something gluten-free? You don't have to use any bread with this recipe. Romaine lettuce boats filled with the chickpea mixture and a sprinkling of diced pickles is a refreshing, light lunch you could even serve at potlucks.
The filling is sturdy enough to be scooped up with crackers, corn tortilla chips, or thick slices of bell pepper. You could even scoop it on top of a bed of crisp lettuce or baby greens, along with sliced cucumbers, carrots, radishes, and other crunchy veggies. 
Vegan Egg Salad will keep for close to a week in a sealed container in the fridge.
Do you track your meals using MyFitnessPal?  If so, simply scan the following barcode to quickly enter your item into your food tracking: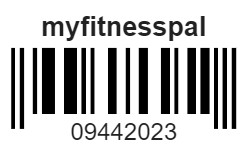 ---
14 oz. (400 g) can chickpeas, drained and rinsed
½ lemon, juiced, about 1 1/2 tablespoons
4 tablespoons vegan mayonnaise
½ red onion, diced small
½ teaspoon garlic granules
¼ teaspoon cayenne pepper
2 tablespoons nori seaweed
Salt & pepper
8 slices of bread, whole grain
4 lettuce leaves
1 tomato, sliced
---
Instructions
Place the chickpeas into a medium bowl and roughly mash to the desired consistency with a fork or potato masher.
Add in the lemon juice, mayonnaise, diced onion, garlic granules, cayenne pepper, and nori seaweed. Season to taste with salt and pepper, and mix until well combined.
Spread a quarter of the mixture onto a slice of bread, add a slice of tomato and a lettuce leaf, and top with a second slice of bread.
Prep Time:

10 minutes

Cook Time:

10 minutes

Category:

lunch
Nutrition
Serving Size:

4

Calories:

351 grams

Fat:

16 grams

Carbohydrates:

44 grams

Fiber:

8 grams

Protein:

10 grams
Keywords: vegan, plant-based, chickpeas, runner-friendly recipe, recipe for runners, healthy lunch, fitness recipe