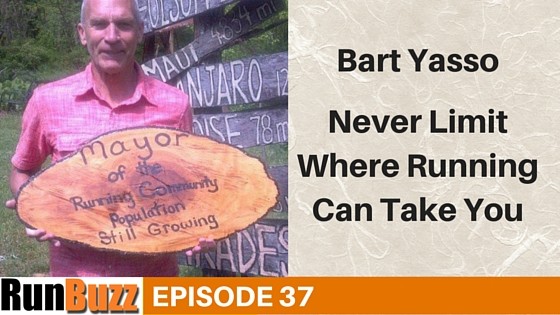 Show Notes:
My guest today is Bart Yasso whose accomplished running career has taken him all over the world. You and I may know him as the Chief Running Officer at Runner's World, or the man behind the Yasso 800's, an incredible workout and predictor of marathon times. But his story goes way beyond that.
Bart Yasso is one of few people who have completed races on all seven continents from the Antarctica marathon to the Mt. Kilimanjaro marathon. In 1987, Bart won the U.S. National Biathlon Long Course Championship and won the Smoky Mountain Marathon in 1998. He has also completed the Ironman five times and the Badwater 146 "deemed as the world's toughest foot race".  This race starts in Death Valley's Badwater Basin, the lowest, hottest spot in North America, and then crosses three mountain ranges before ending atop, at the time, 14,496-foot Mount Whitney, which is the highest point in the lower 48.  Amazing. He has also cycled, completely unsupported by himself, across the country twice.
In this episode, Bart and I chat about his accomplishments, but also where running has been and where we think running is headed. We talk about running as an inclusive sport, but also one that can surprise you. His powerful message of "Never Limit Where Running Can Take You" is both inspirational and true.  It was a personal honor of mine to have the opportunity to talk one on one with one of our greatest running celebrities and take you along with me.
This episode does not come close to covering the cool things and tips that Bart shares in his book, My Life On The Run.  I highly encourage you to read this book if you have not to really understand the power of running.
Bart describes how he enjoy's his job and how he loves meeting runners and hearing their personal story. Every runner has a story!
See Bart at an upcoming race. Check out his calendar here.
We discuss the inclusiveness of our sport and how that has changed over the years.
Never limit where running can take you whether physically, emotionally, spiritually and to kick it up a notch depending on where you want to be in running.
The power of the running community.
How the running community knocked down the walls of intimidation and how breaking that barrier has led to more participants running in races.
Where trends in running technology is going.  Embrace technology but don't let it take over  your running.
The Comrades Ultramarathon and why it was one of Bart's greatest running experience.  Bart shares his experience and how inspiring the South African race is.  Bart shares how the first two attempts led to him being unable to participate due to his hospitalization for Lymes disease.
Bart's experience running the Antartica marathon.
Badwater 146 miles.  Bart shares some tips on how to control your mind to block out negative thoughts and pain.   You have to totally believe and dream you can do it before trying it. It requires practice.
Bart's final advice?  Think long term. Become a runner for life.
To contact Bart:
Running Resources
Runner's Toolkit – Get access to 30 days of free coaching tips by email and get your #1 running question personally answered by me, just for signing up. Plus get free access to our private Facebook community where other RunBuzz community members gather for support, camaraderie and general shenanigans.
Find out how you can support RunBuzz's mission to bring quality running content (educational, inspirational, etc) to the running community. Did you know it takes approximately 8-10 hours of work to research, record, edit and release each podcast episode? Help support us in our mission to make every runner regardless of age, size and ability a better runner. Your support helps keep future RunBuzz podcast episodes ad-free and new episodes coming.
---