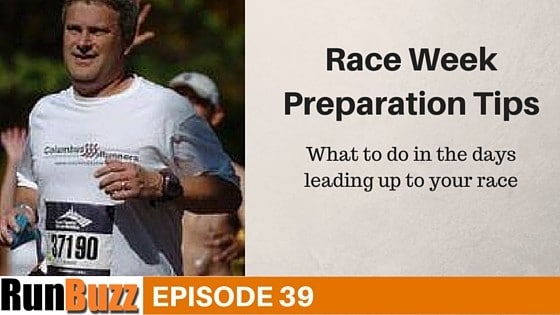 In this episode, I kick off a 3 part series on race week preparation, race day strategies and post race recovery. Today, we start with Part one: Race Week Preparation.  We'll look at what you should be doing during race week to get you ready to run your race and get you up for success.
The longer your race, the more preparation steps you need to consider.
Some of these tips will be familiar to you (and thus a great reminder) and others may be new to you.  For those of you running long training runs, many of these apply for those as well.  But in any case, hopefully you will find that these tips give you an advantage on race day whether it be setting you up for a successful day on the course, or a less stressful race day experience.
Show Notes:
Here is a list of race week preparation tips (in no particular order):
Follow your taper plan. For a 5k, 2-3 days up to a week (if running for speed). For a half marathon, I like to see 10 days to 14 days, and for a full, I like to see 2-3 weeks for the taper.
Know your race expo and race day logistics.
know the course highlights (elevation, drive the course, location, parking, corral times, etc)
Your best sleep will come the night PRIOR to the night before. Take advantage of it.
Don't forget packet pickup if they offer it. Not all races do. Do it the day before if you can.
Lay out your clothes and gear the night before. Wear what you have tested during training runs.
If wearing a hat, wear a visor with an open top. It allows heat to escape the top of your head where most heat is lost.
Sunscreen. Use it. Skin cancer and sunburns are real.
Plan spectator locations, especially for meeting up after the race.
Slightly increase intake of water throughout the week leading to race day. If running a marathon or half marathon, I would even add a couple of Gatorade/Sport drinks to the mix (not much) in the few days leading up to top off your sodium/pottasium levels, get your stomach used to the sport drink and make sure your not flushing too much sodium out by drinking too much water.
If running a marathon, or half marathon, slightly increase carbohydrate % up throughout the week. Not much, and no big carb loading meals needed.
Avoid public places, wash hands, etc to minimize chance of illness.
If you run with headphones, pick out your playlist.
If travelling, stay relaxed.  Don't let the stress of travel wear you out. Stay hydrated and arrange transportation if using shuttles, etc. ahead of time.
Park near the end of the race, not the start if you can. Marathoners, you'll thank me for this one later. Use the extra distance to get to the beginning of the race as warm up time, or time to clear your mind and relax.
You can't prepare for everything so do not stress out about it. Some things are entirely in your control. Others like weather is not. For those of you chasing a personal best, realize that if the weather is 90 degrees, or you are running into 30 mile an hour head winds, it may not happen.
Go with the flow and spend a lot of time on positive things in the days leading up to race day. Your mind can help you achieve powerful things, but it can also be your enemy. Do not allow thought monkeys get in your head.
Have fun!
Running Resources
Runner's Toolkit – Get access to 30 days of free coaching tips by email and get your #1 running question personally answered by me, just for signing up. Plus get free access to our private Facebook community where other RunBuzz community members gather for support, camaraderie and general shenanigans.
Find out how you can support RunBuzz's mission to bring quality running content (educational, inspirational, etc) to the running community. Did you know it takes approximately 8-10 hours of work to research, record, edit and release each podcast episode? Help support us in our mission to make every runner regardless of age, size and ability a better runner. Your support helps keep future RunBuzz podcast episodes ad-free and new episodes coming.
---