Welcome to the 30 Day October Fitness Challenge!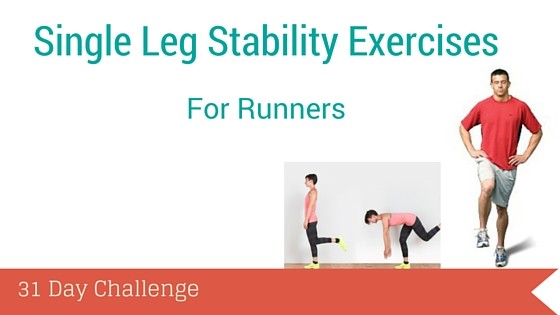 Earlier this year, I partnered with several websites where we each host a month long fitness challenge.  This month, it's our turn to host.
For the month of October, we'll be focusing on single leg stability exercises.  I'll introduce you to several variations of exercises that will help work on balance and stability of your supporting muscles. You will not need any special equipment, however later in the month, you may want to kick it up a notch and do the drills standing on a Thera-Band Stability Trainer.
Stability exercises and balance drills have huge benefits for runners. They can help with mind/muscle/body awareness, injury prevention, and reduction of fatigue when running.  Working on stability and balance can help recruit the dozens of supporting muscles in your feet, ankles and lower calf that help absorb the stress placed on the major muscle groups as well as fine tune your coordinated motions like foot strike and push off. It also helps with increasing the speed at which your body recognizes imbalances and your body's speed at which it compensates.
We will focus entirely on single leg drills, but will vary the difficulty as we progress through the month.  We will use a level up approach where you only progress to the next variation once you have mastered the current technique.  Exercises will be described and shown with images and video when possible.
Please make sure to check out the challenge page for more information on how the overall challenge works. While your at it, take a look at the other challenge hosts and learn about Final Surge and how you can be eligible to win monthly prizes.
Join the fun by taking these simple steps:
1.  Like RunBuzz on Facebook
2. Each day, the challenge will be posted on the RunBuzz Facebook page.
3.  Share pictures, comments and brags about your progress. Tag your friends and get them involved!
Head on over to Facebook to get started. Your first exercise will be posted  tomorrow morning!
The following two tabs change content below.
Steve is the founder and head running coach of RunBuzz.com. Steve is host of the RunBuzz podcast and founder of
PaceBuilders
, a complete online training program for runners. Steve is a RRCA / USA Track and Field Certified Running Coach and resides in Lewis Center, Ohio.