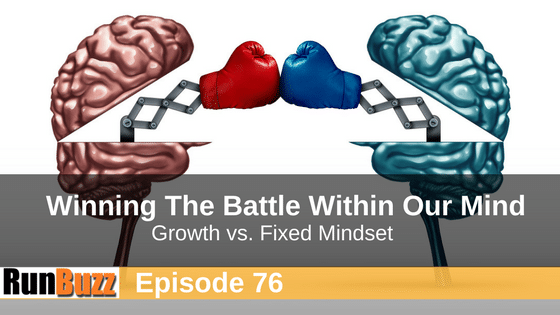 Your mind is a force to be reckoned with. When it comes to running , or any part of your life really, it can either make you or break you.
Believing in one thing can prevent you from reaching your full potential, while believing in another can push you toward becoming the person you've always wanted to be. It's all a matter of perspective. In this episode, we will talk about the two different types of mindsets that can make a world of difference in our lives.
Quick Links mentioned on the show:
PaceBuilder's Custom Training Plans
PaceBuilder's Coaching Program
RunBuzz Strava Virtual Running Club
Show Notes:
It's been said that IF you imagine less, less will be what you undoubtedly deserve.    This quote came from Debbie Millman in a commencement speech delivered to the graduating class at San Jose State University.
She goes on to say:
Do what you love, and don't stop until you get what you love. Work as hard as you can, imagine immensities, don't compromise, and don't waste time. Start now. Not 20 years from now, not two weeks from now. Now.
Let that sink in a minute.  The last sentence is what sticks out to me…. "Imagine immensities, don't compromise, and don't waste time.  Start now.  Not 20 years from now,  not two weeks from now, Now!"
That is a powerful message. I have this quote framed and located on the wall near my desk.  Each day, I remind myself to do what I love and don't stop until I get there.  It is why I put so much effort into RunBuzz and the podcast. But that last part, "Imagine immensities, don't compromise, and don't waste time",    THAT part is what pushes me. It challenges me, to do whatever is in my power to improve myself.  It is a key trait of having a growth mindset vs. a fixed one, something we discuss in today's podcast. And we, as runners, live in each of those mindsets often switching back and forth as we have personal wins, or face adversity with our running, nutrition, or lifestyle choices.
In this episode, I read an article that was found in a recent copy of my local RunOhio quarterly newspaper.  It was written by Richard Ferguson, Ph.D. at Averett University where he serves as the chair of the Physical Education, Wellness, and Sports Science Department.  He is also a AASP Certified Sports Psychology Consultant.
Unfortunately, I do not have a link to the direct article online, so I read it as part of this episode.
Running Resources
PaceBuilders™ Training System – A complete, end to end, custom training program for runners. Get unlimited 'customized' training plans with unlimited modifications that match your lifestyle and running goals. PLUS, get access to video training sessions and unlimited support so you can blast through your running goals.
Customized Training Plans For Any Race Or Distance – 100% handwritten custom training plans written around your unique situation. Don't settle for generic training plans found in books, magazines, or online. Our training plans take your history, your goals, your fitness profile and your lifestyle into consideration. Includes free access to Final Surge, where you can view and log your workouts anywhere you have access to a web browser, or use the mobile app.
Runner's Toolkit – Get access to 30 days of free coaching tips by email and get your #1 running question personally answered by me, just for signing up. Plus get free access to our private Facebook community where other RunBuzz community members gather for support, camaraderie and general shenanigans.
Find out how you can support RunBuzz's mission to bring quality running content (educational, inspirational, etc) to the running community. Help support me in my mission to make every runner regardless of age, size and ability a better runner.
Join our Virtual Running Club on Strava – Download the Strava app and join our RunBuzz Running Team to participate in virtual runs, monthly challenges and track your progress. Our virtual running club help keep you accountable and running!
---
Join The Community: Subscribe and Review!
If you'd like to get RunBuzz delivered automatically to your smartphone or podcast player at no charge to you, please subscribe using your preferred method below:
If you'd like the direct RSS feed for your own favorite RSS Podcast Player, click here to get it!
If you get a chance, please leave me an honest review and rating on iTunes by clicking here. (This helps me get the show up in the rankings and I'd deeply appreciate it. 🙂 )
---
I Appreciate Your iTunes Reviews!
Getting a 5 star rating and/or written review is incredibly important for this show. It helps with ranking and with generating the necessary exposure that gets this podcast out in front of other runners.
But it is even more important to me!
I read each and every comment and really take them all to heart. They provide encouragement that what I am doing is getting noticed and that the show is getting listened to.
I am so thankful to those who have recently gone into iTunes to provide a five star rating and written a review of RunBuzz Radio.
If you can and would like to provide a rating and/or write a review (there's certainly no obligation), then you can do so by following these instructions:
1) Go to the show's iTunes Page or search "RunBuzz" from iTunes if you aren't already a subscriber.
2) Open the page in the iTunes app, and click on the number of stars for the rating you think I deserve.
3) Write a sentence or two to share your comments.
Thank you SO Much!
---
The following two tabs change content below.
Steve is the founder and head running coach of RunBuzz.com. Steve is host of the RunBuzz podcast and founder of
PaceBuilders
, a complete online training program for runners. Steve is a RRCA / USA Track and Field Certified Running Coach and resides in Lewis Center, Ohio.