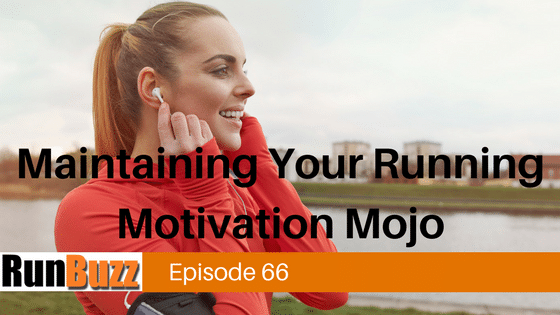 Show notes:
In today's episode, we share practical tips to keep (or boost) your motivation when it comes to running.  Since motivation is not something that is infinite, as runners we have to look for creative ways to stay consistent when our motivation ways.  Stephanie and I dig into some tips that have worked for us in the past in this episode of the RunBuzz podcast.
At the beginning of the episode we discuss a Men's Fitness article, Science-Proven Fitness Motivation, that summarizes a recent research study published in Health Psychology, that having 'instigation habits' can greatly increase your chance of sticking to an exercise routine, like running.  For example, one instigation habit I have is Saturday morning running club.  Knowing that I have a run with others, greatly increases the chance I will fight the alarm clock and get up early.  Another habit is setting my running shoes by the front door as a constant reminder of my need to go for a run.  Every time I pass my running shoes, I 'think' about running and whether or not my run is completed for the day or not. If a run is scheduled for that day, it is a nice reminder, "Did you get your run in?"
I also shared the analogy of a bucket with a hole in the bottom.  We have periods of time where our 'motivation bucket' is full, but since our motivation bucket is 'leaky', our motivation leaks as well. Sometimes we are full, other times we are empty.  When we are empty, we may need additional help to get us out the door.
Here are a few of the tips we shared for staying motivated to run:
Cross Train
Try something new! It does not matter whether you choose to swim, bike, Zumba, or try out a new class at your gym. As long as it is active, and it is something you are looking forward to as opposed to dreading, you are already moving in the right direction. Cross training does not always have to be planks, lunges and stretching. While strength and flexibility training is great for running, other activities can spark excitement and enjoyment, increase your fitness level, and get you excited about moving again.
Sign up for a spring race
If you start RIGHT NOW, you have time to complete a 12-16 week training program for a Spring or early Summer race.  We can help get you ready too!
Think about the goals you set for yourself. Are you looking to attempt a new distance? Do you have a PR in mind? Once you figure out that question, make it reality. Ask yourself, what is a reasonable about of time I am willing to invest into this goal? Then start formulating a plan.
Sign up for a destination race
NOT just ANY race, but a race that includes a vacation! Spring weather can be questionable, so look into another state or location you have always wanted to visit, and see if they have a race there. A race is the best way to see a new city because they typically route you along the best places. Get there a day early for the Expo, run the race the next day, then stay an extra day to go sightseeing or just relax.
Sign up to run with a friend, or a charity
Find a friend to sign up for a race with to hold each other accountable, or think of a charity you like to support and find a race that supports it.
Sign up for a virtual race
They are cheap, can be done anywhere and anytime, and be that little extra kick in the butt to force you to keep your training up.
Think outside the box
Sign up for a race volunteer or just pick a race you know someone is running and cheer for them It is exhilarating! WARNING: watching other people run can be contagious. Seriously, go make a poster and just go nuts!
Volunteer for a race
Volunteering is a great way to give back to the sport you love and the awesome community you are part of. Some races give out free race codes for future events too, so give a little, get a little. Experienced runners can often sign up as pacers.  You will run for free and help a group of runners reach their goals.
Coach a new runner or friend
Do you have a friend who has a goal in mind this spring? "Coach" them! Sometimes when you focus your energy into someone else's goals, it is easier to get yourself out the door. Help them train, cheer for them at their big race, even offer to jump in the race at certain miles for a period of time to get their motivation back. Just because you may not be a certified coach, does not mean you do not have valuable information to share that can help a new runner.  Just keep in mind that training plan creation should be left up to someone with professional training and experience (and liability insurance ;-).   And remember, new runners have not built up their body to handle the stress that running can place on them, so always be conservative when working with new runners.  If you want some general guidance, feel free to reach out to me and I can steer you in the right direction.
Final Thoughts and Guidance
Motivation is a tricky thing. Some believe you can control or 'create' motivation, others believe you have little control.  For me, I have found that the more 'resistance' we have in our life around the very thing we are trying to accomplish, the more difficult it is to stay motivated.  For example, busy schedules, stress, lack of sleep can all be things that cause us to lose motivation. Often, when you identify the blockers and try to remove them, add key instigation triggers, and take practical action to 'set up' activities like the tips mentioned in this podcast episode as well as work on mindset exercises, you will be equipped to handle a lot of the things that prevent you from running.  If you have a tip that works for you, I encourage you to share it inside our private Facebook community which you can get by signing up for our Free Runner's Toolkit.
Oh, and that embarrassing T-Rex Dancing video we mentioned with your's truly at the Columbus Marathon….
I hope you enjoyed this episode of the RunBuzz podcast.
Happy Running!
Steve
Running Resources
Runner's Toolkit – Get access to 30 days of free coaching tips by email and get your #1 running question personally answered by me, just for signing up. Plus get free access to our private Facebook community where other RunBuzz community members gather for support, camaraderie and general shenanigans.
Find out how you can support RunBuzz's mission to bring quality running content (educational, inspirational, etc) to the running community. Did you know it takes approximately 8-10 hours of work to research, record, edit and release each podcast episode? Help support us in our mission to make every runner regardless of age, size and ability a better runner. Your support helps keep future RunBuzz podcast episodes ad-free and new episodes coming.