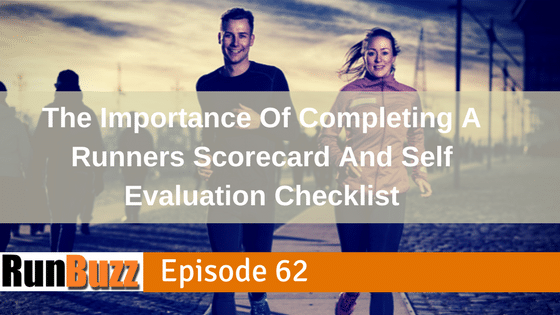 Show notes:
In today's episode, I walk you through a self assessment process, or a runner's scorecard that you can use to grade yourself in key areas related to training, lifestyle and mindset. The goal is to identify areas of strengths and weaknesses so that you can apply improvements that can maximize your health and fitness goals.
This episode uses the following checklist (or scorecard):
As you go through this episode, I highly encourage you to use the printable version above as you follow along.  This activity has the ability to be a great resource that you can look back on and do again and again to bring awareness to your running as well as check progress in several key areas.
This exercise is to get you thinking about your overall health and fitness lifestyle. As you may noticed, there is more emphasis placed on lifestyle and mindset than on your actual training runs (pace, distance, type of workout, etc. This was intentional.
I highly encourage you to listen, especially at the end where I describe the fact that most of us, as runners, we focus entirely too much on the training side of running (or gear, or races, etc.).  We often leave mindset and lifestyle to 'accidental' occurrences meaning that we typically do not put a concentrated focus on other areas like lifestyle and mindset as we do when it comes to running the right pace, or figuring out the best heart rate to tune our heart rate monitors to.
Training is important, but to maximize your results, it needs paired with mindset and lifestyle.
The problem with focusing entirely on training is that, while it will work to some degree, it will not be fully effective to the best of your capability IF you struggle with mindset or lifestyle issues like lack of willpower, poor diet, poor sleep, poor self-image, poor self-awareness, poor consistency etc.
No amount of training, or using the right shoes, or finding the perfect pace will compensate for issues in each of these other areas. While we certainly do not have to be perfect, we should strive for improvement holistically to maximize our results.
Unfortunately, as runners, most of us often ignore, or don't specifically train our mindset or our lifestyle in the same way we train our legs and lungs to run.
This questionnaire was designed to identify some key areas for improvement and confirm others areas that we do well. Using this approach, this questionnaire can be used every week, month, semi-annually, or annually to keep these areas in mind as you head into the next several months. You may even add your own areas/questions that you would like to track.
This scorecard certainly does not include every possible area. It was designed to be short and for creating self-awareness by forcing you to think through the answers. There were no right or wrong answers but only right or wrong answers based on your needs and goals as a runner. I hope you found this questionnaire helpful. As always, I encourage you to reach out if I can help you in any way.
The PaceBuilder's training program was designed around these four core pillars. Training, Nutrition, Mindset, and Lifestyle. It is the only program that I know that exists that focuses in on and factors all four areas into your training program.
For many runners, it is not about being the fastest or being able to run the furthest. For many it is about lifestyle change and being the best version of themselves from a health and fitness perspective that they can be. Oh, and if they get faster or run further along the way, BONUS!
Every athlete I work with (from complete beginners to very experienced runners), has unique needs when it comes to these three areas, therefore I work with each of them to help improve in these areas.
However, even if PaceBuilders is not something that you are interested in, I still encourage you to take this data, and apply it to the best of your ability.
What you focus on, you will achieve, and what you measure will get improved.
Again, let me know if I can help you in any way.
Happy Running!
Steve
Running Resources
Runner's Toolkit – Get access to 30 days of free coaching tips by email and get your #1 running question personally answered by me, just for signing up. Plus get free access to our private Facebook community where other RunBuzz community members gather for support, camaraderie and general shenanigans.
Find out how you can support RunBuzz's mission to bring quality running content (educational, inspirational, etc) to the running community. Did you know it takes approximately 8-10 hours of work to research, record, edit and release each podcast episode? Help support us in our mission to make every runner regardless of age, size and ability a better runner. Your support helps keep future RunBuzz podcast episodes ad-free and new episodes coming.
---