Tender Teriyaki-like chicken with rich flavors makes this Pineapple Marinated Chicken with Pineapple Salsa recipe a healthy meal for runners and fitness enthusiasts. Trust me, you and your family will love this.

The healthy carbohydrates and high protein content will make this a great post-race or post-long-run meal.
Print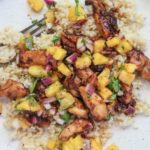 Pineapple Marinated Chicken with Pineapple Salsa
---
Description
The Way to Go for Juicy Chicken Breasts
If you're looking for a juicy and tender chicken recipe that uses breasts instead of thighs, this is the recipe for you. One way to make chicken melt in your mouth is to marinate it in grated pineapple as well as the pineapple's natural juices. The tangy, flavorful fruit happens to be rich in bromelain, an enzyme that breaks down the meat just enough to make it tender without falling apart.
The Secret Ingredient for Umami Richness
Fish sauce is the secret ingredient you might not have guessed would be in there too, but just a tablespoon of it adds an umami richness that is hard to get otherwise. Round everything up with sweet coconut sugar, spicy cayenne pepper, peppery coriander, and flavorful add-ons like rice vinegar and tamari, and you have one of the most addictive Pineapple Marinated Chicken with Pineapple Salsa you could dream of.
What to Serve With Pineapple Marinated Chicken
The recipe calls for cooked rice, and if you have some refrigerated and ready to go, you have the perfect summer dish that's ready to go in under an hour and is great eaten cold. Or, make the rice while the chicken is marinating for a comforting dish you can feel good serving to even the pickiest of guests. Other options that are low carb are cauliflower rice or spiralized vegetables.
Do you track your meals using MyFitnessPal?  If so, simply scan the following barcode to quickly enter your item into your food tracking: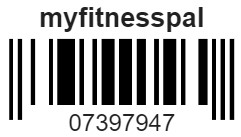 ---
3 tablespoons coconut sugar
2 tablespoons rice vinegar
1 tablespoon tamari
1 tablespoon fish sauce
3 tablespoons olive oil
1 teaspoon garlic powder
½ teaspoon cayenne pepper
1 cup pineapple, diced
1 small red onion, diced
2 tablespoons coriander, chopped
2 tablespoons pineapple, grated, including juices
1 ½ lbs. (680 g) chicken breasts, diced
2 cups white rice, cooked
---
Instructions
For the marinade: In a large bowl, stir together the coconut sugar, rice vinegar, tamari, fish sauce, 2 tablespoons of olive oil, garlic powder, ground cayenne and salt and black pepper.
For the salsa: Transfer 1 tablespoon of the marinade to a medium bowl and add the diced pineapple, red onion and coriander. Toss until well mixed and set aside.
For the rice: If you do not have cooked rice on hand, simply bring 2 cups of water to a boil, and add 1 cup of rice along with ½ a teaspoon of salt. Simmer on low heat, covered, for about 18 to 20 minutes. Fluff with a fork, and set aside for another 10 minutes, covered. You will get about 2 cups of cooked rice.
Add the grated pineapple and its juices to the marinade, then add the chicken and toss to coat. Set aside to marinate for 15 minutes.
Once the chicken is done marinating, heat a large pan over medium-high and add the remaining 1 tablespoon of olive oil. Add the chicken, leaving the marinade behind. Cook until browned on all sides, 7-8 minutes. The chicken will release a lot of juices at first. Keep cooking until they have evaporated, and the chicken has browned nicely. Gently scrape any caramelized marinade as it adds a lot of flavor to the final dish.
Serve the chicken over rice and topped with the pineapple salsa.
Prep Time:

15 minutes

Cook Time:

10 minutes

Category:

dinner

Cuisine:

Hawaiian
Nutrition
Serving Size:

4

Calories:

458 grams

Fat:

15 grams

Carbohydrates:

38 grams

Fiber:

2 grams

Protein:

42 grams
Keywords: poultry, chicken breast, fish sauce, pineapple palsa, runner-friendly recipe, healthy meal, post-run meal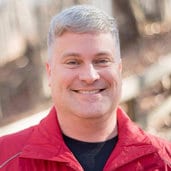 I am a NASM-certified personal trainer, PN1-certified nutrition coach, and RRCA/USATF-certified running coach. I have been coaching since 2010 and have helped thousands of runners online and in the Central Ohio area. I am the owner of RunBuzz and Run For Performance.com. If you are interested in online run coaching, or sports performance training (Central Ohio only), feel free to reach out.