Half Marathon Coaching Case Study With Carrie Poss
– In this article, I take you behind the scenes as I coach Carrie Poss a 3rd grade elementary school teacher from Northern Georgia. Carrie is a relatively new runner who is training for her first half marathon. Carrie would like to become a better runner and learn to enjoy the moment.
As a newer runner, Carrie has been struggling with what to do, when to do it, how to build a strong runner's mindset and get over the feeling of not being a real runner, as well as the occasional running injury. It is my hope that by coaching Carrie and sharing this as a public case study you can come away with lots of lessons learned including actionable tips that you can apply to your own running.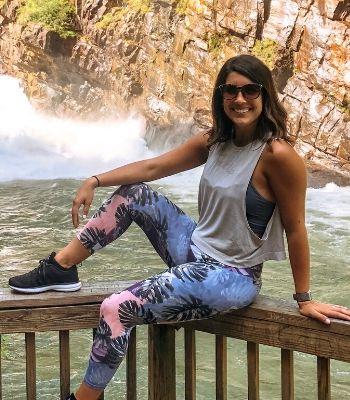 Carrie's Poss Profile:
Age 26
Former Collegiate Soccer Player
3rd Grade Elementary Teacher
New Runner (~ 6 weeks)
Training for a half marathon (November 2019)
Phase 0: Case Study Kick Off – Week 1
Carrie is a PaceBuilders coaching client.  Phase zero of this case study was focused on the on-boarding process. Upon signing up for PaceBuilders, each client I work with fills out a detailed runner profile / coaching questionnaire that digs into their current fitness background, their level of motivation, their current running ability, experience level, overall nutrition habits, past or present injury profile and lifestyle habits (sleep, stress ability to train, etc).
In addition to the runner questionnaire, I set Carrie up on our Final Surge coaching software, so I could publish her training plan thus allowing her to track her workouts, upload her GPS watch data (or use the mobile app) and submit feedback on how her workouts went. I also added her to our client member area so she could access our guidance videos and strength workouts.
We wrapped up this phase by jumping on a video call so I could dig into her background, and discuss the training goals and desired outcome from coaching. If you are following along with this case study, I highly encourage you to watch along and ask yourself the same questions I asked Carrie.
Phase 0 – Key activities
Review running and fitness background
Identify lifestyle habits and injury profile
Identify and set success goals
Determine next steps
Carries Ideal Training Outcomes
Summary:   During our introductory call, we discussed Carrie's ideal training outcomes.
They are:
Complete her first half marathon in November
Work towards running 100% of her second half marathon
Get better at breathing
Work on her mindset, learn more about running and fitness and enjoy the process of becoming a better runner
Month 1 – Training Goals and Outcomes
Coaching Notes:
Since Carrie was already following a plan prior to working with me and her race is less than one month away, I did not want to change up her training too much. Her current plan did not involve speed work and that is OK since this is her first half marathon and we are so close to race day. I moved her training plan into Final Surge, so we could track her plan.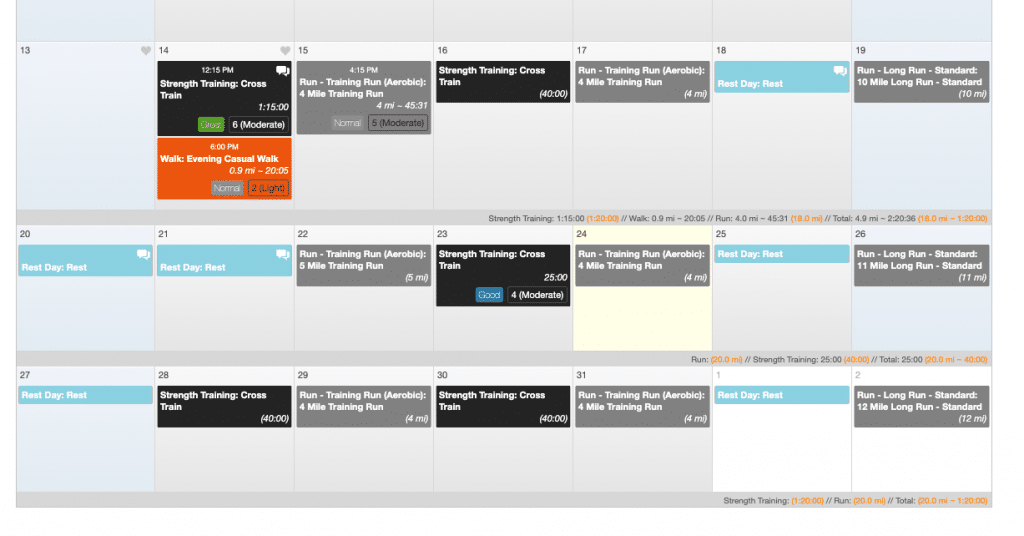 Month 1: Struggles, Wins, and Outcomes
One of the things I learned during the on-boarding call is that Carrie has only been running for approximately 5 weeks. Yet, she was already up to 9 miles with her training plan. This raised a red flag for me as she mentioned that she was having some knee pain. With new runners who ramp up too fast, I often see overuse injuries pop up in the first 4-8 weeks and on cue this played out just a few days after our call with the onset of Plantar Fasciitis (along with some residual knee pain she mentioned on the call).
Since her race is so close and we do not have a lot of time, our goal quickly switched to longer term injury prevention. Plantar Fasciitis is a very stubborn and painful injury and it is far more important for her to get better than her race. If things go well, we can improve on the Plantar Fasciitis without risking the race. However, it is unclear how long her Plantar Fasciitis will last at this point so we took immediate steps to reduce her training load by as much as 50% and implemented some other remediation steps that I outlined in this article on how to get rid of Plantar Fasciitis.
Client – Video Updates
Every few days Carrie shares her updates and personal experience on her Instagram account (@toningupwithcarrie). She talks about how her running is going, how her nutrition is going all so you can follow along and learn from her experience.
October 7th Update
October 11th Update
October 14th Update
October 15th Update
October 20th Update
October 22nd Update
October 23rd Update
October 24th Update
Half Marathon Taper Week Check In
The following video marks the third week since I started coaching Carrie. The day after we recorded the original client discovery call, Carrie noticed pain in her arch and heel. We took immediate steps over the past two to three weeks and we are happy to announce that she is pain free as she heads into her last week of training for her race. In this video, we discuss the steps she took to address her pain and how we resolved her Plantar Fasciitis in just 3 weeks!
Key updates
Dealing with and correcting heel pain caused by early stage Plantar Fasciitis
Updates and her continued improvement in her running and fitness mindset.
Preparing for her last week of half marathon taper.
Race day routine and pre-race meal
Half Marathon Race Day!
Case study in progress. Please stay tuned