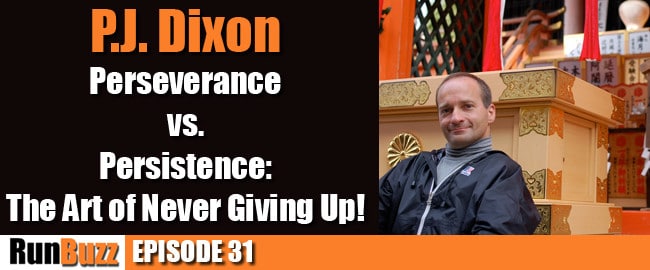 Have you ever wanted to challenge your own persistence? Or, perhaps, you wish to increase your odds of not giving up. Do you struggle with finding personal motivation or staying in the right mindset when it comes to running or even life in general? Well then do I have a special treat for you!
In today's episode, I welcome a personal friend of mine, P.J. Dixon.
While P.J. is not a runner, he has done amazing things, despite having a rare form of muscular dystrophy that was supposed to take his life by age 7 – P.J. is now about to turn 46.
Over the course of his life so far, P.J. has not let his disability stop him from making astounding accomplishments. He is a downhill skier, skydiver, amateur water colorist, former wheelchair athlete, 10th degree black belt, women's self-defense instructor, international traveler, published author, motivational speaker, and success strategist.   He has traveled the world, speaking to crowds of all sizes and has even appeared on television to share his inspirational message.
I have been fortunate enough to have known P.J. since middle school.  We both attended the same school and graduated together. P.J. is one of the most selfless people I know. He would give you the shirt off his back to help you, even give up his wheelchair if he thought you needed it.
He lives life with a sense of vigor, passion, and unwavering purpose.  I don't say these things just to hype you up for P.J. and this interview – he really is this amazing guy.
In this podcast, P.J. will challenge your thought process and help you build a powerful mindset when it comes to perseverance, persistence, and not giving up. You'll hear things that will break your heart one minute and then make you laugh so hard, coffee may shoot out of your nose, the next.   By the time you reach the end of the interview, you may have a new attitude towards life and a new way to think about life's challenges.
If you struggle with running, if you struggle with quitting, if you struggle with confidence, if you struggle with maintaining an exercise program, if you struggle with mood, or if you struggle with anything in life, then this episode will help you!
In this episode:
How, several years ago, a 5 minute conversation with P.J. changed my own thought process and encouraged me to follow my passions. This is also what I believe helped plant the seed of what, ultimately, would become RunBuzz. (Thank you P.J.!)
The impact of P.J.'s mother on his life and how she never let him say, "I can't".
How your thoughts and actions of quitting impact your subconscious mind, future actions, and those you have an influence over (like your kids!).
How growth and habits only develop when we're open and receptive to them.
How resistance is normal and required for growth and personal breakthrough.
Hooking Rottweilers up to a wheelchair – why the attitude of persistence is NOT the same as perseverance.
What it means to sleep in vs. getting your run in.
How to wake up with energy instead of dread.
Why going from negative to neutral is the first step to being positive.
The Grand Canyon and how it relates to persistence. (A must listen – it's at the very end of the show!)
Why you should choose life and start living!
If you think you can do a thing or think you can't do a thing, you're right.
– Henry Ford
More from P.J.:
Phone: 805.699.6585
---
Running Resources
PaceBuilders™ Training System – A complete, end to end, custom training program for runners. Get unlimited 'customized' training plans with unlimited modifications that match your lifestyle and running goals. PLUS, get access to video training sessions and unlimited support so you can blast through your running goals.
Customized Training Plans For Any Race Or Distance – 100% handwritten custom training plans written around your unique situation. Don't settle for generic training plans found in books, magazines, or online. Our training plans take your history, your goals, your fitness profile and your lifestyle into consideration. Includes free access to Final Surge, where you can view and log your workouts anywhere you have access to a web browser, or use the mobile app.
Runner's Toolkit – Get access to 30 days of free coaching tips by email and get your #1 running question personally answered by me, just for signing up. Plus get free access to our private Facebook community where other RunBuzz community members gather for support, camaraderie and general shenanigans.
Find out how you can support RunBuzz's mission to bring quality running content (educational, inspirational, etc) to the running community. Help support me in my mission to make every runner regardless of age, size and ability a better runner.
---
Join The Community: Subscribe and Review!
If you'd like to get RunBuzz delivered automatically to your smartphone or podcast player at no charge to you, please subscribe using your preferred method below:
If you'd like the direct RSS feed for your own favorite RSS Podcast Player, click here to get it!
If you get a chance, please leave me an honest review and rating on iTunes by clicking here. (This helps me get the show up in the rankings and I'd deeply appreciate it. 🙂 )
---
I Appreciate Your iTunes Reviews!
Getting a 5 star rating and/or written review is incredibly important for this show. It helps with ranking and with generating the necessary exposure that gets this podcast out in front of other runners.
But it is even more important to me!
I read each and every comment and really take them all to heart. They provide encouragement that what I am doing is getting noticed and that the show is getting listened to.
I am so thankful to those who have recently gone into iTunes to provide a five star rating and written a review of RunBuzz Radio.
If you can and would like to provide a rating and/or write a review (there's certainly no obligation), then you can do so by following these instructions:
1) Go to the show's iTunes Page or search "RunBuzz" from iTunes if you aren't already a subscriber.
2) Open the page in the iTunes app, and click on the number of stars for the rating you think I deserve.
3) Write a sentence or two to share your comments.
Thank you SO Much!
---
---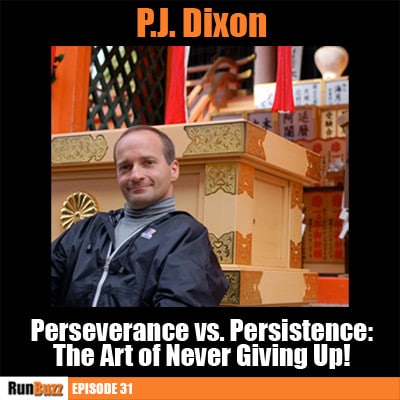 The following two tabs change content below.
Steve is the founder and head running coach of RunBuzz.com. Steve is host of the RunBuzz podcast and founder of
PaceBuilders
, a complete online training program for runners. Steve is a RRCA / USA Track and Field Certified Running Coach and resides in Lewis Center, Ohio.