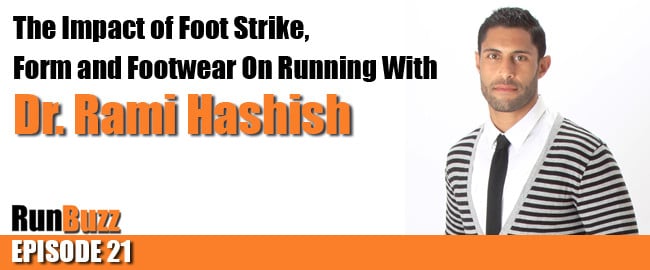 Show Notes:
In today's episode, I speak with an amazing guest, Dr. Rami Hashish, who is an expert on foot strike, footwear and the impact these factors have on your running.
In this podcast, we talk about foot strike, running form, the impact that form, heel drop, and foot strike have on running injuries, and how running form often changes when running on a treadmill.  We also cover the controversial topic of barefoot running.
In this episode:
How factors like improper footwear and running styles can cause running injuries.
Dr. Hashish's article featured on The Huffington Post:The (Mismatched) Evolution of Man and Its Influence on Injury.
How running has changed in the last several decades.
How 79-80% of runners become injured.
Repetitive injuries and how they are a relatively new phenomenon.
How running impact and foot strike running patterns can influence running injuries.
Heel strike vs. forefront strike and running injuries.
My frustration with minimalist/barefoot running vs. traditional shoes.
Who barefoot running is for and is not for.
Habitual barefoot running vs. habitual shoe running.
Forefoot strike and its positive and negative influences on running injuries.
Heel drop and its impact on running
How modern running shoes are dropping from 14mm average heel drop to 8mm to promote more of a mid or forefront strike compared to running shoes designed a decade ago.
My own experience with running shoes and how the same shoe model changes over time despite being the same model!
Are treadmill tests at running stores really that effective? Do they prevent running injuries?
Why running on the treadmill is not the same as running outdoors.
How your foot strike pattern changes when running on a treadmill.
3 Reasons a Gait Analysis a a Running Store May Not Help You Find the Right Shoe, by Jeff Gaudette at Runners Connect.
The common perception that you're running faster on a treadmill than you actually are.
Cadence and how, as cadence increases, steps are shorter.  The shorter the steps, the more upright your posture is and the more the impact force is dissipated throughout the body.
The basic concept behind the Pose Method of running.
Are 20% more steps (from higher cadence) better than fewer steps?
Run at what pace feels good for you!
What to do when you you are presented with conflicting information about running.
Dr. Rami Hashish's Bio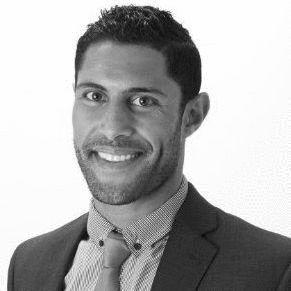 Dr. Rami Hashish is a board certified Physical Therapist with a PhD in Biokinesiology.  He currently works for Urban Med in Los Angeles California .  After attaining his Doctorate of Physical Therapy from the University of Washington School of Medicine, Dr. Hashish achieved his PhD from the University of Southern California's  Division of Biokinesiology and Physical Therapy.  While completing his PhD, Dr. Hashish served as an instructor.
Dr. Hashish's primary research focused on the influence of footwear on lower-leg injuries and performance.  Dr. Hashish is an author on more more than 30 peer-reviewed abstracts and manuscripts and currently serves as a reviewer for numerous medical journals.  In addition to his clinical work, Dr. Hashish serves as a contributing columnist to The Huffington Post, and as a Medical Correspondent and footwear expert to The Running Times.  He has also appeared in Runner's World where he was featured in the Ask a Doc section where he discussed how to adapt to a racing shoe that has a lower heel drop than your trainers as well as he shared research about who barefoot running is right for and how to transition safely.
Dr Hashish is also a co-founder of JavanScience, LLC. which is a science-driven footwear company that uses evidence-based medical research to develop shoes for the prevention and relief of foot and leg problems, primarily focused in improving the quality of life for older adults.
You can follow Dr. Hashish on Twitter, @RunInjuryFree
---
Running Resources
PaceBuilders™ Training System – A complete, end to end, custom training program for runners. Get unlimited 'customized' training plans with unlimited modifications that match your lifestyle and running goals. PLUS, get access to video training sessions and unlimited support so you can blast through your running goals.
Customized Training Plans For Any Race Or Distance – 100% handwritten custom training plans written around your unique situation. Don't settle for generic training plans found in books, magazines, or online. Our training plans take your history, your goals, your fitness profile and your lifestyle into consideration. Includes free access to Final Surge, where you can view and log your workouts anywhere you have access to a web browser, or use the mobile app.
Runner's Toolkit – Get access to 30 days of free coaching tips by email and get your #1 running question personally answered by me, just for signing up. Plus get free access to our private Facebook community where other RunBuzz community members gather for support, camaraderie and general shenanigans.
Find out how you can support RunBuzz's mission to bring quality running content (educational, inspirational, etc) to the running community. Help support me in my mission to make every runner regardless of age, size and ability a better runner.
---
Join The Community: Subscribe and Review!
If you'd like to get RunBuzz delivered automatically to your smartphone or podcast player at no charge to you, please subscribe using your preferred method below:
If you'd like the direct RSS feed for your own favorite RSS Podcast Player, click here to get it!
If you get a chance, please leave me an honest review and rating on iTunes by clicking here. (This helps me get the show up in the rankings and I'd deeply appreciate it. 🙂 )
---
I Appreciate Your iTunes Reviews!
Getting a 5 star rating and/or written review is incredibly important for this show. It helps with ranking and with generating the necessary exposure that gets this podcast out in front of other runners.
But it is even more important to me!
I read each and every comment and really take them all to heart. They provide encouragement that what I am doing is getting noticed and that the show is getting listened to.
I am so thankful to those who have recently gone into iTunes to provide a five star rating and written a review of RunBuzz Radio.
If you can and would like to provide a rating and/or write a review (there's certainly no obligation), then you can do so by following these instructions:
1) Go to the show's iTunes Page or search "RunBuzz" from iTunes if you aren't already a subscriber.
2) Open the page in the iTunes app, and click on the number of stars for the rating you think I deserve.
3) Write a sentence or two to share your comments.
Thank you SO Much!
---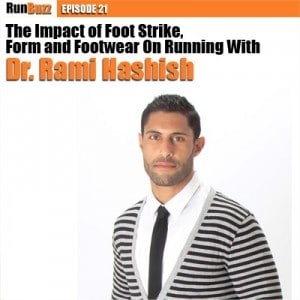 The following two tabs change content below.
Steve is the founder and head running coach of RunBuzz.com. Steve is host of the RunBuzz podcast and founder of
PaceBuilders
, a complete online training program for runners. Steve is a RRCA / USA Track and Field Certified Running Coach and resides in Lewis Center, Ohio.