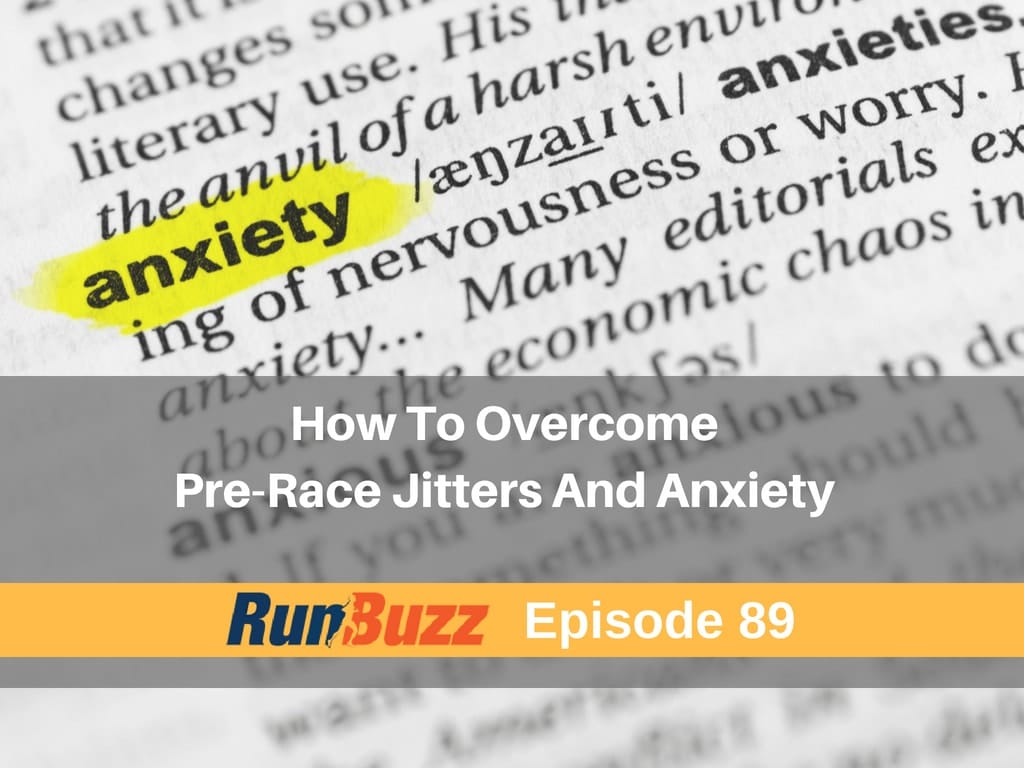 Race Day anxiety, for many of us, is something that we come across from time to time as runners. Especially if it your first race,  or maybe a new race distance. Pre-race anxiety is real and many runners struggle with it.  If you have ever found yourself stressed before a race and wondering,  "Have I trained well enough?" or feel like your stomach in tied up in knots, then this episode is one you will want to listen to.   In this episode, I share some interesting research on stress and anxiety and some tips on how to handle your pre-race jitters and anxiety before a race.  All this and more coming up on today's podcast….
Show Notes
Hi guys and welcome to the RunBuzz podcast, I am your host Steve Carmichael,  and I have a topic for you today that I am excited about – and that is:
How to manage the stress, anxiety, the pre-race jitters that often creeps up before a big race.    

Now, I have talked on past episodes of the podcast about many of the negative impacts that stress and anxiety can have on our overall health. Stress management is such a critical component of our well being.  But what do we do when stress and anxiety hits us during race week? Why won't these prerace jitters go away?

To start, we all have various levels of stress and anxiousness in our life, and we all have various ways we have dealt with this.  Usually, we balance stress with periods of time where we do more self care activities, or escape from the day to day stress long enough to help decompress our minds, or "fill our tank back up", so to speak.   For many of us, things like going out to a movie, taking a break,  taking a vacation, going for a run,  going to the gym,  taking a quick walk,  all help us deal in some ways with our stress.


So let's say you have been training the last 4 months for your first half marathon and in the days leading up to your race, you sense a mix of excitement, but also some anxiousness.  You start thinking to yourself,  "Am I ready?",  "Did I train as well as I should have, I mean I got sick that one week, and the last few weeks I have been busy at work, and I lost a few days of running because I wasn't able to break away as much as I wanted to to get my runs in, and so on.
So the anxiousness and jitters continue through the week, and the night before the race you find yourself wide awake and not able to get to sleep as early as you like.  Eventually, you fall asleep, but in a blink of an eye, the alarm clock goes off, and shit… race time!  You make the drive to the race, park, head over to the corrals, line up and now you are anxiously awaiting the start of the race.  As you stand there, the beat of music is thumping as ACDC's Thunderstruck is blasting through the speakers, your heart rate goes up a little, and you feel the anxiousness and adrenaline start to build as the crowd excitement and energy is flowing around you. The race director or Master of Ceremonies kicks off the race, and off you go. Within a couple of minutes, the uneasy feeling goes away and you are back to normal as far as pre race jitters go…

So you might be wondering,  what is wrong with that?   Actually not a whole lot really, unless this anxiety and nerves gets you in the days leading up to the race.  So the first thing you need to determine is… are you dealing with excitement? or are you anxious?  To find out, along with my top tips for dealing with pre-race jitters, download and listen to the full episode.
Thanks and Happy Running!
Running Resources
PaceBuilders™ Online Run Coaching – PaceBuilders™ is a premium online run coaching program for runners of any experience level. With two unique, affordable coaching options to choose from, you can learn to run faster, run farther and run injury free. Inside PaceBuilders, you can work directly with experienced, RRCA/USATF certified running coaches or you can choose to follow our self-coached program and take advantage of unlimited access to all of our training assets including training plans, runner-specific strength training plans, nutrition information, mindset, race strategy, pacing guidance, LIVE monthly Q&A sessions, private client community and more!  Plans start at just $24.95/month!
Runner's Toolkit – Get access to 30 days of free coaching tips by email and get your #1 running question personally answered by me, just for signing up. Plus get free access to our private Facebook community where other RunBuzz community members gather for support, camaraderie and general shenanigans.
Find out how you can support RunBuzz's mission to bring quality running content (educational, inspirational, etc) to the running community. Help us support our mission to make every runner regardless of age, size and ability a better runner. Each episode requires over 8 hours, or research, recording and editing.
Join our Virtual Running Club on Strava – Download the Strava app and join our RunBuzz Running Team to participate in virtual runs, monthly challenges and track your progress. Our virtual running club help keep you accountable and running!
The following two tabs change content below.
Steve is the founder and head running coach of RunBuzz.com. Steve is host of the RunBuzz podcast and founder of
PaceBuilders
, a complete online training program for runners. Steve is a RRCA / USA Track and Field Certified Running Coach and resides in Lewis Center, Ohio.