This healthy version of Pistachio Banana Bread is made without refined sugars, and is packed with flavorful, chopped pistachios, and dark chocolate chips. I love this recipe because I often use any leftovers for my pre-run morning snack.
Pistachio Banana Bread is perfect for breakfast, dessert, or as a healthy snack any time of day.
Print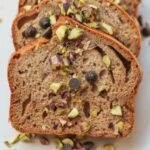 Pistachio Banana Bread
---
Description
You've probably made or eaten traditional banana bread studded with pecans or walnuts. But what about Pistachio Banana Bread? If not, this is a variation you'll want to try!
Whole Foods, Not Processed
Regular banana bread is generally made from flour, bananas, sugar, oil or butter, and baking powder. But instead of white sugar, we are using a combination of honey and apple sauce, in addition to the sweetness of ripe bananas.
And, olive oil is used as the only source of fat. While it may seem like an odd ingredient, olive oil is actually commonly found in many cake recipes, as it behaves just like other oils, but is far less processed. You can use extra-virgin olive oil, or less expensive versions as well. 
The other unusual ingredient is pistachios. While walnuts are generally the go-to nut in this type of recipe, pistachio adds a sweet, fresh, slightly herbal flavor that many people love. It goes great with ripe bananas and the intoxicating scent of vanilla. The chocolate chips take the recipe over the top, and I bet you won't be able to stop at one slice!
Tips for a Tender Crumb
The trick to making this cake as tender as possible is to use a light hand when mixing the ingredients. Stirring too much will develop the gluten in the dough, turning it into a dense, heavy loaf. The best way to do this is to prepare the wet and dry ingredients separately, and fold them together just before putting the pan in the oven. Be sure that your bananas are very spotted, the riper the better. 
And for a light and airy cake, it is best to use fresh baking powder. If yours has been sitting in the cupboard for several months, it might have lost some of its leavening power. You can make your own in a pinch by combining 1/4 teaspoon baking soda + 1/2 teaspoon cream of tartar + 1/4 teaspoon to make a full teaspoon.
Serving Pistachio Banana Bread
You can serve Pistachio Banana Bread as it, and it will be great for breakfast, snack, or dessert. It is also great with a scoop of ice-cream. Vanilla is the obvious choice, but pistachio would be great as well. 
If you're worried about the bread sticking to the pan, simply line the bottom with parchment paper, and spray it with avocado oil or your favorite vegetable oil (or just use some more olive oil!) There shouldn't be any need to dust the pan with flour, but you can do so to make sure the Pistachio Banana Bread unmolds easily. 
Do you track your meals using MyFitnessPal?  If so, simply scan the following barcode to quickly enter your item into your food tracking: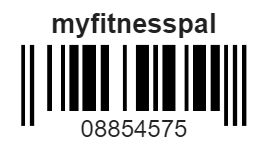 ---
2 ripe bananas
4 tablespoons honey
4 tablespoons olive oil
4 tablespoons applesauce, unsweetened
2 eggs
1 teaspoon vanilla extract
1 teaspoon baking powder
¼ teaspoon baking soda
2 cups (240 g) all-purpose flour
⅓ cup (60 g) dark chocolate chips
⅓ cup (35 g) pistachios, chopped
---
Instructions
Preheat the oven to 350°F (180°C) Line a loaf pan with baking paper.
Mash the bananas with a fork until smooth, then add in the honey, olive oil, applesauce, eggs, and vanilla extract.
In a separate bowl, mix the baking powder, baking soda, and all purpose flour.
Mix dry and wet ingredients together gently until just combined.
Stir in the dark chocolate chips and pistachios.
Pour the batter into the loaf pan and bake in the oven for 35-45 minutes, or until a skewer inserted into the center of the bread comes out clean.
Remove the loaf pan from the oven and set aside on a wire rack to cool before slicing.
Prep Time:

10 minutes

Cook Time:

45 minutes

Category:

dessert
Nutrition
Serving Size:

12

Calories:

231 grams

Fat:

8 grams

Carbohydrates:

36 grams

Fiber:

5 grams

Protein:

4 grams
Keywords: banana, banana bread, honey, apple sauce, pistachios, runner-friendly, recipes for runners, healthy banana bread