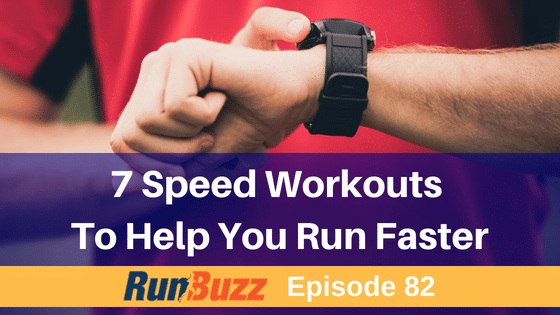 In this episode on speed training for runners, we cover 7 types of speed workouts that will help you run faster. We share our experience using these workouts with ourselves and our clients as well as how to integrate speed training into your training program.  All this and more coming up on today's show.
Speed Training For Runners – 7 Speed Workouts To Help You Run Faster
Full details on how to apply these workouts properly are inside the podcast episode.
Fartlek – Swedish word meaning "speed play"; an informal speed workout; In a Fartlek session, you change up things like speed or intensity at random points within the workout. It may also include changing up the intervals or cycles you run in terms of distance… So run hard for 2 minutes, easy for 1, hard for 30 seconds, easy for 3 minutes and so on. It could also be run hard to the next milestone which could be a tree you see ahead on the trail, or a bridge, or whatever and having each of your running partners, change the landmark and pace expectantly.
Repeats – a type of training, typically conducted on a track where you repeat certain aspects of a workout in measured distances. For example, 400 meters, 800 meters, 1600 meters, mile, etc. Repeats are often done at faster paces as they are a common/popular type of speed workout. In between the targeted run portion of the repeat the runner may rest, or run slowly to facilitate recovery. Repeats come in various forms of workouts so you may come across unique and creative ways to do them.  Two types of recovery: Active recovery where you recover by slowing your pace for a short period of time,  but still continue to run.  Passive recovery is where you recover by slowing to a walk or stopping completely until your heart rate returns close to normal.
Ladders – a type of speed workout that uses intervals/repeats to "ladder up" or step up, then down, the running portions as well as laddering up and down the recovery portions. For example, you do one minute at 5k pace, then recover, then do two minutes at 5k pace, then recover, then 3, then 4, then 5 and so on until you reach the top of the ladder, at which point you go back down the ladder, to 4, to 3, to 2, to 1, etc…. And there are lots of variations but that is the basic idea, and can help build speed as well as speed on tired legs depending on the workout.
Tempo Run – A tempo run is a faster-paced workout also known as a lactate-threshold, LT, or threshold run. Tempo pace is often described as "comfortably hard." It focuses on making changes to your metabolic fitness so that you can improve speed and stamina.
Surges – Surges are pickups during a run.
Hill Training –  Hill training helps build strength, stamina and prepares your legs to handle hills (as well as the downhill portion).
Strides – Short sprints or accelerations to help teach your legs to more faster
Thanks for joining us today, and we look forward to having you join us with another episode soon.

Happy running!
Running Resources
PaceBuilders™ Training System – A complete, end to end, custom training program for runners. Get unlimited 'customized' training plans with unlimited modifications that match your lifestyle and running goals. PLUS, get access to video training sessions and unlimited support so you can blast through your running goals.
Runner's Toolkit – Get access to 30 days of free coaching tips by email and get your #1 running question personally answered by me, just for signing up. Plus get free access to our private Facebook community where other RunBuzz community members gather for support, camaraderie and general shenanigans.
Find out how you can support RunBuzz's mission to bring quality running content (educational, inspirational, etc) to the running community. Help support me in my mission to make every runner regardless of age, size and ability a better runner.
Join our Virtual Running Club on Strava – Download the Strava app and join our RunBuzz Running Team to participate in virtual runs, monthly challenges and track your progress. Our virtual running club help keep you accountable and running!
---
Join The Community: Subscribe and Review!
If you'd like to get RunBuzz delivered automatically to your smartphone or podcast player at no charge to you, please subscribe using your preferred method below:
If you'd like the direct RSS feed for your own favorite RSS Podcast Player, click here to get it!
If you get a chance, please leave me an honest review and rating on iTunes by clicking here. (This helps me get the show up in the rankings and I'd deeply appreciate it. 🙂 )
---
I Appreciate Your iTunes Reviews!
Getting a 5 star rating and/or written review is incredibly important for this show. It helps with ranking and with generating the necessary exposure that gets this podcast out in front of other runners.
But it is even more important to me!
I read each and every comment and really take them all to heart. They provide encouragement that what I am doing is getting noticed and that the show is getting listened to.
I am so thankful to those who have recently gone into iTunes to provide a five star rating and written a review of RunBuzz Radio.
If you can and would like to provide a rating and/or write a review (there's certainly no obligation), then you can do so by following these instructions:
1) Go to the show's iTunes Page or search "RunBuzz" from iTunes if you aren't already a subscriber.
2) Open the page in the iTunes app, and click on the number of stars for the rating you think I deserve.
3) Write a sentence or two to share your comments.
Thank you SO Much!
---
The following two tabs change content below.
Steve is the founder and head running coach of RunBuzz.com. Steve is host of the RunBuzz podcast and founder of
PaceBuilders
, a complete online training program for runners. Steve is a RRCA / USA Track and Field Certified Running Coach and resides in Lewis Center, Ohio.